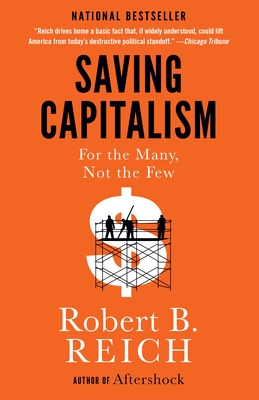 Saving Capitalism
For the Many, Not the Few
Paperback

* Individual store prices may vary.
Other Editions of This Title:
Hardcover (9/29/2015)
Description
Now a Netflix Original Documentary

America was once celebrated for and defined by its large and prosperous middle class. Now, this middle class is shrinking, a new oligarchy is rising, and the country faces its greatest wealth disparity in eighty years. Why is the economic system that made America strong suddenly failing us, and how can it be fixed?

Leading political economist and bestselling author Robert B. Reich presents a paradigm-shifting, clear-eyed examination of a political and economic status quo that no longer serves the people, exposing one of the most pernicious obstructions to progress today: the enduring myth of the "free market" when, behind the curtain, it is the powerful alliances between Washington and Wall Street that control the invisible hand. Laying to rest the specious dichotomy between a free market and "big government," Reich shows that the truly critical choice ahead is between a market organized for broad-based prosperity and one designed to deliver ever more gains to the top. Visionary and acute, Saving Capitalism illuminates the path toward restoring America's fundamental promise of opportunity and advancement.
Praise For Saving Capitalism: For the Many, Not the Few…
Praise for Robert B. Reich's Saving Capitalism

A Publishers Weekly Business & Economics Top 10 selection for Fall 2015

"Ambitious. . . . Reich makes a very good case that widening inequality largely reflects political decisions that could have gone in very different directions. . . . Saving Capitalism is a very good guide to the state we're in." —The New York Review of Books

"If you want to understand why income and wealth inequality are the economic, political, and moral issues of our time, you must read this book. Robert Reich is one of the best economists in modern American history. This book is a roadmap on how to rebuild the middle class and fix a rigged economy that has been propped up by a corrupt campaign finance system." —United States Senator Bernie Sanders

"[A] sweeping treatise on inequality in America. . . . A rallying call." —The New York Times Book Review

"One of Reich's finest works, and is required reading for anyone who has hope that a capitalist system can indeed work for the many, and not just the few." —Salon

"Like any good teacher, Robert Reich knows that making a simple yet crucial idea stick often takes much time and many presentations of the concept. . . . In Saving Capitalism, Reich drives home a basic fact that, if widely understood, could lift America from today's destructive political standoff." —Chicago Tribune

"A well-written, thought-provoking book by one of America's leading economic thinkers and progressive champions." —The Huffington Post

"Engrossing. . . . [Reich] is calmly articulate, not alarmist; yet a sense of urgency pulses through his unambiguous prose." —The Argonaut (Los Angeles)

"Audacious. . . . Offers a pragmatic reform-filled path forward. . . . [Reich takes] on the very language used by the business world that perpetuates the myth that the private sector exists as magical sphere entirely unrelated to government." —EcoWatch

"Reich has both the stature and eloquence to make a compelling case. His sharply argued critique is therefore highly recommended to all readers. . . . Insightful." —Library Journal (starred review)

"An arresting, thought-provoking treatise on the need to reverse the trend of income inequality in the U.S. . . . Reich's powerful final argument is that Americans need to rid themselves of the idea that it's too late to change their economy." —Publishers Weekly

"An accessible examination of how the 'apparent arbitrariness and unfairness of the economy [has] undermined the public's faith in its basic tenets'. . . . The author takes a measured view even as he argues against free market orthodoxies, [and] he arrives at some innovative reforms. . . . Reich's overriding message is that we don't have to put up with things as they are. It's a useful and necessary one." —Kirkus Reviews

"This is an important and provocative book about the erosion of America's middle class by one of the nation's most astute and passionate social critics. Reich provides an original and compelling analysis of how the rules governing America's form of capitalism have contributed to growing income inequality and of how these rules have been distorted by the role of money in the U.S. political system." —Laura D'Andrea Tyson

"Robert Reich has written a riveting guide to how our economic and political system has become so badly flawed, distorted by pervasive rent seeking and monopolies. He explains our rising inequality and our poor economic performance. Wholesale reform is needed—far beyond the usual prescriptions of raising the minimum wage and spending more money on education." —Joseph Stiglitz

"Robert Reich sets the terms for new and more productive debates by rediscovering the political roots of the economic arrangements we too often take for granted. Everyone concerned with our economic future will need to grapple with Reich's arguments in 2016 and beyond." —Lawrence H. Summers
Vintage, 9780345806222, 304pp.
Publication Date: May 3, 2016
About the Author
Robert B. Reich is Chancellor's Professor of Public Policy at the Richard and Rhoda Goldman School of Public Policy at the University of California, Berkeley, and senior fellow at the Blum Center for Developing Economies. He has served in three national administrations and has written fourteen books, including The Work of Nations, which has been translated into twenty-two languages, and the bestsellers Supercapitalism and Locked in the Cabinet. His articles have appeared in The New Yorker, The Atlantic, The New York Times, The Washington Post, and The Wall Street Journal. He is co-creator of the award-winning 2013 film Inequality for All. He is also chair of the national governing board of Common Cause. He lives in Berkeley.

www.robertreich.org