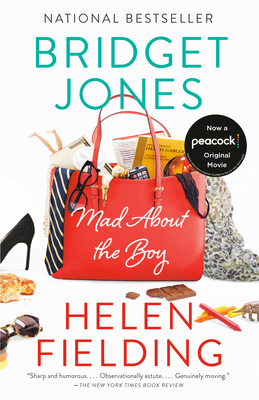 Bridget Jones
Mad About the Boy
Paperback

* Individual store prices may vary.
Other Editions of This Title:
Digital Audiobook (10/14/2013)
Paperback, Large Print (6/3/2014)
Compact Disc (11/12/2013)
Hardcover (10/15/2013)
Hardcover, Large Print (3/26/2014)
Description
Move over, Bridget Jones's diary:  She's back, and this time she's texting and tweeting. . . 
   Fourteen years after landing Mark Darcy, Bridget's life has taken her places she never expected. But despite the new challenges of single parenting, online dating, wildly morphing dress sizes, and bafflingly complex remote controls, she is the same irrepressible and endearing soul we all remember—though her talent for embarrassing herself in hilarious ways has become dangerously amplified now that she has 752 Twitter followers. As Bridget navigates head lice epidemics, school-picnic humiliations, and cross-generational sex, she learns that life isn't over when you start needing reading glasses—and why one should never, ever text while drunk.
       Studded with witty observations about the perils and absurdities of our times, Mad About the Boy is both outrageously comic and genuinely moving. As we watch her dealing with heartbreaking loss and rediscovering love and joy, Bridget invites us to fall for her all over again.



Praise For Bridget Jones: Mad About the Boy…
"Sharp and humorous. . . . Snappily written, observationally astute. . . . Genuinely moving." —The New York Times Book Review

"Bridget's back! And as irrepressible as ever. . . . Sweet, clever, and funny." —People

"A clever mashup of texts, emails, tweets, and diary entries from Bridget, a bighearted person who brings hearty humor to the ordinary vicissitudes of life. . . . Fielding's wit is generous and forgiving." —Chicago Tribune
 
"Fielding's comic gifts . . . are once again on shimmering exhibit." —Elle

"Tender and comic." —The New Yorker

"Feels like visiting with your funniest friend." —Entertainment Weekly

"Delightful. . . . Bridget Jones was a character made for the Internet, from her confessional tone to her casual creation of memes." —Los Angeles Times

"Sweet and satisfying. . . . Bridget still has her posse of funny friends and her shelf of self-help books." —USA Today

"Helen has always had a sharp eye for the obsessions and neuroses of our times, a talent much in evidence here—her [Bridget's] liability rests very much on her believability." —Anna Wintour, editor in chief of Vogue

"Very funny." —The Boston Globe

"Sweet, clever and funny. Yay Bridget!" —People (five stars)

"Fielding has somehow pulled off the neat trick of holding to her initial premise—single woman looks for romance—while allowing her heroine to grow up into someone funnier and more interesting than she was before. . . . Mad About the Boy, is not only sharp and humorous . . . but also snappily written, obser­vationally astute and at times genuinely moving. . . . Bridget-the-parent is like a character in a Russian novel, lurching constantly from ecstasy to despair, sometimes in the course of a single paragraph. . . . Its big heart, incisive observations, nice sentences, vivid characters and zippy pace make it a book you could happily spend the night with. It is possible I cried a little at the end, but then, as Bridget might say: am sucker for happy endings." —Sarah Lyall, The New York Times Book Review

"As Bridget might say, it's 'v. v. good.' . . . [She's] still hilarious and hopeful, even while making crazy mistakes and pointed asides and romancing a sexy younger man." —Minneapolis Star Tribune

"I read the book. I loved it. I loved her. She's smart, she's funny and she makes us all feel like we're good just the way we are." —Jenna Bush Hager, Today

"Just as Helen Fielding did with the dating world of London in the 1990s, she now casts her laser-sharp eyes on midlife and parenthood. . . . Fielding's wit is generous and forgiving. . . . A clever mashup of texts, emails, tweets, and diary entries from Bridget, a big­hearted person who brings hearty humor to the ordi­nary vicissitudes of life." —Chicago Tribune

"Inimitable. . . . If you don't shed a few tears in the course of this book, you must have a heart of ice." —The Guardian (London)

"Fielding's comic gifts—and, just as important, her almost anthropological ability to nose out all that is trendy and potentially crazy-making about contem­porary culture, from Twitter ('OMG, Lady Gaga has 33 million followers! Complete meltdown. Why am I even bothering? Twitter is giant popularity contest which I am doomed to be the worst at') to online dating—are once again on shimmering exhibit. And Bridget is still recognizably her ditzy but ultimately unfazable self. . . . [Has] the sort of narrative propul­sion that is rare in autobiographically conceived fic­tion, not to mention an unsolipsistic world view (for all of Bridget's fussing over herself) that invites broad reader identification." —Daphne Merkin, Elle

"She's back! Our favorite hapless heroine returns after a decade-plus hiatus, juggling two kids, potential boyfriends, smug marrieds, rogue gadgets, and her nascent Twitter feed." —Vogue

"With Bridget Jones's Diary, Helen Fielding created a new female archetype. Now she's brought Bridget back to conquer the twenty-first century. . . . The diary form itself pays homage to Austen, lifting Fielding's work above many pale imitations. Austen's heroines aren't writers, but Fielding's is. . . . Aus­ten's plots are marriage plots, and ultimately so are Bridget's. But Fielding's novels (like Austen's, and like Sex and the City and Girls) also revolve around friendship—something at which Bridget excels. Nor is the character's staying power an accident. Field­ing . . . is still very much a writer." —Radhika Jones, Time

"A character like Bridget Jones is so beloved that she becomes something of a virtual best friend. . . . [The] third Bridget romp is every bit as engaging, hilarious and sometimes downright naughty as the first two: perfect light reading after a long day of holiday shop­ping, online dating or herding co-workers." —Dallas Morning News

"Fielding manages to both move and delight the reader time after time. . . . Hilarious." —New York Journal of Books 
Vintage, 9780345806345, 496pp.
Publication Date: June 3, 2014
About the Author
Helen Fielding is the author of Bridget Jones's Diary and Bridget Jones: The Edge of Reason, and was part of the screenwriting team on the movies of the same name. Bridget Jones: Mad About the Boy is her fifth novel. She has two children and lives in London and sometimes Los Angeles.
Who is "the boy"? Is it who you first thought it would be?
How did you react when you read about Mark Darcy's fate?
Age is a major theme in this novel. Why does Bridget feel the struggles more acutely than some of her contemporaries?
Bridget's friends deal with aging in different ways. Talitha believes in Botox while Bridget notes that Woney has not done any of this "rebranding" (page 66). Why do these different characters make these different decisions?
Dating rules have changed dramatically since Bridget's last appearance. How well does she adapt?
Bridget is adapting Hedda Gabbler, which she explains is a story about "the perils of trying to live through men" (page 17). What is Fielding's intent with this parallel?
In what ways did Daniel change from the previous books? And how did he stay the same?
Why does Roxster tell Bridget he "hearts" her? (page 250). Does he really mean "love," or is this something else?
Mr. Wallaker tells Bridget, ". . . other people's lives are not always as perfect as they appear, once you crack the shell" (page 323). How does Bridget finally learn this lesson? What earlier opportunities did she have to learn it?
On page 361, Tom tells Bridget about a new survey: "It proves that the quality of someone's relationships is the biggest indicator of their long-term emotional health—not so much the 'significant other' relationship, as the measure of happiness is not your husband or boyfriend but the quality of the other relationships you have around you." How does this bode for Bridget? Which characters might have cause for concern?
At the carol concert, Mr. Wallaker looks at Bridget in a certain way and she realizes she loves him. What finally brings her around?
What is the significance of the owl?
Bridget's last entry ties up the story in a cozy, comforting way. What do you imagine will happen next?
or
Not Currently Available for Direct Purchase