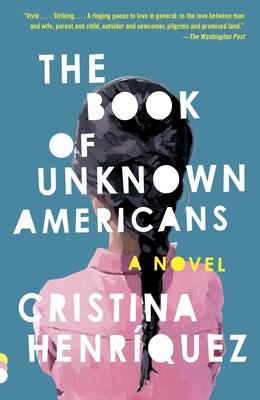 The Book of Unknown Americans (Vintage Contemporaries) (Paperback)
Vintage, 9780345806406, 304pp.
Publication Date: March 3, 2015
Other Editions of This Title:
Digital Audiobook (6/2/2014)
Paperback, Spanish (6/3/2014)
Hardcover, Large Print (12/24/2014)
CD-Audio (6/3/2014)
Hardcover (6/3/2014)
* Individual store prices may vary.
Description
Named a New York Times and Washington Post Notable Book, an NPR Great Read, The Daily Beast's Novel of the Year, and a Mother Jones, Oprah.com, School Library Journal, and BookPage Best Book of the Year

When fifteen-year-old Maribel Rivera sustains a terrible injury, the Riveras leave behind a comfortable life in Mexico and risk everything to come to the United States so that Maribel can have the care she needs. Once they arrive, it's not long before Maribel attracts the attention of Mayor Toro, the son of one of their new neighbors, who sees a kindred spirit in this beautiful, damaged outsider. Their love story sets in motion events that will have profound repercussions for everyone involved. Here Henríquez seamlessly interweaves the story of these star-crossed lovers, and of the Rivera and Toro families, with the testimonials of men and women who have come to the United States from all over Latin America. The Book of Unknown Americans is a stunning novel of hopes and dreams, guilt and love—a book that offers a resonant new definition of what it means to be American.
About the Author
Cristina Henríquez is the author of the story collection Come Together, Fall Apart, which was a New York Times Editors' Choice selection, and the novel The World in Half. Her work has appeared in The New Yorker, The Atlantic, The American Scholar, Glimmer Train, Virginia Quarterly Review, Ploughshares, TriQuarterly, AGNI, and Oxford American, as well as in various anthologies. She lives in Illinois.
Praise For The Book of Unknown Americans (Vintage Contemporaries)…
"Vivid . . . . Striking. . . . A ringing paean to love in general: to the love between man and wife, parent and child, outsider and newcomer, pilgrims and promised land." —The Washington Post

"Powerful. . . . Moving. . . . [Henríquez has] myriad gifts as a writer." —The New York Times

"Passionate, powerful. . . . A triumph of storytelling. Henríquez pulls us into the lives of her characters with such mastery that we hang on to them just as fiercely as they hang on to one another and their dreams." —Ben Fountain, author of Billy Lynn's Long Halftime Walk

"Gripping, memorable. . . . A novel that can both make you think and break your heart." —San Francisco Chronicle

"A remarkable novel that every American should read." —Minneapolis Star Tribune

"Unfailingly well written and entertaining. . . . [Henríquez's] stories illuminate the lives behind the current debates about Latino immigration." —The New York Times Book Review

"Lyrical. . . . This is a book about love, about how we seek to help those we love, sometimes with unforeseen and tragic consequences." —The Dallas Morning News

"Powerful. . . Henríquez gives us unforgettable characters . . . whose resilience yields a most profound and unexpected kind of beauty." —Ruth Ozeki, author of A Tale for the Time Being

"There's an aura of benevolence in these pages. . . . Henríquez's feat is to make the reader feel at home amid these good, likable people." —The Wall Street Journal

"Characters are as vivid as they are resilient. . . . [The] story is told from Alma and Mayor's points of view, but their voices are interlaced with tales of dreams deferred from the other tenants." —Elle

"A lovingly woven portrait of how friendships sustain people, how people support one another, and how people make a home in unlikely places. . . . Henríquez offers up stories we need to hear and lets us sit with her characters in communion and even friendship." —Christian Science Monitor

"Unforgettable: an important story about family, community, and identity, told with elegance and compassion." —Jami Attenberg, author of The Middlesteins

 "Passionate." —O, the Oprah Magazine

 "Henríquez distills the vast sea of immigrant stories into a small apartment building community in Delaware. . . . Through Henríquez's unadorned prose, these immigrants' struggles ring clear, their voices rising above that din of political debate." —USA Today

"An exquisite and profound novel of love, longing, and the resilience of the human spirit. . . . [These characters] leave an indelible mark on the heart." —Gilbert King, author of Devil in the Grove

 "Henríquez allows the characters to speak for themselves. . . . The politics of immigration, while never explicitly argued, remain subtly in play, as do more existential matters affecting immigrants, such as the mixed national and cultural allegiances and affiliations between the generations." —Chicago Tribune

"Distinctively compassionate and original. . . . Extraordinary." —Heidi Julavits, author of The Vanishings

 "[Henríquez is] a world-class stylist." —Chicago Reader

"Beautiful . . . Cristina Henríquez introduces us to . . . vibrant lives, to heartbreaking choices, to the tender beginnings of love, and to the humanity in every individual. Unforgettable." —Esmeralda Santiago, author of Conquistadora 

How does Alma's perspective in the novel's first chapter illustrate her and her family's hopes for their new life in America? Take another look at her statement after the trip to the gas station: "The three of us started toward the road, doubling back in the direction from which we had come, heading toward home" (11). What are the meanings of "home" here, and how does this scene show how America meets and differs from the Riveras' expectations of it?generic viagra price canada
Mayor describes how he's bullied at school and his general feelings of not fitting in. How do you think this draws him to Maribel? What do they have in common that perhaps those around them, including their parents, cannot see on the surface?generic viagra price canada
What are some key differences in the way that the women in the novel respond to challenges of assimilation compared to the men? How does Alma's point of view highlight these differences?generic viagra price canada
What brings Alma and Celia together as neighbors and friends, and how does their relationship change by the end of the book?generic viagra price canada
How does Alma's lingering guilt about Maribel's accident affect her choices and interactions when she's in America? Do you think that she still feels this way by the end of the book? What does she have to do, and realize within herself, to move beyond her feelings?generic viagra price canada
Discuss Quisqueya's role in what happens to Mayor and Maribel. Without her intervention, how might have their relationship, and ultimately the novel, ended differently?generic viagra price canada
How does the Toros' buying a car influence the course of events in the novel? What does the car mean for Rafael and Mayor individually and for their father-son relationship?generic viagra price canada
Do you, the members of your family, or your friends have stories of moving to another country to start a new life? Did any of the stories in the novel resonate with those you know?generic viagra price canada
How does the final chapter, told in Arturo's voice, influence your understanding of what he felt about America? What do you make of how he ends his narrative, "I loved this country," and that it is the last line of the book (286)?generic viagra price canada