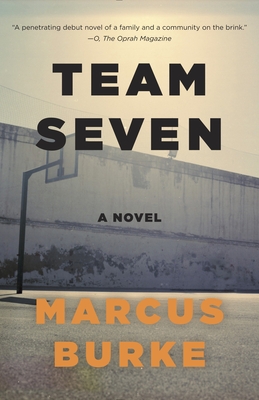 Team Seven
Paperback

* Individual store prices may vary.
Other Editions of This Title:
Hardcover (4/8/2014)
MP3 CD (5/27/2014)
Description
Just south of Boston in Milton, Massachusetts, Andre Battel is growing away from his Jamaican family, discovering genuine prowess on the basketball court, and eventually falling into dealing drugs for the local street gang, Team Seven. But when Andre and his crew fall behind on payments, dire and violent consequences await. Around Andre swirls a cast of characters and voices: Ruby, a hardworking medical secretary; Nina, his older sister; Eddy, his mostly-not-there father; and Reggie and Smoke, the kingpins of competing drug crews. As these individual lives clash and come together, the novel weaves an intricate and unflinching portrait of a black family, a black community, and one young man poised between youthful innocence and ambiguous experience.
Praise For Team Seven…
"A penetrating debut novel of a family and a community on the brink."—O, The Oprah Magazine

"L]ucid and affecting ... [A]n accomplishment, both for its ambition and its grounding, for what it tries to say and how it says it. Burke has an ear for the ridiculously rich and slyly intelligent language of urban black America. As the great James Baldwin asked, 'If black English isn't a language, then tell me, what is?'" —The Washington Post

"A wonderful debut novel that moves with the rhythm of the streets... Burke crafts a street-smart tale of the possibilities and temptations of growing up. There is power in his words, and the tale moves like a locomotive right to the end." —Kirkus Reviews, starred review

"The writing is rich with street vernacular, adding authenticity and depth to Andre's inner and outer worlds." —Publishers Weekly

"Burke draws on personal experience to illuminate inner-city African American realities." —Library Journal

"This coming-of-age novel marks the promising debut of African American author Burke, a product of the Boston suburb Milton, Susquehanna University, and the Iowa Writers Workshop." —Booklist

"This is a book about people engulfed from childhood in complexities that would baffle any wisdom. But their hopes, though they are felt so often in the absence or failure or corruption of friendship, marriage and family, remain with them and sustain them. Team Seven achieves a rare degree of mature and compassionate insight. It is a remarkable first novel." —Marilynne Robinson, author ofHousekeeping and Gilead

"Team Seven is hard and clear-eyed and beautiful. It conforms to no vision other than its own, stands its own ground, and refuses to drift for even a sentence into any of the prefabricated narratives to which, in less artful hands, its characters' lives might be vulnerable. Filled all at once and irreducibly with violence and grace, despair and hope, and that most precious element, love, Team Seven will lay claim to the hearts and implicate the souls of everyone who reads it." —Paul Harding, author of Tinkers and Enon

"This is one of those rare first books you'll read again and again. The prose surges forward: relentless, plainspoken and artful, the people it describes laid bare, the tender heart at the center pulsing through each chapter. Unforgettable." —Ayana Mathis, author of The Twelve Tribes of Hattie 





Anchor, 9780345806444, 272pp.
Publication Date: November 4, 2014
About the Author
Marcus Burke grew up in Milton, Massachusetts, just outside of Boston. A standout athlete, he attended prep school at Brimmer and May and was recruited to play basketball at Susquehanna University, where he played varsity for all four years. But a knee injury limited his playing time, so he took up fiction writing instead and was accepted at the Iowa Writers Workshop, where he was awarded a grant in honor of James Alan McPherson from the University of Iowa MacArthur Foundation Fund. He lives in Iowa City, Iowa.