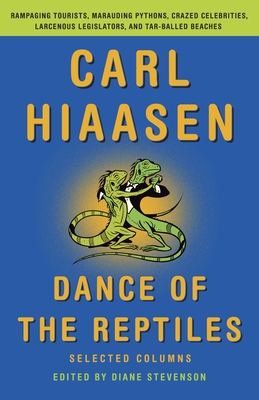 Dance of the Reptiles
Rampaging Tourists, Marauding Pythons, Larcenous Legislators, Crazed Celebrities, and Tar-Balled Beaches: Selected Columns
Paperback

* Individual store prices may vary.
Other Editions of This Title:
Digital Audiobook (1/27/2014)
Description
NEW YORK TIMES BESTSELLER • A collection of the best Miami Herald columns from the New York Times bestselling author of Squeeze Me on burning issues like animal welfare, polluted rivers, and the broken criminal justice system.

If you think the wildest, wackiest stories that Carl Hiaasen can tell have all made it into his hilarious, bestselling novels, think again. Dance of the Reptiles collects the best of Hiaasen's Miami Herald columns, which lay bare the stories—large and small—that demonstrate anew that truth is far stranger than fiction.

Hiaasen offers his commentary—indignant, disbelieving, sometimes righteously angry, and frequently hilarious—on issues like the Deepwater Horizon oil spill, Bernie Madoff's trial, and the shenanigans of the recent presidential elections. Whether or not you have read Carl Hiaasen before, you are in for a wild ride.
Praise For Dance of the Reptiles: Rampaging Tourists, Marauding Pythons, Larcenous Legislators, Crazed Celebrities, and Tar-Balled Beaches: Selected Columns…
"Although some say the satire practically writes itself in this state, Hiaasen raises it to a higher level. One caveat, though: Unless you have an intravenous drip of blood pressure meds, you might want to read just a few of these columns at a time."
    —Tampa Bay Times

"Hiaasen doesn't really need to keep his day job as a columnist for the Miami Herald, but fortunately for the residents of Florida and for his vast readership, he has.... The state of Florida does not come off too well in Hiaasen's columns, but one welcome positive of the Sunshine State is obvious—Carl Hiaasen."
    —The Free-Lance Star (Fredericksburg, VA)

"Hiaasen makes this parade of idiocy and avarice palatable with a kind of gallows humor. The more appalling the situation, the greater the potential for hilarity.... He is not so much stridently liberal as steadfastly sensible, his wit girded by palpable anger."
     —The Post and Courier (Charleston)

"Hiaasen employs a seasoned bullshit detector that is among the most acute in American journalism. ... If Florida is the poster child for a nation's fiscal and political disintegration, Hiaasen is the state's galloping knight (in)errant, slaying the dragons of ineptitude, arrogance and idiocy."
    —Kirkus Reviews

"Entertaining.... Hilarious and unnerving ... for Hiaasen's ability to awaken outrage and for his eye for oddity."
     —Booklist

Praise for Carl Hiaasen's previous column collections, Paradise Screwed and Kick Ass

"Shows you that Hiaasen's seemingly implausible fictional premises aren't really far-fetched at all. He just knows Florida."
     —Playboy
 
"Reminiscent of the snarky, opinionated newspaper articles of the great Mark Twain, Hiaasen's columns are finely crafted little gems."
     —Booklist
 
"Lively and well-reported ... Illuminated by all the wit and keen descriptive powers of his fiction."
     —Salon
Vintage, 9780345807021, 416pp.
Publication Date: January 28, 2014
About the Author
Carl Hiaasen was born and raised in Florida. He is the author of thirteen novels, including the bestsellers Bad Monkey, Star Island, Nature Girl, Skinny Dip, Sick Puppy, and Lucky You, and four bestselling children's books, Chomp, Hoot, Flush, and Scat. He joined The Miami Herald in 1976 and worked on the newspaper's magazine and investigations team before starting his column in 1985. In 2010, he received a Lifetime Achievement Award from the National Society of Newspaper Columnists.