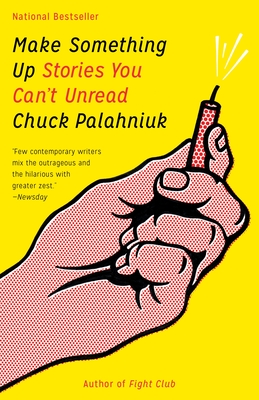 Make Something Up
Stories You Can't Unread
Paperback

* Individual store prices may vary.
Other Editions of This Title:
Digital Audiobook (5/25/2015)
Hardcover (5/26/2015)
Description
Chuck Palahniuk, literature's favorite transgressive author, gives us twenty-one stories and one novella in Make Something Up, a compilation that disturbs and delights in equal measure. In "Expedition," fans will be thrilled to find to see a side of Tyler Durden never seen before in a precursor story to Fight Club. And in other stories, the absurdity of both life and death are on full display: in "Zombies," the best and brightest of a high school prep school become tragically addicted to the latest drug craze—electric shocks from cardiac defibrillators; in "Knock, Knock," a son hopes to tell one last off-color joke to a father in his final moments; and in "Tunnel of Love," a massage therapist runs the curious practice of providing "relief" to dying clients. Funny, caustic, bizarre, poignant, these stories represent everything readers have come to love and expect from Chuck Palahniuk. You'll never forget them. Just try.
Praise For Make Something Up: Stories You Can't Unread…
Praise for Chuck Palahniuk and Make Something Up:


"Palahniuk doesn't write for tourists. He writes for hard-core devotees drawn to the wild, angry imagination on display and the taboo-busting humor."
—The New York Times 
 
"Palahniuk is a bracingly toxic purveyor of dread and mounting horror. He makes nihilism fun."
—Vanity Fair

"Palahniuk displays a Swiftian gift for satire, as well as a knack for crafting mesmerizing sentences."
—San Francisco Examiner

"Few contemporary writers mix the outrageous and the hilarious with greater zest."
 —Newsday

"Few authors have captured the pathologies of modern life quite like Palahniuk."
—Rocky Mountain News

"Chuck Palahniuk is one of the most intriguing writers of our time."
—Tucson Citizen

"For the first time, Palahniuk collects his short stories, which feature his signature humor, horror, and grit. [The] other stories deal with fire, bodily fluids, malfunctions, critiques of material society, bestiality, a bewitched tennis ball, and a murder at a Burning Man-type retreat. The collection is essential for Palahniuk fans and will likely win him some new ones."
—Publishers Weekly

"Palahniuk comes roaring back from a stretch of experimentalism with 23 tales celebrating his ongoing affection for the macabre... Pathos and panic and penitence from one of the darkest and most singular minds in contemporary American lit."
—Kirkus Reviews

"Even as you likely suffer debilitating motion sickness from the jarring emotional turns on every other page, you'll be inescapably restrained by an author who knows exactly what he's doing and has you right where he wants you. Palahniuk's uniquely modern style throws out any antiquated conventions that could keep him from destroying any expectations that keep you in complacent narrative comfort."
—Booklist
Anchor, 9780345807120, 336pp.
Publication Date: April 19, 2016
About the Author
CHUCK PALAHNIUK is the author of fourteen novels—Beautiful You, Doomed, Damned, Tell-All, Pygmy, Snuff, Rant, Haunted, Diary, Lullaby, Choke, Invisible Monsters, Survivor, and Fight Club—which have sold more than five million copies altogether in the United States. He is also the author of Fugitives and Refugees, published as part of the Crown Journey Series, and the nonfiction collection Stranger Than Fiction. He lives in the Pacific Northwest. Visit him on the web at chuckpalahniuk.net.