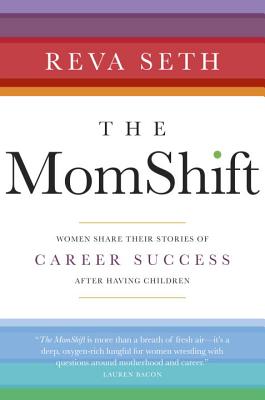 The MomShift
Women Share Their Stories of Career Success After Having Children
Hardcover

* Individual store prices may vary.
Description
"The MomShift" is the first book to exclusively research and showcase the stories of a diverse range of relatable women who share the multitude of ways in which they achieved greater career success after starting their families.
Women are regularly told that having children will hurt their careers--until now. In "The MomShift," Reva Seth talked to over 500 mothers from a broad range of professional and personal backgrounds who have defied cultural expectations and achieved greater professional success after starting their families.
For these women and others like them, having children actually enhanced their work life: by helping them prioritize and set bigger goals, inspiring them to work harder and smarter or even spurring them to start their own businesses. As Rebecca Woolf--of "Girl's Gone Child" blog fame--puts it, "Motivation, thy name is parenthood."
But as Sheryl Sandberg, the COO of Facebook has pointed out, when an already busy women starts thinking about having a child, she frequently steps back from her career goals, unable to picture how her already busy life will accommodate children. Enter "The MomShift," which covers areas such as how much we really need to "lean in," whether there's a "best time" to have a baby, the benefits of re-framing maternity leave, ambition, financial concerns, the changing nature of careers, and whether work/life balance really exists for working mothers. Each chapter has discussion questions to keep the conversation going and the ideas percolating. The result is a reassuring, supportive and inspirational resource that emphasizes there is no one right way to balance careers and family, and that illustrates the many choices women have today. The MomShift is an invaluable career companion brimming with motivation, tips and ideas to help each woman to create her own version of career success during the often hectic but highly productive "mom" years.
Praise For The MomShift: Women Share Their Stories of Career Success After Having Children…
 "The Mom Shift helps advance an important conversation around working parents—men and women. The stories in the book, of mothers who have built fulfilling and successful careers after having children, are candid, insightful, inspiring and often touching. Reva Seth has truly captured the depth and breadth of their experiences and perspectives."
—ALEX JOHNSTON, Executive Director, Catalyst Canada

"Reva Seth's book The MomShift combines storytelling and research to examine the obstacles women face in the workforce once they have kids. Frank conversations with a wide variety of successful working women combine to make a tapestry of useful insights and guilt-free solutions for modern moms."
—ERICA EHM, Creator/Publisher, YummyMummyClub.ca
 
"The MomShift is a conversation we've been craving. It's chock-full of sage advice, down-to-earth strategies, and quotes you'll want to share with your friends, colleagues, sisters and daughters. So grab your highlighter and enjoy."
—SARAH RAFFERTY, actress
  
"The MomShift is more than a breath of fresh air—it's a deep, oxygen-rich lungful for women wrestling with questions around motherhood and career. Reva Seth adds a crucial layer to the 'having it all' debate by asking the reader: What do you want?"
—LAUREN BACON, founder of Curiosity Labs and author of The Boss of You
Random House Canada, 9780345812643, 295pp.
Publication Date: February 11, 2014
About the Author
Reva Seth is an author and entrepreneur who regularly speaks on issues related to working mothers. She began her career as a corporate lawyer and then moved into strategic and corporate communications. Seth has written for the "Atlantic, " the "Globe and Mail," "Canadian Business" and the "Huffington Post," and has been featured on numerous radio and television shows including "20/20," "Canada A.M.," and "Steven and Chris." She lives in Toronto with her husband and three boys.
or
Not Currently Available for Direct Purchase