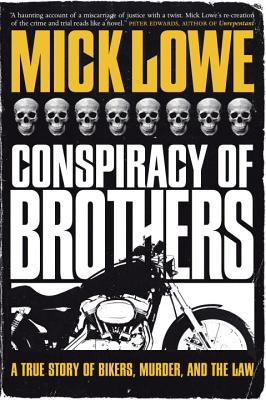 Conspiracy of Brothers: A True Story of Bikers, Murder and the Law (Paperback)
A True Story of Bikers, Murder and the Law
Vintage Books Canada, 9780345813169, 464pp.
Publication Date: April 30, 2013
* Individual store prices may vary.
or
Not Currently Available for Direct Purchase
Description
To coincide with Random House Canada's publication of the groundbreaking book Unrepentant by Peter Edwards and biker Lorne Campbell, Vintage Canada updates and reissues the award-winning true crime classic that tells the complete and scandalous story in the most gut-wrenching chapter of Campbell's life. You can't read one without wanting to read the other
On the night of October 18, 1978, small-town biker Bill Matiyek was having a drink in a Port Hope bar. A gunman suddenly walked up and fired 3 bullets into his head. Members of the rival bike club Satan's Choice, who were in the bar, quickly vanished. Was it a cold-blooded gangland-style execution, as the Crown Attorney and police would argue, or the compulsive act of a single gunman? Was the trial that followed driven by persistent police work or a police frame-up? Did the bikers conspire to murder or did the law conspire to convict them? Guilt by association, unreliable eyewitness testimony, suppression of evidence, botched police procedures--call the results justice or call them revenge, the question remains: Who really killed Bill Matiyek, and why?
About the Author
Mick Lowe was born in Omaha, Nebraska, and immigrated to Canada in 1970. Lowe's journalism has appeared in a range of publications such as Maclean's, Canadian Business, Canadian Lawyer, the Globe and Mail and on CBC Radio. He followed his first non-fiction book, Conspiracy of Brothers, which was a national bestseller and winner of the Arthur Ellis Award for Best Non-Fiction Crime Book, with a biography of prisoner rights advocate Claire Culhane and then a book on the rush to exploit the Voisey's Bay nickel deposit, Premature Bonanza: Standoff at Voisey's Bay. In 2008 he suffered a stroke that interrupted his writing life, among other things. In early 2012, he restarted his writing career with this twenty-fifth-anniversary edition of Conspiracy of Brothers. He lives in Sudbury, where he is at work on a novel set in the region in the early 1960s.
Praise For Conspiracy of Brothers: A True Story of Bikers, Murder and the Law…
Winner 1989 – Arthur Ellis Award for Best Non-Fiction Crime Book
 
"A haunting account of a miscarriage of justice with a twist. Mick Lowe's account reads like a novel."
—Peter Edwards, author of Unrepentant: The Strange and (sometimes) Terrible Life of Lorne Campbell, Satan's Choice and Hells Angels Biker and co-author of The Encyclopedia of Canadian Organized Crime

"The narrative of the trial makes gripping reading."
—Toronto Star
 
"A monument of investigative reporting and a riveting story--an extraordinary book."
—Winnipeg Free Press
Advertisement