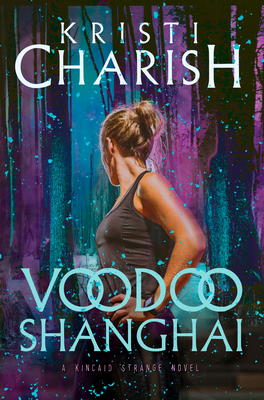 Voodoo Shanghai
A Kincaid Strange Novel (Kincaid Strange Series, The #3)
Paperback

* Individual store prices may vary.
Other Editions of This Title:
MP3 CD (5/5/2020)
Description
The third and final installment in Kristi Charish's thrilling urban fantasy series finds beloved heroine and voodoo practitioner Kincaid Strange shanghaied away from Seattle and pursuing the ghost of a serial killer in Portland.

Just when Kincaid Strange thinks her life is back on track and she's finally put her time as a paranormal practitioner with the Seattle PD to rest, her ex (and Seattle cop) Aaron asks her for help with yet another strange and ominous case. Martin Dane, the White Picket Fence Serial Killer who terrorized West Coast families living the suburban American dream, appears to be back at it with a fresh murder in Portland. There's only one problem: Dane has been dead for three weeks.
Kincaid can't resist a paranormal mystery. Despite her misgivings, she agrees to examine the Portland crime scene. What she discovers is a place of supernatural power unlike anywhere she's ever been--and the reason Aaron had been so tight-lipped about the case details. There's already a voodoo practitioner on the scene: Liam Sinclair, a TV celebrity of questionable talent and dubious intent.
Kincaid wants nothing more than to finish the job and retreat to Seattle, but the deeper she looks, the less the murder adds up. When she uncovers a much more sinister mystery--missing ghosts, scores of them, whom no one is looking for--there's no turning back.

Praise For Voodoo Shanghai: A Kincaid Strange Novel (Kincaid Strange Series, The #3)…
"Voodoo Shanghai is a lot of fun. It's a terrific, fast-paced read with a number of surprising twists, a welcome blast of pure reading pleasure. . . . But it's also much more than that. Through Kincaid Strange, Charish chronicles realistic social and personal concerns in a vivid and often disarming manner. Not only does Kincaid have to navigate workplace politics, and the fallout of a relationship with a coworker, she is subject to the same sexist world that is so familiar (how she handles a grabby dude-bro poltergeist at Sea-Tac will have readers cheering). But it goes deeper than that. At the heart of the novels is the relationship between the ghosts and humans, a stark examination of societal exclusion and segregation. . . . It's a thrilling balancing act, and one which Charish pulls off with aplomb." —Robert J. Wiersema, Toronto Star

 
Praise for the Kincaid Strange Novels
 
"If you're a fan of Buffy Summers and Sookie Stackhouse, you'll definitely like Kincaid Strange." —Canadian Living

"The Voodoo Killings is such a spectacular mix of urban fantasy and mystery it kept me up to two in the morning. Give me more Kincaid Strange." —Faith Hunter, New York Times bestselling author of the Jane Yellowrock series
 
"Kristi Charish grabs the zombie novel by the throat and drags it back to square one, creating a voodoo zombie mystery that is a fresh and fantastic take on a whole genre. A must read!" —Peter Clines, author of The Fold, 14 and the Ex-Heroes series

"What a rush! Highly entertaining, original, and brimming with wit—and zombies in closets—I loved The Voodoo Killings. Can't wait for the next!"  —Julie E. Czerneda, author of This Gulf of Time and Stars
 
"This was an absolute delight to read. With a smart, cynical hero and zombies whose morals are as gray as the brains they snack on, The Voodoo Killings offers a fun and creepy new world—or two—to get lost in." —Patrick Weekes, author of the Rogues of the Republic series
 
"Charish writes a compelling tale that blends together supernatural and horror elements. . . . The characters are interesting, narrative moves along at a nice pace, and Charish's prose and balance of mystery and horror make the book well worth the read." —Flickering Myth (UK)
Vintage Canada, 9780345815927, 432pp.
Publication Date: February 18, 2020
About the Author
KRISTI CHARISH has a background in archeology and a Ph.D. in zoology from the University of British Columbia. She is the author of the first two books in the Kincaid Strange series, The Voodoo Killings and Lipstick Voodoo, and the four books in the Owl series: Owl and the Tiger Thieves, Owl and the Electric Samurai, Owl and the Japanese Circus and Owl and the City of Angels. She has worked as a scientific adviser on projects such as fantasy and SF writer Diana Rowland's series White Trash Zombie. Kristi lives in Vancouver.
or
Not Currently Available for Direct Purchase