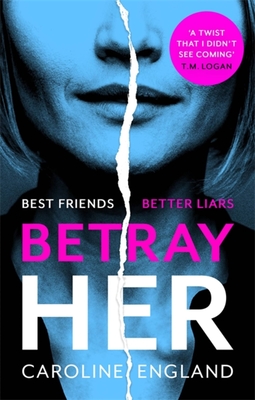 Betray Her
Paperback

* Individual store prices may vary.
Description
'A twist that I didn't see coming!' T. M. LOGAN

'Kept me gripped' B. A. PARIS

'Incredibly twisty . . . deliciously satisfying' CLAIRE ALLAN

'A taut, tantalising thriller' SHERYL BROWNE

'Truly terrific!' MARTINA COLE

_______________

Best friends forever.

That's the pact you made.

You'd do anything for her.

And you have.

She's always had it all.

If you could take it for yourself . . . would you?

_______________

Lust, secrets and revenge are at the heart of this irresistibly twisted thriller. Perfect for fans of Lies Lies Lies by Adele Parks and She by H C Warner.

What readers are saying about Betray Her:

'Wow! This kept me gripped right up until the last page!!' NetGalley reviewer, 5 stars

'Utterly fantastic. Sooo gripping and addictive' NetGalley reviewer, 5 stars

'Was blown away . . . what a book' NetGalley reviewer, 5 stars

'A very good twist that I was not expecting. Really had me hooked' NetGalley reviewer, 5 stars

'Wow . . . Completely gripping, you wont be able to put it down!' NetGalley reviewer

'Grabbed my attention and didn't let go till the shocking twist at the end' NetGalley reviewer, 5 stars

'I flew through this one and the ending had me shaken! Wonderful book!' NetGalley reviewer

'I absolutely thought that this was a fabulous read' NetGalley reviewer, 5 stars

'A great twist that I absolutely didn't see coming' NetGalley reviewer

'I was on the edge of my seat from the first page right up until the breathtaking finale' NetGalley reviewer

'A real page turner' NetGalley reviewer, 5 stars

'I was gripped from the very first page' NetGalley reviewer, 5 stars
Praise For Betray Her…
Twists to leave you dizzy—Teresa Driscoll

Utterly addictive; I'll be recommending this book to everyone I know—Victoria Selman

You'll be hooked from the first pages, and the gripping plot holds you by the scruff of the neck and doesn't let go until the twisting, turning end—Phaedra Patrick

[A] fantastic novel, which holds you in its iron grip throughout. Enough twists, turns, and deftly drawn characters to keep even the most demanding reader thoroughly satisfied—S. D. Robertson

A simmering cocktail of betrayal, lust and deceit in this explosively plotted thriller about family secrets and broken friendship—Sanjida Kay

A sumptuous serving of domestic noir—S. D. Robertson

A clever, intriguing and twisted tale that builds to a gut-wrenching conclusion—Roz Watkins

A totally absorbing read that's beautifully written, where lives and secrets slowly unravel—Elisabeth Carpenter

An absorbing and highly enjoyable modern morality tale about a toxic friendship with a heart of darkness. Caroline has a real gift for creating characters you genuinely care about.—Judith O?Reilly

An intoxicating read. A thrilling blend of social drama and crime thriller. Recommended!—David Stuart Davies

I instantly became lost in the gripping story . . . Betray Her has everything that you'd expect from a psychological thriller and much more; a whirlwind of jealousy, illicit relationships, secrets and lies that will sweep you up and carry you along until the end.—Petrina Banfield

I LOVED this book!An unstoppable thriller with more twists and turns than a corkscrew. This book had me gripped from the very first page! Five stars from me—Caroline Mitchell

Incredibly twisty, beautifully written, evocative and deliciously satisfying. I cannot recommend it highly enough!—Claire Allan

Kept me gripped and guessing—B. A. Paris

Packs a knock-out final punch.Cunningly plotted and beautifully crafted, this is England on superlative form—Helen Fields

Really enjoyed this dark and twisted tale of toxic relationships—Roz Watkins

Really loved this . . . Layer upon layer of history coming back to mess with today's lives and relationships. And no, I didn't see that end coming! —Sarah Jasmon

Sharp and sweetly twisted. I loved it—Helen Fields

Stunning . . . dark undercurrents and sinister twists. A top-end read—Amanda Robson

Twisting trianglesof love and lust distort a perfect circle of friends in this slow-burning literary thriller—Rachel Sargeant

Caroline England writes with real conviction about the strengths and limits of female friendship. Betray Her is a compelling, twisty tale that lovers of psychological crime fiction will relish—Kate Rhodes

I finished it in hours! Truly a terrific read!—Martina Cole

I was gripped immediately—Katerina Diamond

Praise for Caroline England:

Though twisty and turny, this is one to really savour as with Caroline (like in her previous books) it's all about the beautiful writing. Wonderful—Louise Beech

A compelling tale of love, jealousy, betrayal - and a devastating secret at the dark heart of a lifelong friendship. A great read with a twist that I didn't see coming!—T. M. Logan

A taut and twisted tale of toxic relationships - trademark Caroline England—Rachel Sargeant

A taut, tantalising thriller . . . full of passion and intrigue, sexual tension and desperate longing . . . mesmerising storytelling—Sheryl Browne

A thoroughly good read! A sophisticated domestic noir with real emotional depth—Sam Carrington

A vivid account of friendship, betrayal and long-buried dark secrets—Kate Ellis

Drew me in from the first page, twisted and turned, unravelling deliciously to an unexpected conclusion. A true page turner with characters that get under your skin and stay there long after you've read the last words—Faith Bleasdale

Exquisite prose and a roller coaster ride of secrets and lies—Jane Isaac
Piatkus, 9780349422800, 368pp.
Publication Date: January 25, 2022
About the Author
Caroline England was born and brought up in Yorkshire and studied Law at the University of Manchester. She was a divorce and professional indemnity lawyer before leaving the law to bring up her three daughters and turning her hand to writing. Caroline is the author of The Wife's Secret, previously called Beneath the Skin, and the top-ten ebook bestseller My Husband's Lies. Betray Her is her third novel. She lives in Manchester with her family.

To find out more about Caroline, visit her website www.carolineenglandauthor.co.uk
or follow her on social media:

Twitter: @CazEngland
Facebook: www.facebook.com/CazEngland1
Instagram: www.instagram.com/cazengland1
or
Not Currently Available for Direct Purchase