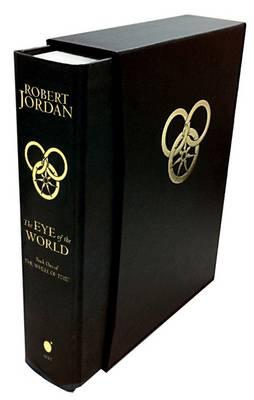 Eye of the World
Hardcover

* Individual store prices may vary.
Other Editions of This Title:
Digital Audiobook (4/30/2004)
Mass Market (10/29/2019)
Paperback (8/11/2020)
Hardcover (1/15/1990)
Hardcover (10/6/2020)
Paperback (2/15/1990)
Hardcover (1/29/2013)
CD-Audio (5/5/2015)
Prebound (11/15/1990)
Mass Market Paperback (9/1/2000)
Mass Market (11/15/1990)
Compact Disc (5/1/2004)
Paperback (5/8/2012)
Compact Disc (4/6/2004)
Description
With the full cooperation of the Jordan estate, "The Eye of the World "has been turned into a stunning comic book series written by Chuck Dixon and illustrated by Chase Conley. The first Robert Jordan graphic novel, "New Spring: the Graphic Novel," was a "New York Times "bestseller.
"The Eye of the World: The Graphic Novel, Volume One "begins Robert Jordan's epic fantasy tale by introducing Rand al'Thor and his friends Matrim and Perrin at the spring festival. Moiraine Damodred and Lan Mandragoran appear, and almost before Rand knows it, he and his friends are fleeing his home village with Moiraine, Lan, and Egwene al'Vere, the innkeeper's daughter, who wishes to become an Aes Sedai. The conclusion of this volume leaves the travelers on the road to Baerlon, barely ahead of the pursuing Trollocs and Draghkar. As they run for their lives, Moiraine and Lan begin to teach the young people what they need to know to survive in this dangerous world.
Orbit, 9780356501529
Publication Date: November 1, 2011
About the Author
Robert Jordan was born in 1948 in Charleston, South Carolina. He taught himself to read when he was four with the incidental aid of a twelve-years-older brother, and was tackling Mark Twain and Jules Verne by five. He is a graduate of The Citadel, the Military College of South Carolina, with a degree in physics. He served two tours in Vietnam with the U.S. Army; among his decorations are the Distinguished Flying Cross with bronze oak leaf cluster, the Bronze Star with "V" and bronze oak leaf cluster, and two Vietnamese Gallantry Crosses with palm. A history buff, he has also written dance and theater criticism and enjoyed the outdoor sports of hunting, fishing, and sailing, and the indoor sports of poker, chess, pool, and pipe collecting.Robert Jordan began writing in 1977 and went on to write The Wheel of Time(R), one of the most important and best selling series in the history of fantasy publishing with over 14 million copies sold in North America, and countless more sold abroad.Robert Jordan died on September 16, 2007, after a courageous battle with the rare blood disease amyloidosis.
or
Not Currently Available for Direct Purchase