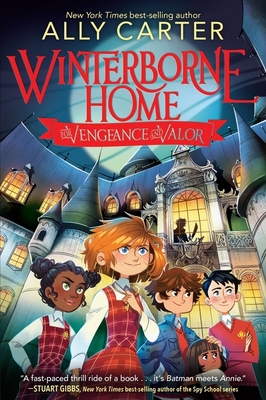 Winterborne Home for Vengeance and Valor (Hardcover)
HMH Books for Young Readers, 9780358003199, 320pp.
Publication Date: March 3, 2020
* Individual store prices may vary.
Description
New York Times best-selling author Ally Carter's middle grade debut is full of mystery, mayhem, and friendship, and it will keep you guessing until the very end. 
April didn't mean to start the fire. She wasn't even the one who broke the vase. 
She had absolutely no intention of becoming the only person who knows that Gabriel Winterborne, the missing-and-presumed-dead billionaire, is neither missing nor dead and is actually living in the basement of Winterborne House, sharpening his swords and looking for vengeance. 
Now that April knows Gabriel Winterborne is alive, it's up to her to keep him that way. But there's only so much a twelve-year-old girl can do, so April must turn to the other orphans for help. Together, they'll have to unravel the riddle of a missing heir and a creepy legend, and find a secret key, before the only home they've ever known is lost to them forever. 
About the Author
Ally Carter writes books about spies, thieves, and diplomats. She is the New York Times bestselling author of three YA series about the world's best teenage art thieves (Heist Society), the world's coolest spy school (Gallagher Girls, including I'd Tell You I Love You But Then I'd Have To Kill You), and the granddaughter of a diplomat who has to find her mother's killer on Embassy Row. Not If I Save You First is her latest New York Times best-seller. Winterborne Home for Vengeance and Valor will be her middle grade debut. Her novels have sold over three million copies and have been published in more than twenty countries. She lives in Oklahoma, where her life is either very ordinary or the best deep-cover legend ever. She'd tell you more, but…well…you know… Visit her at AllyCarter.com, on Twitter @OfficiallyAlly, and on Instagram, Facebook, and Tumblr at @theallycarter
Praise For Winterborne Home for Vengeance and Valor…
Early Praise for Winterborne Home for Vengeance and Valor:
"A fast-paced thrill ride of a book, filled with great characters, swashbuckling action sequences, secret passageways, mystery, and plenty of humor. It's
Batman
meets
Annie
. My daughter devoured it in one sitting and immediately begged for more. I can't come up with any better praise than that." —Stuart Gibbs,
New York Times
bestselling author of the Spy School series  
"This is the kind of read that makes your soul sit up straight. At once a heart-wrenching tale of found family and a thrilling, atmospheric mystery that keeps you guessing at every page, Ally Carter's middle grade debut is a triumph. I loved April's character down to the barb wire wrapped around her heart, and I cheered for her journey and the extraordinary bravery required to open up to other people."
—Roshani Chokshi,
New York Times
bestselling author of
Aru Shah and the End of Time
"An unputdownable blend of humor, unique characters, and a mystery that'll keep readers turning pages way past their bedtimes--and checking their basements... just in case." —Alexandra Bracken,
New York Times
bestselling author of
Prosper Redding 
 
"LOVED IT! Found myself alternating between being choked up and bursting out laughing. Ally Carter has created a middle grade series that is funny, poignant and compulsively readable, with a pitch perfect voice." —Cathy Berner, Blue Willow Bookshop  
"I really did love the book! What sets apart this tale of a missing heir, an orphaned girl, and a mysterious key, is the heart and soul of the characters. April is my new favorite self-reliant girl who joins four other savvy orphans to solve the mystery and save their new-found home. The suspenseful fast-paced plot is paired with hilarious asides to the reader, perfectly balancing the storytelling. I look forward to more tales of the orphans at Winterborne House!" —Jamie McCauley, RJ Julia Booksellers  
"The perfect mix of witty and heartwarming, and everything I could have hoped for in Ally Carter's middle grade debut! I found the character of April to be extremely relatable, and exactly the heroine that 12 year old me needed in a story. The book incorporates themes of belonging and poses the question, "What is a home?", alongside a funny and mysterious adventure, and came across as very original. Overall, I am extremely excited for this book, and truly enjoyed reading it." —Nora Deyo, Eight Cousins  
"The Winterborne Home For Vengeance and Valor" is The perfect mix of mystery, suspense and adventure with a wonderful cast of characters that you wish were your friends! An evil villain and a plot that keeps you guessing make this a book that is hard to put down! Plus who can resist a spirited discussion on superhero farts! I can't wait to introduce middle grade readers to a new Ally Carter novel just for them!" —Janice Penner, Watermark Books and Cafe  
"Action, inventions, murders, four poster beds, fencing, a mysterious key, literally something for everyone, Ally Carter's debut middle reader is a blast to read, and will leave readers panting for the next book!" —Margaret Brennan Neville, Kings English
Praise for Not if I Save You First:
"Maddie's grit, humor, and cleverness make her an engaging action hero. Fans of survivalist fiction will be impressed by the well-researched, immersive Alaskan landscape and all its beauty and brutality. A tightly plotted thriller helmed by a firecracker that never loses her spark." –
Kirkus Reviews
"In this tense romantic thriller from Carter…the characters are dynamic and engaging. The teens' childhood friendship evolves into a sweet romance, and the fast-paced thrills will keep readers up late."—
Publishers Weekly
"The chemistry and relationship buildup between these two friends is real and believable. The quick pace and witty dialogue will keep teens engaged. Recommended where survival and mystery stories are popular and where Carter has a following."—
School Library Journal
Praise for All Fall Down (Embassy Row Book One):A New York Times Bestseller
"Carter knows how to construct a gripping thriller." —
Publishers Weekly
"Action packed and meticulously plotted, 
All Fall Down
 keeps readers guessing." —
Booklist
"With its intrigue and clever plot twists, this series opener will leave readers hungering for more." —
School Library Journal
"Will appeal not only to psychological-thriller fans, but to those who want a little glamour, some A-list social politics, and a bit of high school nastiness mixed in with their suspense." —
Kirkus Reviews
"Grace is a fighter, and she will stop at nothing to find out what happened to her mother. Readers will love this first book in what promises to be an exciting, thrilling mystery series." —
Voice of Youth Advocates
"An amazing book." —
The Guardian
Honors and Awards
2011 Texas Lone Star Reasing List (Heist Society)
2010 YALSA Teens Top Ten Book (Heist Society)
North Carolina Book Award Booklist, 2010-2011 (Heist Society)
Teens Top 10 Finalist, 2010 (Heist Society)
Romance Writers' of America Rita Award Finalist, 2010 (Don't Judge a Girl By Her Cover)
Maryland Black-Eyed Susan Book Award Winner (I'd Tell You I Love You but Then I'd Have to Kill You)
Maud Hart Lovelace Book Award Winner (I'd Tell You I Love You but Then I'd Have to Kill You)
Amelia Bloomer Book Award (I'd Tell You I Love You but Then I'd Have to Kill You)
Kansas Notable book (I'd Tell You I Love You but Then I'd Have to Kill You)
Texas Lone Star Reading List (I'd Tell You I Love You but Then I'd Have to Kill You)
Georgia Peach Book Award Runner-Up (I'd Tell You I Love You but Then I'd Have to Kill You)