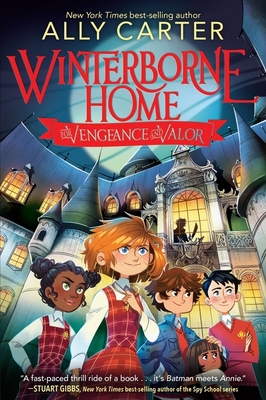 Winterborne Home for Vengeance and Valor (Hardcover)
HMH Books for Young Readers, 9780358003199, 336pp.
Publication Date: March 3, 2020
* Individual store prices may vary.
Description
New York Times best-selling author Ally Carter's middle grade debut is full of mystery, mayhem, and friendship, and it will keep you guessing until the very end. 
April didn't mean to start the fire. She wasn't even the one who broke the vase. 
She had absolutely no intention of becoming the only person who knows that Gabriel Winterborne, the missing-and-presumed-dead billionaire, is neither missing nor dead and is actually living in the basement of Winterborne House, sharpening his swords and looking for vengeance. 
Now that April knows Gabriel Winterborne is alive, it's up to her to keep him that way. But there's only so much a twelve-year-old girl can do, so April must turn to the other orphans for help. Together, they'll have to unravel the riddle of a missing heir and a creepy legend, and find a secret key, before the only home they've ever known is lost to them forever. 
About the Author
Ally Carter writes books about spies, thieves, and diplomats. She is the New York Times bestselling author of three YA series about the world's best teenage art thieves (Heist Society), the world's coolest spy school (Gallagher Girls, including I'd Tell You I Love You But Then I'd Have To Kill You), and the granddaughter of a diplomat who has to find her mother's killer on Embassy Row. Not If I Save You First is her latest New York Times best-seller. Winterborne Home for Vengeance and Valor will be her middle grade debut. Her novels have sold over three million copies and have been published in more than twenty countries. She lives in Oklahoma, where her life is either very ordinary or the best deep-cover legend ever. She'd tell you more, but…well…you know… Visit her at AllyCarter.com, on Twitter @OfficiallyAlly, and on Instagram, Facebook, and Tumblr at @theallycarter
Praise For Winterborne Home for Vengeance and Valor…
Praise for All Fall Down (Embassy Row Book One):A New York Times Bestseller
"Carter knows how to construct a gripping thriller." —
Publishers Weekly
"Action packed and meticulously plotted, 
All Fall Down
 keeps readers guessing." —
Booklist
"With its intrigue and clever plot twists, this series opener will leave readers hungering for more." —
School Library Journal
"Will appeal not only to psychological-thriller fans, but to those who want a little glamour, some A-list social politics, and a bit of high school nastiness mixed in with their suspense." —
Kirkus Reviews
"Grace is a fighter, and she will stop at nothing to find out what happened to her mother. Readers will love this first book in what promises to be an exciting, thrilling mystery series." —
Voice of Youth Advocates
"An amazing book." —
The Guardian
Honors and Awards
2011 Texas Lone Star Reading List (Heist Society)
2010 YALSA Teens Top Ten Book (Heist Society)
North Carolina Book Award Booklist, 2010-2011 (Heist Society)
Teens Top 10 Finalist, 2010 (Heist Society)
Romance Writers' of America Rita Award Finalist, 2010 (Don't Judge a Girl By Her Cover)
Maryland Black-Eyed Susan Book Award Winner (I'd Tell You I Love You But Then I'd Have to Kill You)
Maud Hart Lovelace Book Award Winner (I'd Tell You I Love You But Then I'd Have To Kill You)
Amelia Bloomer Book Award (I'd Tell You I Love You But Then I'd Have To Kill You)
Kansas Notable book (I'd Tell You I Love You But Then I'd Have To Kill You)
Texas Lone Star Reading List (I'd Tell You I Love You But Then I'd Have To Kill You)
Georgia Peach Book Award Runner-up (I'd Tell You I Love You But Then I'd Have To Kill You)