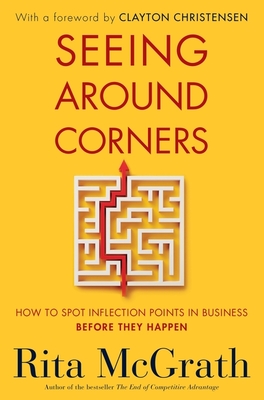 Seeing Around Corners
How to Spot Inflection Points in Business Before They Happen
Hardcover

* Individual store prices may vary.
Other Editions of This Title:
Digital Audiobook (9/2/2019)
Paperback (9/21/2021)
CD-Audio (9/3/2019)
MP3 CD (9/3/2019)
Description
The first prescriptive, innovative guide to seeing inflection points before they happen—and how to harness these disruptive influences to give your company a strategic advantage.

Paradigmatic shifts in the business landscape, known as inflection points, can either create new, entrepreneurial opportunities (see Amazon and Netflix) or they can lead to devastating consequences (e.g., Blockbuster and Toys R Us). Only those leaders who can "see around corners"–that is, spot the disruptive inflection points developing before they hit–are poised to succeed in this market.

Columbia Business School Professor and corporate consultant Rita McGrath contends that inflection points, though they may seem sudden, are not random. Every seemingly overnight shift is the final stage of a process that has been subtly building for some time. Armed with the right strategies and tools, smart businesses can see these inflection points coming and use them to gain a competitive advantage. Seeing Around Corners is the first hands-on guide to anticipating, understanding, and capitalizing on the inflection points shaping the marketplace. 
Praise For Seeing Around Corners: How to Spot Inflection Points in Business Before They Happen…
Rita McGrath is in the Top 10 of Thinkers50, ranked number 5.
SEEING AROUND CORNERS named one of the top three business books of 2019 by strategy + business.

FEATURING A FOREWORD BY CLAYTON CHRISTENSEN

"Sharp, stimulating primer...the message and advice are pithy, clever, and encouraging."—Publishers Weekly

"At IDEO, we have been helping clients see what their future could be for decades. I'm excited that we now have such a human, entertaining, and thoughtful guide to explain why it is so important to get ready for the next inflection point. There is not a leader or organization that won't benefit from diving into this splendid book." —TIM BROWN, Chair of IDEO and author of Change By Design

"This book is chockful of arresting reflections on inflection points, and practical tips on how to recognize them, understand them, and above all, to take advantage of them. A necessity on the bookshelf of every leader."  —HAYAGREEVA "HUGGY" RAO, Atholl McBean Professor of Organizational Behavior, Graduate School of Business, Stanford University
 
 "Rita McGrath learned how to see around corners early in the age of disruption and has been ahead of the curve ever since. Along with Clayton Christensen, she is one of my go-to thinkers on how people need to be thinking about disruptive change.  This entertaining, straightforward book should be a constant companion as you consider your next steps, both as a business leader and an individual. Compelling story telling, important data, incisive analysis—a great, important read."    —WHITNEY JOHNSON, Founder and CEO at WLJ Advisors. Award-winning Author of Build an A Team
  
"Seeing Around Corners really captures the essence of working together - both process and expected behaviors - and how it enables all of us to know where we are, where we are going, and then anticipate and act on the inflection points to continuously deliver value for the greater good!"     —ALAN MULALLY, former CEO of Boeing Commercial Airplanes and the Ford Motor Company
  
"I never miss the opportunity to include Rita McGrath in my executive events – read this book and you'll know why!"   —Marshall Goldsmith, #1 New York Times bestselling author of Triggers, MOJO and What Got You Here Won't Get You There.
 
 "Rita McGrath has long been one of my go-to thinkers on strategy, innovation and entrepreneurship.  Seeing Around Corners builds beautifully on her earlier works by showing us that anticipating significant change is not some innate talent that only a few have. Rather, it is a discipline that can be learned and systematically improved.  A game-changer!"   —ALEX OSTERWALDER, Co-Founder, Strategyzer.com, bestselling author of Business Model Generation
 
"Yesterday's strategy tools are increasingly incompatible with today's dynamic environment. Seeing Around Corners is a vital addition to the strategy field. It is Rita McGrath at her best, combining thought-provoking frameworks, practical guidance and deeply researched, engaging case studies. Highly recommended."   —SCOTT D. ANTHONY, Senior Partner, Innosight, author of Dual Transformation and The Little Black Book of Innovation
 
 "Every organization faces the same challenge: how to mitigate future risk without stifling opportunities. Rita Gunther McGrath deftly shows how to find signals in the noise of disruption. Companies that apply her smart techniques to see around corners will not only discover their emerging inflection points earlier, they'll be in a strong position to lead their industries into the future."    —AMY WEBB, Founder, The Future Today Institute and Professor, NYU Stern School of Business

"Our world, in which any person or thing can communicate with any other person or thing instantly and near zero cost, is brimming with infinite possibilities—and risks of disruption. In her brilliant new book, Seeing Around Corners, Rita McGrath shows us how to think systematically about what this bewildering future holds—and how to take advantage of it."    —STEPHEN DENNING, author of The Age of Agile
 
"Strategic inflection points" are not "overnight" shifts or random occurrences; they emerge as result of a systematic process. To see them before they come requires deep understanding of what happens in the mainstream and on the edges. Rita McGrath has brought this concept alive through her new book, Seeing Around Corners. The book suggests that organizations should explore the concept of an 'arena', rather than an industry.

"This new way of thinking is the first step to change the conventional wisdom in management and competition. In another brilliant insight, she moves away from strict definitions of product category and talks about the jobs that people are trying to get done in their lives. Through her solid understanding of trends and well-researched insights, Professor Rita McGrath provides executives and senior leaders with the practical tools they need to transform their organizations and create new, entrepreneurial opportunities that can make a positive impact in their own business and the society in general."    —RICARDO VIANA VARGAS, Executive Director, Brightline Initiative

"When faced with an uncertain future, choice is the only tool we have that enables us to go from who we are today to who we want to be tomorrow. Rita McGrath gives us prescriptive guidance and lessons to both deal with our uncertain world and create relevant opportunities using inflection points that will lead to a successful organization. Well worth the read!" —SHEENA IYENGAR, best-selling author of THE ART OF CHOOSING
 
Mariner Books, 9780358022336, 272pp.
Publication Date: September 3, 2019
About the Author
RITA GUNTHER McGRATH is a globally recognized expert on strategy, innovation, and growth with an emphasis on corporate entrepreneurship. A longtime member of the Columbia Business School faculty, she is recognized consistently as one of the top 10 management thinkers by Thinkers50 and is a highly sought-after speaker at corporate events such as the Yale CEO Summit, the Innosight CEO Summit, and at the World Economic Forum meeting in Davos. McGrath has also been inducted into the Strategic Management Society Fellows in recognition of her impact on the field.

McGrath is often cited in the press, including the Wall Street Journal, the New York Times, theWashington Post, the Financial Times, and NPR's Marketplace. She has been rated one of the 25 smartest women to follow on Twitter by Fast Company and consistently appears in the rankings of the top business school professors to follow on Twitter. McGrath writes regularly for Fortune, is a regular contributor to the Wall Street Journal, and blogs regularly at HBR.org.

McGrath's best-selling book The End of Competitive Advantage: How to Keep Your Strategy Moving as Fast as Your Business was recognized by Strategy + Business as the #1 business book of 2013.  She is also a coauthor of MarketBusters: 40 Strategic Moves That Drive Exceptional Business Growth (2005) and The Entrepreneurial Mindset (2000).

McGrath joined the faculty of Columbia Business School in 1993. She received her PhD from the Wharton School, University of Pennsylvania, and has degrees with honors from Barnard College and the Columbia School of International and Public Affairs. She is married and is proud to be the mother of two delightful grown-ups.