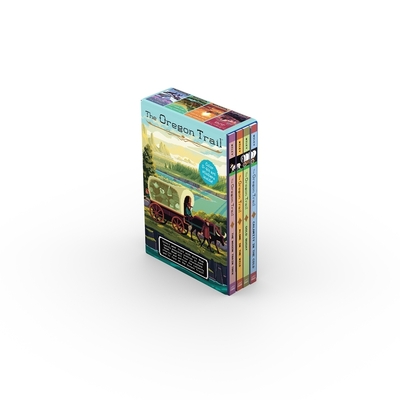 The Oregon Trail Trailblazer (paperback boxed set plus decals) (Multiple copy pack)
HMH Books for Young Readers, 9780358051886, 656pp.
Publication Date: October 8, 2019
* Individual store prices may vary.
Description
This paperback box set includes four Oregon Trail adventures where you choose the path to Oregon City, plus more than five colorful decals. Featuring 8-bit black-and-white illustrations throughout, each book is its own unique journey west with more than twenty possible endings! The books featured are Wagon Train Trek, Alone in the Wild, Gold Rush!, and Calamity in the Cold. 

This box includes:
   ·Wagon Train Trek
   ·Alone in the Wild
   ·Gold Rush!
   ·Calamity in the Cold
   ·Colorful decals featuring 8-bit art

Ford rivers, hike mountains, and trek the Oregon Trail, young pioneer! On your way, you'll face wild animals, natural disasters, famine, sickness, unpredictable weather, and more. You'll also meet helpful strangers and encounter dishonest people—who will you choose to trust? With more than twenty possible endings in each standalone book, each decision counts. Make the right choices and blaze a trail out west!