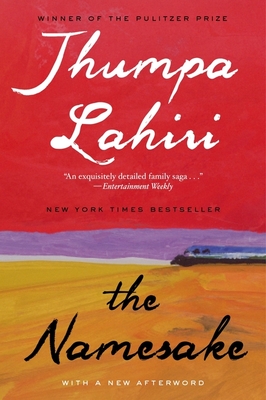 The Namesake
A Novel
Paperback

* Individual store prices may vary.
Other Editions of This Title:
Digital Audiobook (9/15/2003)
Paperback, Marathi (7/1/2017)
Paperback (9/1/2004)
Paperback, Chinese (5/1/2019)
Prebound (1/1/2004)
Description
NEW YORK TIMES BESTSELLER. Pulitzer Prize winner Jhumpa Lahiri brilliantly illuminates the immigrant experience and the tangled ties between generations. Namesake is a fine-tuned, intimate, and deeply felt novel of identity from "a writer of uncommon elegance and poise." (The New York Times)

Meet the Ganguli family, new arrivals from Calcutta, trying their best to become Americans even as they pine for home. The name they bestow on their firstborn, Gogol, betrays all the conflicts of honoring tradition in a new world — conflicts that will haunt Gogol on his own winding path through divided loyalties, comic detours, and wrenching love affairs.
"Dazzling...An intimate, closely observed family portrait."—The New York Times
"Hugely appealing."—People Magazine
"An exquisitely detailed family saga."—Entertainment Weekly
Praise For The Namesake: A Novel…
This eagerly anticipated debut novel deftly expands on Lahiri's signature themes of love, solitude and cultural disorientation.
Harper's Bazaar

This poignant treatment of the immigrant experience is a rich, stimulating fusion of authentic emotion, ironic observation, and revealing details.
Library Journal

Lahiri's ... deeply knowing, avidly descriptive, and luxuriously paced first novel is equally triumphant [as Interpreter of Maladies]. Booklist, ALA

Jhumpa Lahiri expands her Pulitzer Prize-winning short stories of Indian assimilation into her lovely first novel, THE NAMESAKE. Vanity Fair

Lahiri weaves an intricate story of ... an Indian family in America. Their bumpy journey to self-acceptance will move you.
Marie Claire

[Lahiri] weaves an authentic tale of a Bengali family in Boston... [which] powerfully depicts the universal pull of family traditions.
Lifetime

The casual beauty of the writing keeps the pages turning.
Elle

...immaculately written, seamlessly constructed novel from the Pulitzer Prize-winning author of INTERPRETER OF MALADIES.
Book Magazine

...remarkably assured first novel. Readers will find here the same elegant, deceptively simple prose that garnered so much praise for her short stories.
Bookpage

A debut novel that is as assured and eloquent as the work of a longtime master of the craft.
The New York Times

Gracefully written and filled with well-observed details.
People Magazine

...far more authentic and lavishly imagines than many other young writers' best work.
TimeOut New York

Lahiri is insightful on the complexities of foreignness.
Boston Magazine

graceful and wonderfully specific prose...A Entertainment Weekly

In the world of literature, Lahiri writes like a native.
The San Francisco Chronicle

generous, exacting portrait of the clash between cultural dictates and one man's heart.
Boston Globe

Astringent and clear-eyed in thought, vivid in its portraiture, attuned to American particulars and universal yearnings...memorable fiction.
Newsday

[Lahiri's] writing is assured and patient, inspiring immediate confidence that we are in trustworthy hands.
The Los Angeles Times

Achingly artful, Jhumpa Lahiri's first novel showcases her prodigious gifts.
The Baltimore Sun

Lahiri's inventive imagination and mellifluous prose makes her first novel simply wonderful...It's simply splendid.
Providence Journal

A fine novel from a superb writer The Washington Post

A delicate, moving first novel.
Time Magazine

A debut novel that triumphs in its breadth and mastery.
Star Ledger

The novel not only proves the author's ease with the longer form but clearly demonstrates her artistic sensibility.
News and Observer

...an accomplished novelist of the first rank, to whose further work we can look forward with confidence and excitement The San Diego Union-Tribune

...simple yet richly detailed writing that makes the heart ache as [Lahiri] meticulously unfolds the lives of her characters.
USA Today

A book to savor, certainly one of the best of the year.
Atlanta Journal Constitution

[An] exquisitely accomplished novel.
San Jose Mercury News

...one of the best works of fiction published this year.
The Seattle Times

...leaves its imprint through completely believable, well-drawn characters.
Cleveland Plain Dealer

a fascinating journey of self-discovery.
The Miami Herald

Emotionally charged and deeply poignant.
Philadelphia Inquirer

graceful and beautiful.
San Antonio Express-News

Lahiri's latest work doesn't disappoint.
Milwaukee Journal Sentinel

[The Namesake] speaks to the universal struggle to extricate ourselves from the past.
Seattle Post-Intelligencer

...in this second book Lahiri's pace and accent a —
Mariner Books, 9780358062684, 336pp.
Publication Date: June 4, 2019
About the Author
JHUMPA LAHIRI is the author of four works of fiction: Interpreter of Maladies, The Namesake, Unaccustomed Earth, and The Lowland; and a work of nonfiction, In Other Words. She has received numerous awards, including the Pulitzer Prize; the PEN/Hemingway Award; the PEN/Malamud Award; the Frank O'Connor International Short Story Award; the Premio Gregor von Rezzori; the DSC Prize for South Asian Literature; a 2014 National Humanities Medal, awarded by President Barack Obama; and the Premio Internazionale Viareggio-Versilia, for In altre parole.