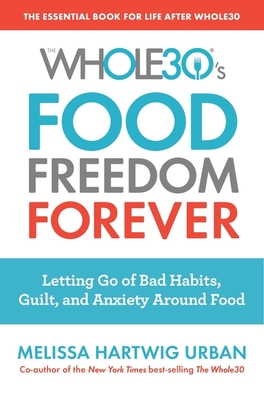 The Whole30's Food Freedom Forever
Letting Go of Bad Habits, Guilt, and Anxiety Around Food
Paperback

* Individual store prices may vary.
Description
The New York Times best-selling book, available in paperback for the first time. End the yo-yo dieting cycle . . . forever.?

Millions of people have successfully completed the groundbreaking Whole30 program and radically transformed their energy, sleep, cravings, waistline, and health. But after your Whole30, how do you make sure those new, healthy habits actually stick? In this New York Times best-selling book, available in paperback for the first time, Melissa Hartwig defines "food freedom" as being in control of the food you eat, instead of food controlling you. The Whole30 helps you jump-start the process, but as anyone who's dieted knows, holding on to that freedom and creating healthy habits that last is the hard part. The Whole30's Food Freedom Forever offers real solutions for breaking the cycle of yo-yo dieting and the resulting stress, weight gain, uncontrollable cravings, and health complaints.

In her detailed 3-part plan, Melissa shows you how to discover food freedom for yourself, no matter how out of control you feel; walk a self-directed path that keeps you in control for months on end; gracefully recover when you slip back into old habits; and create the kind of food freedom that stays with you for the rest of your life. The Whole30's Food Freedom Forever walks you through the Whole30 program and teaches you how customize your reset for improving and stabilizing energy, getting a handle on stubborn sugar cravings, reducing systemic inflammation, and fine-tuning your vegan diet. You'll learn how to spot your specific triggers before they're pulled and new strategies for dealing with temptation, strengthening your new healthy habits, and boosting your willpower. Melissa also shares advice for retaining your food freedom during holidays, vacations, periods of life stress, social pressure, and skepticism from friends and family. By the last page, you'll have a detailed plan for creating the perfect diet for you, finding your own healthy balance, and maintaining the kind of control that brings you real food freedom every day.
Praise For The Whole30's Food Freedom Forever: Letting Go of Bad Habits, Guilt, and Anxiety Around Food…
"Food can play a powerful role in pleasure, health, and celebration—but it can also be a source of remorse and anxiety. In Food Freedom Forever, Melissa Hartwig explores how we can enjoy food, yet feel free from cravings and negative feelings. It's a practical, realistic, compassionate—and even funny—guide to establishing a new relationship with food." —Gretchen Rubin, New York Times best-selling author of Better Than Before and The Happiness Project   "Eating clean can be tough, but Melissa makes it easy! Her philosophy truly works, without counting calories or being a slave to the scale. Her program, the Whole30, helped change my own philosophy on food and how I eat. Food Freedom Forever is a must-have for anyone who wants to make changes in their life. . .and make them last." —Molly Sims, model, actress, and lifestyle blogger "I'm a huge fan of Hartwig's Whole30 Program, and Food Freedom Forever picks up where Whole30 leaves off by tackling the mind-body connection as it pertains to your relationship with food. Our health and wellness goals are often sabotaged because we are at the mercy of our food…controlled by food addictions, unhealthy habits, even perpetual calorie counting that locks us into an obsessive tug-o-war. Food should be a source of sustenance and enjoyment, and Melissa helps bring the enjoyment back by providing tools, tips, and suggestions for creating an extremely personal prescription for healthy eating. I loved this book and truly think it can help anyone stuck on the treadmill of yo-yo-dieting and weight troubles." —Mark Sisson, author of The Primal Blueprint, publisher of MarksDailyApple.com    "Food Freedom Forever gives you everything you need for achieving dietary success, for today and for the rest of your healthy life. Melissa Hartwig's information is spot-on in terms of scientific validity, and wonderfully approachable in terms of its implementation." —David Perlmutter, MD, author, #1 New York Times bestseller, Grain Brain: The Surprising Truth About Wheat, Carbs, and Sugar—Your Brain's Silent Killers   "Step away from the calorie counting, food obsessions, and unnecessary restriction. In Food Freedom Forever, Melissa Hartwig delivers a sustainable, healthy diet that will fuel your mind, body, and spirit, and place you in control of your food for life." —Emily Deans, MD, Harvard Medical School   "I'm a 'real food' registered dietitian who believes the standard low-fat, high-carb, 'everything in moderation' advice is complete nonsense. Repairing our relationship with food is critical in order to live a happy life, and Melissa's plan in Food Freedom Forever is exactly what does work for my clients. This is no crash diet, and it's way more important than a weight loss plan—it's the beginning of the rest of your life!" —Diana Rodgers, RD, LDN, NTP "Nutritionist Hartwig (The Whole 30) presents dieters with a guide to developing a healthier relationship with food. Organized into 14 easy-to-follow chapters with titles such as "Diets Don't Work" and "Spot Your Triggers," and written in a highly conversational and candid fashion, the book lays out a doable program designed to allow readers to gain a sense of control over their eating. The crux of the program, and where it begins, is with the process of eliminating troublesome foods linked to overeating and cravings. Upon completio —
Harvest, 9780358097426, 272pp.
Publication Date: January 29, 2019
About the Author
MELISSA URBAN is the co-founder and CEO of Whole30, and a six-time New York Times bestselling author. She is the host of the Do the Thing podcast, and is a prominent keynote speaker on social media and branding, health trends, and entrepreneurship. She lives in Salt Lake City, UT.
or
Not Currently Available for Direct Purchase