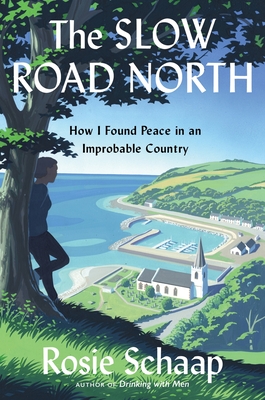 The Slow Road North
How I Found Peace in an Improbable Country
Hardcover

* Individual store prices may vary.
Description
From the acclaimed author of the "funny, smart-as-hell, and moving"* Drinking with Men comes a poignant, wrenching, and ultimately hopeful book—equal parts memoir and social history—that follows the author, after a series of tragic losses, to Northern Ireland, where she finds a path toward healing.
* Salon

In her mid-forties, Rosie Schaap had a solid career as a journalist and a life that looked to others like nonstop fun: drinking cocktails and eating delicious food and traveling to beautiful places—and getting paid to write about it all. But under the surface she was reeling from the loss of her husband and her mother—both of whom died from traumatic illnesses one year apart. Caring for them had claimed much of her daily life in her late thirties. Mourning them would take much longer.
 
Rosie pushed ahead, but it wasn't until a reporting trip took her to the Northern Irish countryside in 2016 that she finally found a partner to heal with: Glenarm, a quiet, largely unheralded village on the coast of County Antrim. That first visit made an indelible impression, so she returned in 2019 to make a life. In this unlikely place—in a small, tough country mainly associated with deadly sectarian strife—she has found a measure of peace that had seemed impossible at home or, really, anywhere else.
 
Weaving personal narrative and social history, The Slow Road North is a poignant, lush, and wise look at how a community can offer the key to healing. It's a portrait of a complicated place in this pivotal time in its history—on the brink of Brexit, and during a pandemic—and a love letter to a village, a culture, and a country.



 
Houghton Mifflin Harcourt, 9780358097457, 320pp.
Publication Date: May 10, 2022
About the Author
ROSIE SCHAAP is the author of Becoming a Sommelier and Drinking with Men: A Memoir, which was named one of 2013's best books by Library Journal and NPR. From 2011 to 2017, she was a columnist for the New York Times Magazine, and she has also contributed to Lucky Peach, Saveur, This American Life, and five other sections of the New York Times. She was previously and variously employed as a community organizer, an editor, a manager of homeless shelters, and, for many years, a bartender. She teaches creative writing in Fairleigh Dickinson University's MFA program and currently lives in Glenarm, in Northern Ireland.
 
or
Not Currently Available for Direct Purchase