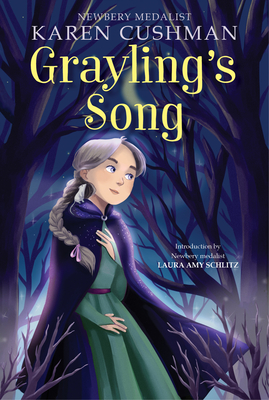 Grayling's Song (Paperback)
Clarion Books, 9780358097488, 224pp.
Publication Date: January 7, 2020
Other Editions of This Title:
Hardcover (6/7/2016)
* Individual store prices may vary.
Description
Grayling doesn't want to be a hero, but to save her mother from a dark enchantment, she seeks out the few second-string magic makers who haven't been immobilized by the spell and goes off in search of her mother's grimoire, or book of magic. Obstacles both natural and supernatural block their way, and friction within the group delays the journey. Surprising herself, Grayling finds the strength and decisiveness to move the group forward and reach her goal. Eccentric witches and wizards plus a shape-shifting mouse provide moments of high comedy, as do odd practices that date back to the Middle Ages, such as divination with cheese. 





 
About the Author
Karen Cushman's acclaimed historical novels include Catherine, Called Birdy, a Newbery Honor winner, and The Midwife's Apprentice, which received the Newbery Medal. She lives on Vashon Island in Washington State. Visit her online at karencushman.com and on Twitter @cushmanbooks.
Praise For Grayling's Song…
* "The eventual revelation of just who unleashed the destructive power manages to be simultaneously unexpected, plausible, and thought-provoking. Despite her self-doubt, Grayling is cut from the same cloth as the author's other sturdy heroines, but she is also an entirely original and endearing character that readers will cheer on as she seeks to save her mother and return her world to rights."
—Kirkus, STARRED review

"The language gives the book the atmospheric flavor of historical fiction, and the land itself is wild and mysterious, exactly the type of place where magic could happen, children could wander around trying to fix the world, and tiny mice could shapeshift into mighty protectors if fed the right potion. Cushman offers a complete story with clear resolutions, a memorably complex villain, and a sweet protagonist who becomes far more than background by the end; fantasy buffs and Cushman fans alike will be well pleased."
—Bulletin

"Young fans of magic will revel in delving into this new world with its cast of unique characters."
—School Library Journal

"Like all Karen Cushman's gorgeous novels, Grayling's Song delves into the past to let us know what we must ask of our future. I want Cushman's books to raise my children for me: that way I can be assured they'll grow up witty, vastly knowledgeable, and tough as nails." —Lena Dunham (Girls)

"In this world, magic is commonplace but no less enchanting. This adventure story has the feel of a classic fable, and Cushman's writing brims with grace and warmth."
—BookPage

"Anyone who has a fondness for fantasy or medieval historical fiction will love this book. Author Karen Cushman delivers a refreshing spin on magic that any aspiring witch or wizard will appreciate." 
—TIME for Kids, Kid Reporter