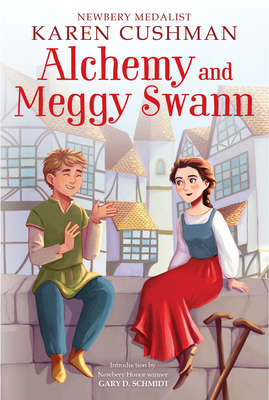 Alchemy and Meggy Swann
Paperback

* Individual store prices may vary.
Other Editions of This Title:
Digital Audiobook (4/12/2010)
Paperback (10/25/2011)
Prebound (10/25/2011)
CD-Audio (4/13/2010)
Hardcover (4/26/2010)
Description
Fans of Karen Cushman's witty novels will welcome Meggy Swann, newly come to London with her only friend, a goose named Louise. Meggy's mother was glad to be rid of her; her father, who sent for her, doesn't want her after all. Meggy is appalled by London, dirty and noisy, full of rogues and thieves, and difficult to get around in—not that getting around is ever easy for someone who walks with the help of two sticks. Just as her alchemist father pursues his great work of transforming base metal into gold, Meggy finds herself pursuing her own transformation. Elizabethan London has its dark side, but it also has gifts in store for Meggy Swann.
Praise For Alchemy and Meggy Swann…
* "Writing with admirable economy and a lively ability to re-create the past believably, Cushman creates a memorable portrayal of a troubled, rather mulish girl who begins to use her strong will in positive ways."
—Booklist, starred review

* "Queen Elizabeth I is on the throne. London is a sprawling, chaotic city that teems with all manner of humanity. Meggy has come to London ostensibly to serve her alchemist father, a man she has never met. When he rejects her because she is not male and because she is unable to walk normally, she needs all her pluck and determination to rise above her plight...Cushman has the uncanny ability to take a time and place so remote and make it live. Readers can hear and see and smell it all as if they are right beside Meggy. She employs the syntax and vocabulary of the period so easily that it is understood as if it's the most contemporary modern slang. A gem."
—Kirkus, starred review

* "Cushman adds another intrepid, resourceful, courageous girl to her repertoire in this tale set in 16th-century London...Her courage and confidence grow with each obstacle overcome. Cushman fans who loved Catherine, Called Birdy (1994) and The Midwife's Apprentice (1995, both Clarion) will not be disappointed."
—School Library Journal, starred review

"Cushman's (Catherine, Called Birdy) newest novel has all the elements that have made her earlier books so beloved. With flawless historical prose, Cushman introduces Meggy Swann....There is no unequivocally happy ending for Meggy, but a better life awaits her, and readers will gladly accompany her on the journey."
—Publishers Weekly
Clarion Books, 9780358097495, 192pp.
Publication Date: November 24, 2020
About the Author
Karen Cushman's acclaimed historical novels include Catherine, Called Birdy, a Newbery Honor winner, and The Midwife's Apprentice, which received the Newbery Medal. She lives on Vashon Island in Washington State. Visit her online at karencushman.com and on Twitter @cushmanbooks.