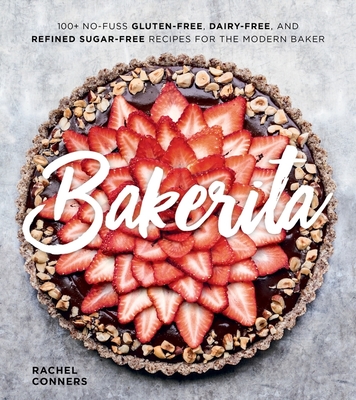 Bakerita
100+ No-Fuss Gluten-Free, Dairy-Free, and Refined Sugar-Free Recipes for the Modern Baker
Hardcover

* Individual store prices may vary.
Description
Amazingly delicious and beautiful gluten-free, grain-free, dairy-free, and refined sugar–free desserts from the popular Bakerita blog

Rachel Conners began her blog as a hobby to share baking recipes with friends, but when she started to focus more on gluten-free, paleo, and vegan recipes to make things she could share with her sister, who was following a strict diet due to health concerns, Rachel quickly realized she was onto something. Bakerita surged in popularity as fans flocked to it for delicious and beautifully photographed recipes. Interest in gluten-free, grain-free, dairy-free, and refined sugar–free foods continues to grow in popularity, yet there are remarkably few books available focused just on desserts, and even fewer with recipes that even beginner bakers can make at home. That's where Bakerita comes in, offering recipes for everything from breakfast treats like Lavender-Lemon Raspberry Scones, pies and tarts such as Chocolate Mousse Pie, cakes including Mocha Chip Cheesecake, and updated all-time favorites like chocolate chip cookies, all made without any hard-to-find ingredients.
Praise For Bakerita: 100+ No-Fuss Gluten-Free, Dairy-Free, and Refined Sugar-Free Recipes for the Modern Baker…
"Rachel makes celebration food that is magic and healthy. This gorgeous book is filled with delicious, no-fuss desserts that make me want to ask for one of everything, please. You can feel her passion on every page, and I am delighted to support Rachel's first foray into cookbook writing." —Teri Turner, creator of No Crumbs Left   "The first time I tried Rachel's famous Paleo chocolate chip cookies, I thought to myself, 'I need to be friends with this girl. These are beyond delicious!' She brings so much joy to cooking and baking, and each recipe is curated with so much love and joy from her heart. I can't wait to try more of her creations and share them with my family!" —Monica Stevens Le, creator of The Movement Menu   "Each and every time I make a Bakerita recipe, it turns out perfectly and just as pretty as the pictures, and trust me as a recipe developer myself, that's so important! It's obvious that Rachel puts so much love and time into her recipes, meticulously testing each one to ensure that her readers have successful results. The world is truly lucky to have Rachel's incredible creations at their fingertips!" —Nicole Modic, creator of KALEJUNKIE   "Nothing but the sweet stuff and completely dairy-, gluten-, and refined sugar–free; this book was definitely made for me. My only complaint is that I don't know what to make first because I've bookmarked the entire thing!" —Natalie Thomas, creator of Feasting on Fruit   "Rachel really captures the importance of play and joy when it comes to making gluten-free, dairy-free, and refined sugar–free sweets. She explores natural ingredients, flavor combinations, stunning photography, and vivid color stories, which makes creating nutritious and delicious recipes that much more exciting. I cannot wait to test out Rachel's One-Hour Cinnamon Rolls!" —Meg Rosko, creator of Nutmeg & Honeybee   —
Harvest, 9780358116677, 288pp.
Publication Date: March 24, 2020
About the Author
Rachel Conners started her blog in 2010 because baking was a creative outlet and act of love that she wanted to share with the world. Soon after moving away from home to attend the University of Puget Sound, she began to experiment with more healthful ways of baking, like gluten-free, paleo, and vegan, in large part due to her sister's health issues. After graduating from college, Rachel decided to dive headfirst into her blog, and over the past several years, Rachel has turned Bakerita from a hobby into a career. Bakerita allows Rachel to share her love of good food, health, and wellness as each of her recipes is created with no refined sugars, no dairy, and no gluten. Rachel lives with her dog in San Diego, California.