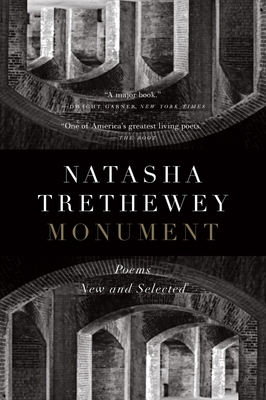 Monument
Poems New and Selected
Paperback

* Individual store prices may vary.
Other Editions of This Title:
Hardcover (11/6/2018)
Description
"[Trethewey's poems] dig beneath the surface of history—personal or communal, from childhood or from a century ago—to explore the human struggles that we all face." —James H. Billington, 13th Librarian of Congress
 
Layering joy and urgent defiance—against physical and cultural erasure, against white supremacy whether intangible or graven in stone—Trethewey's work gives pedestal and witness to unsung icons. Monument, Trethewey's first retrospective, draws together verse that delineates the stories of working class African American women, a mixed-race prostitute, one of the first black Civil War regiments, mestizo and mulatto figures in Casta paintings, Gulf coast victims of Katrina. Through the collection, inlaid and inextricable, winds the poet's own family history of trauma and loss, resilience and love.
 
In this setting, each section, each poem drawn from an "opus of classics both elegant and necessary,"* weaves and interlocks with those that come before and those that follow. As a whole, Monument casts new light on the trauma of our national wounds, our shared history. This is a poet's remarkable labor to source evidence, persistence, and strength from the past in order to change the very foundation of the vocabulary we use to speak about race, gender, and our collective future.
 
*Academy of American Poets' chancellor Marilyn Nelson

 
Praise For Monument: Poems New and Selected…
"The Mississippi-born poet Natasha Trethewey has an exalted résumé . . . but her poems are earthy; they fly close to the ground . . . Trethewey pivots knowingly, in her poetry, between hard times and good ones. The delicate branches of her verse run you along a harrowing borderline of substance and illusion . . . [Trethewey has an] insistent intellect and [a] gift for turning over rich soil . . . The human details in Trethewey's work—those crabs, that music, those cracked palms—are like the small feathers that give contour to a bird's wing. Monument is a major book, and in her best poems this poet soars."—Dwight Garner, New York Times

"This collection of old and new poems by the former poet laureate of the United States includes Trethewey's powerful reflections on the way our nation contends with its diversity and memorializes its past. Think you're not a poetry person? Think again. Trethewey's verse is as accessible as it is brilliant."—Washington Post

"We have seen, over a very few years, the ways language and words can so bitterly divide us. The very fact that a poet laureate can exist at all seems an act of hope—is there one writer who could possibly represent this whole country? Natasha Trethewey was a two-term laureate, and her poetry seems to fit that description, precise in word choice but wide in subject and historical memory. Her new collection is called Monument, and that's what it feels like in some ways—patriotic, brave, honest—with a power that feels like some stanzas could slash you to ribbons."—NPR

"The arrival of Monument is perfectly timed, or specific to this moment . . . what stands out beyond that is how many ways Trethewey finds to revisit and restructure history: her own, but also the histories of black people in America. The book's title is a tribute to many things, both the immovability of America's obsession with monuments and the task of building and rebuilding one's self in an attempt to obscure grief. Her use of history as a driving force behind her poetry and as a nudge toward enlightenment—for herself and others—feels rooted in a type of empathy. Throughout this vast catalog of work, teeming with references to specific dates or old photos, Trethewey doesn't shame readers for what they don't know. Instead, she invites them to learn alongside her . . . this is a black woman who has committed an entire life and career to holding a country accountable, despite the weight of her own grief."—Hanif Abdurraqib, BuzzFeed

"For poets, she'll be remembered for her deft use of subtlety, for her use of forms that make ironic the subjects they hold, for her very interesting way of interweaving personal history and public history—their impact on each other—in a single book. And for critics and other readers, I think she'll be remembered for the ways that the poems are all-out acts of resistance and anger. There always seems to me something seething between the lines of every Natasha Trethewey poem, which is part of what makes her work so admirable and so completely impossible to imitate."—Jericho Brown

"Trethewey's book—her first retrospective collection—is a literary edifice that painstakingly, heartbreakingly, and victoriously memorializes those deemed unworthy of citation in academic syllabi or among the nation's public statuary. It's a marker in America's conversation on race and gender. More intimately, it's a Mississippi-soaked, multi-voiced remembrance of Trethewey's departed parents. While the collection spans work over an eighteen-year period, it stays in earnest conversation with today's fervent headlines . . . Monument is the literary activism of the archivist, the social justice work of the painstaking historian-turned-poet. After reading this volume, it's clear why her work is monumental—this book is a must-read for people interested in where America has been, where it's headed, and how to traverse the crossroads of the country's literature while also perhaps saving their soul at the beginning of this turbulent century."—Tyehimba Jess, Poetry Foundation

"Her exquisite and brutal lyricism as well as her commitment to truth makes Trethewey one of the most important American poets of our time . . . Her new book, Monument, is . . . a vibrant and timely book, deeply aware of our nation's chaotic moment and its historical resonances . . . Trethewey is a tremendously empathic and enthusiastic force in our nation's bleak period. Her words settle with profound gravity."—Paris Review

"Natasha Trethewey's first selected volume of poems is the opposite of what her title suggests. This is no freeze framing of the past into bronze. Here instead in eighty-three remarkable poems lives history and memory as a wound one cannot heal, only tend with love. Trethewey powerfully conjures her late mother, breathes life into people erased in plain sight. Photographic subjects glossed but not captured. Domestic life watched but not seen. Southern history in all its hypocrisy. Raised in Mississippi the child of a black mother and a white father when that was illegal, history's arm fell hard on Trethewey, as she writes. Through two decades of work we can now see the poet regarding her own self, interrogating the bargains her skin made for her as a biracial woman. Wondering at what inheritance meant, why absence—cruelly delivered in her mother's murder—didn't qualify as the maker, these poems, not just she, the made."—Lit Hub

"For readers unfamiliar with the poet Natasha Trethewey—or with contemporary poetry more generally; or, for that matter, with the raveled history of the South—Monument: Poems New and Selected is an exquisite starting place . . . Trethewey has from the beginning focused on a fixed palette of themes— memory, history, race—and Monument offers a cohesive exploration of those thematic concerns, revealing a poet mining ever deeper into the hot core of her ideas . . . Trethewey is . . . about as canonical as living poets get."—Garden & Gun

"Trethewey is a poet to return to—we know she's special, and then comes along the aptly titled Monument, and the evidence feels almost overwhelming. Her work is God-haunted, clothed with the small flashes of memory against despair . . . One of the best collected volumes published this year."—The Millions

"Natasha Trethewey's Monument offers just that: a living memorial to a mother lost too soon, a reworking of her classic books to bring out the themes of history and memory all the more profoundly, and a rock-solid testament to a tremendous career still underway. The new poems also offer a sense of her trajectory as a public poet who has made her private concerns ever-present and everlasting, with an exactness of language that remains unmatched."—Kevin Young, Nylon

"Monument, which is released the day after this week's midterm elections, is a call to action for us to record and remember our histories—even, and especially, the parts that make us uncomfortable and uneasy—and find strength in them as the resistance marches on . . . The book is incredible, and so powerful."—Ms. magazine

"The scope of Monument is impressive . . . Trethewey consistently delivers . . . [She] digs deep. And the meaning she unearths from her 'cluttered house of memory' is tragic, beautiful and consciousness-raising. Reading it reminds us it takes guts to confront painful parts of our past. It reminds us how alike we all are. And it reminds us we are not alone."—Atlanta Journal-Constitution

"Monument offers a hefty cross-section of the poet's wide-ranging and important work. . . . A momentous collection that uses verse to enshrine both the historical and deeply personal. It places Trethewey in the pantheon of American poetry."—Shelf Awareness

"I think of Trethewey's poetic career as a mode of intense, unwavering, lyrical watching. She watches the past so we don't forget it. She watches the future so we might know it. She watches language so we might learn it. She watches herself watch her memory of her mother. She watches America. She watches poetry. Like her brother, her watching is a kind of faith, faith in poetry a monument."—Dean Rader, On the Seawall

"Trethewey's genius for dovetailing the personal and the communal, the impressionistic and the factual, was evident from the start . . . For all the tragic, overlooked history Trethewey reclaims with clarion lyricism, it is her own family complexities and terrible loss that reverberate most. Monument is an essential volume of piercing wit, elegiac beauty, profound insights intimate and cultural, and the sustaining power of remembrance."—Booklist, starred review

"Two-term US Poet Laureate Trethewey (Thrall) culls some of the finest work from her illustrious two-decade career and presents formally diverse new poems exploring her customary themes . . . Trethewey's arresting images, urgent tone, and surgically precise language meld with exacting use of rhyme and anaphora create an intensity that propels the poems forward. This collection is ideal for new readers seeking a representative sample of Trethewey's best work."—Publishers Weekly, starred review
Mariner Books, 9780358118237, 208pp.
Publication Date: November 5, 2019
About the Author
NATASHA TRETHEWEY, two-term U.S. Poet Laureate, Pulitzer Prize winner, and 2017 Heinz Award recipient, has written five collections of poetry and one book of nonfiction. An American Academy of Arts and Sciences fellow, she is currently Board of Trustees professor of English at Northwestern University. She lives in Evanston, Illinois.