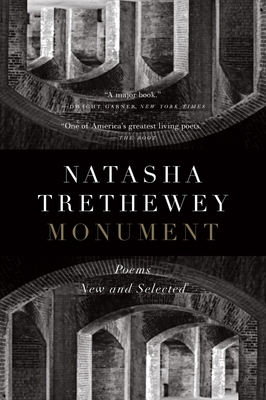 Monument
Poems New and Selected
Paperback

* Individual store prices may vary.
Other Editions of This Title:
Hardcover (11/6/2018)
Description
Urgent new poems on race and gender inequality, and select poems drawing upon Domestic Work, Bellocq's Ophelia, Native Guard, Congregation, and Thrall, from two-time U.S. Poet Laureate and Pulitzer Prize winner Natasha Trethewey.

Layering joy and urgent defiance—against physical and cultural erasure, against white supremacy whether intangible or graven in stone—Trethewey's work gives pedestal and witness to unsung icons. Monument, Trethewey's first retrospective, draws together verse that delineates the stories of working class African American women, a mixed-race prostitute, one of the first black Civil War regiments, mestizo and mulatto figures in Casta paintings, and Gulf coast victims of Katrina. Through the collection, inlaid and inextricable, winds the poet's own family history of trauma and loss, resilience and love.

In this setting, each poem drawn from an "opus of classics both elegant and necessary,"* weaves and interlocks with those that come before and those that follow. As a whole, Monument casts new light on the trauma of our national wounds, our shared history. This is a poet's remarkable labor to source evidence, persistence, and strength from the past in order to change the very foundation of the vocabulary we use to speak about race, gender, and our collective future.

*Academy of American Poets' chancellor Marilyn Nelson

"[Trethewey's poems] dig beneath the surface of history—personal or communal, from childhood or from a century ago—to explore the human struggles that we all face." —James H. Billington, 13th Librarian of Congress
Praise For Monument: Poems New and Selected…
"Trethewey bears witness to the daily urgencies of black existence, capturing in her lines the poignant music of hope and persistence. The pleasure of rediscovering a career's worth of Trethewey's exquisite and best-known work alongside her newest and most heart-wrenchingly personal is immense. It also reveals how keenly all of us are shaped by loss, and how much America, too, has been forged by the ever-present shard of grief."—Tracy K. Smith, O Magazine "Standing as a pivotal monument to the career of one of America's greatest living poets, these new and collected poems are a must-have for fans of poetry. Here, the reader is privy to some of the most compelling poems that Trethewey has produced during her career as well as new poems that have been inspired by looking at her work in this context. An incredibly moving collection that illuminates a life's work in poetry."—The Root, "Best Books in 2018" "Natasha Trethewey's Monument is a glorious example of what results when one listens — and writes — brilliantly. Trethewey blends a distinctive voice with striking images and perspectives. Those who are new to her work will marvel at her ability to address difficult subjects — slavery, the challenges of mixed-race families and the murder of her mother — with precision and compassion. These pages clearly demonstrate why Trethewey, whose honors include the Pulitzer Prize and two terms as poet laureate of the United States, is one of our preeminent poets. They also remind us that her work is loved because she refuses to forget those who've been lost and the struggles of those who remain." —Elizabeth Lund,The  Washington Post "The Mississippi-born poet Natasha Trethewey has an exalted résumé...but her poems are earthy; they fly close to the ground...Trethewey pivots knowingly, in her poetry, between hard times and good ones. The delicate branches of her verse run you along a harrowing borderline of substance and illusion...[Trethewey has an] insistent intellect and [a] gift for turning over rich soil...The human details in Trethewey's work — those crabs, that music, those cracked palms — are like the small feathers that give contour to a bird's wing. Monument is a major book, and in her best poems this poet soars."—Dwight Garner, New York Times "Deftly woven…both expansive and intimate…the twenty years' worth of poetry presented in Monument feels incredibly timely. Trethewey flings open the door…invites us to commune with her through some of the hardest truths of both her life and this country's history." –Guernica "This collection of old and new poems by the former poet laureate of the United States includes Trethewey's powerful reflections on the way our nation contends with its diversity and memorializes its past. Think you're not a poetry person? Think again. Trethewey's verse is as accessible as it is brilliant."—Ron Charles, The Washington Post "The arrival of Monument is perfectly timed, or specific to this moment...what stands out beyond that is how many ways Trethewey finds to revisit and restructure history: her own, but also the histories of black people in America. The book's title is a tribute to many things, both the immovability of America's obsession with monuments and the task of building and rebuilding one's self in an attempt to obscure grief. Her use of history as a driving force behind her poet —
Ecco, 9780358118237, 208pp.
Publication Date: November 5, 2019
About the Author
NATASHA TRETHEWEY, two-term U.S. Poet Laureate, Pulitzer Prize winner, and 2017 Heinz Award recipient, has written five collections of poetry and one book of nonfiction. An American Academy of Arts and Sciences fellow, she is currently Board of Trustees professor of English at Northwestern University. She lives in Evanston, Illinois.