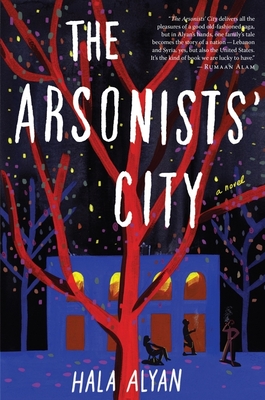 The Arsonists' City
Hardcover

* Individual store prices may vary.
Other Editions of This Title:
Digital Audiobook (3/8/2021)
Paperback (8/2/2022)
Description
"Feels revolutionary in its freshness." —Entertainment Weekly

"The Arsonists' City delivers all the pleasures of a good old-fashioned saga, but in Alyan's hands, one family's tale becomes the story of a nation—Lebanon and Syria, yes, but also the United States. It's the kind of book we are lucky to have."—Rumaan Alam

A rich family story, a personal look at the legacy of war in the Middle East, and an indelible rendering of how we hold on to the people and places we call home

The Nasr family is spread across the globe—Beirut, Brooklyn, Austin, the California desert. A Syrian mother, a Lebanese father, and three American children: all have lived a life of migration. Still, they've always had their ancestral home in Beirut—a constant touchstone—and the complicated, messy family love that binds them. But following his father's recent death, Idris, the family's new patriarch, has decided to sell.

The decision brings the family to Beirut, where everyone unites against Idris in a fight to save the house. They all have secrets—lost loves, bitter jealousies, abandoned passions, deep-set shame—that distance has helped smother. But in a city smoldering with the legacy of war, an ongoing flow of refugees, religious tension, and political protest, those secrets ignite, imperiling the fragile ties that hold this family together.
 
In a novel teeming with wisdom, warmth, and characters born of remarkable human insight, award-winning author Hala Alyan shows us again that "fiction is often the best filter for the real world around us" (NPR).
Praise For The Arsonists' City…
"Breathless...Alyan plants the riches of the city with stealthy precision, making the maddening conundrum of Beirut yours...From Lebanon, we visit Syria. We reach back to Palestine. The three nations mirror the imperfect, strained yet inextricable relationship of the Nasr children, now adults...Alyan distilled the fog of displacement and exposes the ways an unfamiliar culture can devour the traits that make us special. And when plumbing the intricacies of race and womanhood, Alyan turns paragraphs into poetry."  — New York Times Book Review
 "Feels revolutionary in its freshness...The book has all the elements we expect from a family saga, but set against the backdrop of Lebanon's long, sad history, the narrative stakes are so much higher." — Entertainment Weekly
"Beautifully illustrating the complexities, fragilities and flaws of families, this heartfelt novel centers siblings struggling to make a decision about the sale of the family home in Beirut as secrets, bonds and the legacies of war come to the fore."   — Ms. magazine
"I didn't think I could love The Arsonists' City as much as Salt Houses, but I did. It was sharp, thought-provoking. I couldn't put it down. Hala Alyan is a lyrical force, a much-needed Arab American voice."  — Etaf Rum, New York Times best-selling author of A Woman Is No Man  
"I don't exactly understand how Hala Alyan does it—conjures love, sorrow, betrayal, and joy; goes from being funny and warm to incisive and thoughtful—but as a reader, I'm glad that she does. The Arsonists' City delivers all the pleasures of a good old-fashioned saga but in Alyan's hands, one family's tale becomes the story of a nation—Lebanon and Syria, yes, but also the United States. It's the kind of book we are lucky to have."  — Rumaan Alam, author of Leave the World Behind  
"Alyan's novel brims with life as the Nasr family's secrets are revealed, pushing past into present. Spanning across the globe, from Palestine to Lebanon and from Syria to America, each character is housed in pockets of social and identity politics, exile, civil war, and everything in between...They must relive their lives, where love rushes to the fore as quickly as heartbreak." — Arab News  
"A profound inquiry into what it means to be a family, determine your identity, and hold onto a home — particularly in a world that doesn't always weigh equally the importance of everyone's home, identity, and family...Alyan is virtuosic at portraying the complicated bonds that exist between family members, and she is unafraid to show both the beauty and the despair that come with true intimacy, love, and loss."  — Refinery 29
"Simultaneously a sprawling look across five decades at the legacy of unending violence in the Middle East, especially in Lebanon and Syria, and an intimate, heartfelt portrait of a family gathering at their ancestral home in Beirut."  — The OC Register  
"Alyan's varied talents never cease to amaze."  — The Millions
"Alyan, author of the award-winning Salt Houses, has written another family saga studded with the same beautiful lyricism...Makes for great fiction." — Lit Hub  
"A sweeping family saga that examines the insidious long shadow of war...Alyan brings her talents to examine the ongoing crisis of Palestinian displacement in The Arsonist's City through deeply imagined characters, place-based descriptions that teem with life, and attention to conflicts from past to present day."  — Jacqueline Alnes, Electric Literature  
"Alyan, who is a family therapist as well as a poet and novelist, has a gift for depicting the knotty, messy but ultimately resilient bonds of family love. Though The Arsonists' City lays bare how civil war and brutal violence impact a single family, it is the everyday, sometimes petty squabbles between husband and wife, brother and sister, parent and child that make this novel both memorable and relatable."  — BookPage 
"This multi-generational story is deeply thought-provoking."  — HelloGiggles 
"No one knows the human heart like Hala Alyan. Her ability to show its unexpected contours is on full display in The Arsonists' City—a book so gorgeously written I found myself reading sentences aloud just to keep them with me a little longer."  — Mira Jacob, author of Good Talk and The Sleepwalker's Guide to Dancing
Harper, 9780358126553, 464pp.
Publication Date: March 9, 2021
About the Author
HALA ALYAN is the author of the novel Salt Houses, winner of the Dayton Literary Peace Prize and the Arab American Book Award and a finalist for the Chautauqua Prize, as well as the novel The Arsonists' City and four award-winning collections of poetry, most recently The Twenty-Ninth Year. Her work has been published by TheNew Yorker, the Academy of American Poets, Literary Hub, the New York Times Book Review, and Guernica. She lives in Brooklyn with her husband, where she works as a clinical psychologist.
 
1. Consider the author's technique of opening the book with a death, and then having it return much later in the story. How does it illustrate the tenacity of the past, and its long-felt repercussions?
2. Compare the conversations of Ava in her Brooklyn social circle near the opening of the book to the conversations with, for example, Naj at the gallery opening in Beirut, or Tarek and Mazna during her theater rehearsals in Damascus. What differences and similarities exist between the interactions in terms of subject and how individuals express themselves?
3. Consider the various reasons why members of the Nasr family choose to live where they do. How does this relate more broadly to reasons why people are forced to leave their countries, or why they remain?
4. Both Mazna and Mimi fear the failure of their artistic hopes. What circumstances lead each to not realize their dreams? Discuss examples from your own creative, educational, or professional pursuits that did not work out.
5. Life in Beirut continues in the midst of war and cultural strife, both in the historic chapters following Mazna's life and in the contemporary ones featuring Naj and the entire family. How does an idea of war-affected areas being all dangerous or all safe—wholly one or the other—become complicated by these daily routines continuing in the midst of conflict?
6. Consider Kit's comment that "All brown women look alike" (336). How is this generalization reinforced not only by the community of Blythe and others similar to it, but by the US film industry?
7. What do the trials of Ava and Nate, Harper and Mimi, Naj and Fee, and Idris and Mazna teach us about navigating relationships, and the dishonesty, forgiveness, and compromise that they often involve? What keeps the core relationship between Idris and Mazna going for decades, despite its difficulties?
8. Harper says at one point, in response to the children's investigation of their parents' past: "I think people deserve to have their secrets" (387). Do you agree with Harper? When is it right to respect another's secrets, and when is it right to try to uncover them?
9. Idris and Mazna both decide not to share important information with the other at crucial moments: Idris lies to the film director, and Mazna stays silent about Ava. Do you agree with their decisions? Are both examples of what Harper calls "unburdening" a partner, by at times choosing to say nothing?
10. In what ways does the city of Beirut mirror the family, in terms of the turmoil, the inseparable mix of cultures, and the struggle between past and future?
Questions created by Reading Group Choices