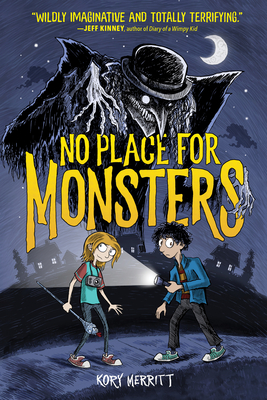 No Place For Monsters
Hardcover

* Individual store prices may vary.
Other Editions of This Title:
Digital Audiobook (9/14/2020)
CD-Audio (9/15/2020)
MP3 CD (9/15/2020)
Description
In this spellbinding, lavishly illustrated story that Diary of a Wimpy Kid author Jeff Kinney calls "wildly imaginative and totally terrifying," two unlikely friends face down their worst fears in order to stop their small town—and themselves—from disappearing.
Levi and Kat are about to discover a very dark side to their neighborhood.
Nothing ever seems out of place in the safe, suburban town of Cowslip Grove. Lawns are neatly mowed, sidewalks are tidy, and the sounds of ice cream trucks fill the air. But now . . . kids have been going missing—except no one even realizes it, because no one remembers them. Not their friends. Not their teachers. Not even their families.
But Levi and Kat do remember, and suddenly only they can see why everyone is in terrible danger when the night air rolls in. Now it is up to Levi and Kat to fight it and save the missing kids before it swallows the town whole.
Praise For No Place For Monsters…
"Merritt's imagination is a haunted garden, overgrown with fantastic ideas....[his] art seizes your attention and does not let go....Like a fine pumpkin stew, 'No Place for Monsters' is spicy and comforting and perfectly autumnal….Trick-or-treating might have been declared a severe health hazard this season, but Merritt's unsettling world is open for some safe spookery."—The New York Times Book Review "Wildly imaginative and totally terrifying—No Place for Monsters will scare you silly!"—Jeff Kinney, New York Times bestselling author of the Diary of a Wimpy Kid series "No Place For Monsters is like a haunted-house version of Charlie and the Chocolate Factory. Kory Merritt's wonderfully scary drawings will keep you turning the pages through this truly spooky adventure."—Brian Selznick, New York Times bestselling author of The Invention of Hugo Cabret and Wonderstruck "No Place for Monsters is so striking, it leaves an after image. You'll be seeing the art long after you've shut your eyes for the night. Kory Merritt's vision of monsters in our world is terrifying and unforgettable."—Max Brallier, New York Times bestselling author of the Last Kids on Earth series ★ "This is one hell of a middle-grade read, the kind that will spark imaginations as it is read late at night under the covers with a flashlight. . . . A wonderfully spooky tale."—Kirkus, STARRED review  ★"With this darkly humorous, fully illustrated romp, Merritt (The Dreadful Fate of Jonathan York) creates a world threatened by all manner of horrors, from banal (petty neighbors) to the unspeakable (being completely forgotten by loved ones). Merritt's scratchy black-and-white line illustrations expertly embody Levi's calm practicality, Kat's hyperactive exuberance, and the twisting otherworldliness of their cryptid foes. Solid use of light and shadow manipulate the atmosphere and tension levels as the story goes from mundane to frightening, while tongue-in-cheek visual jokes make every scene worth studying. Weird, wild, and warmhearted, this is a real page-turner for the spooky season."—Publishers Weekly, STARRED review "A story for persistent readers who are interested in fantastical mysteries with many twists, turns, and lively illustrations." —School Library Journal "Merritt's black-and-white line drawings of legendary creatures—which are truly the spooky stuff of nightmares—and the interspersed shaky hand-lettered text add extra creepiness." —Horn Book Magazine "Detailed, vivid illustrations are essential, moving the story forward between the text...It's a grim world all around, but at least there are moments of brightness, as when Levi and his sister, reunited, rekindle their deep connection that was lost in the move. Sometimes monsters and darkness abound, but it is enough to have one person that you know has your back."—The Bulletin of  the Center for Children's Books  
— No Source
Clarion Books, 9780358128533, 384pp.
Publication Date: September 15, 2020
About the Author
Kory Merritt is a former public school art teacher from western New York who enjoys reading weird stories, looking for strange wildlife, and drawing creepy monsters. In addition to teaching, Kory previously worked as an illustrator for the online game franchise Poptropica and its spin-off book series.
www.korymerritt.com, Facebook: @korymerrittauthor, Twitter and Instagram: @koryjmerritt