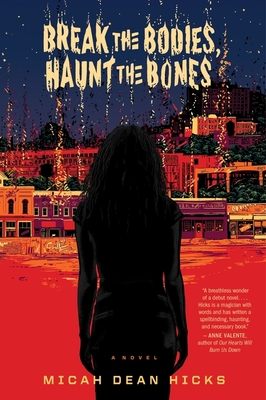 Break The Bodies, Haunt The Bones
Paperback

* Individual store prices may vary.
Other Editions of This Title:
Digital Audiobook (2/14/2019)
Hardcover (2/5/2019)
Description
"[T]his novel is extraordinary . . . It is Upton Sinclair's The Jungle, mixed with H. G. Wells's The Island of Doctor Moreau, set in the creepiest screwed-up town since 'Salem's Lot . . . [A] major achievement." — Adam-Troy Castro, Sci Fi magazine
 
Swine Hill was full of the dead. Their ghosts were thickest near the abandoned downtown, where so many of the town's hopes had died generation by generation. They lingered in the places that mattered to them, and people avoided those streets, locked those doors, stopped going into those rooms . . . They could hurt you. Worse, they could change you.
 
Jane is haunted. Since she was a child, she has carried a ghost girl that feeds on the secrets and fears of everyone around her, whispering to Jane what they are thinking and feeling, even when she doesn't want to know. Henry, Jane's brother, is ridden by a genius ghost that forces him to build strange and dangerous machines. Their mother is possessed by a lonely spirit that burns anyone she touches. In Swine Hill, a place of defeat and depletion, there are more dead than living.
 
When new arrivals begin scoring precious jobs at the last factory in town, both the living and the dead are furious. This insult on the end of a long economic decline sparks a conflagration. Buffeted by rage on all sides, Jane must find a way to save her haunted family and escape the town before it kills them.
Praise For Break The Bodies, Haunt The Bones…
Bronze Medalist in the 2019 Florida Book Awards, Popular Fiction category "Hicks's wildly atmospheric and unsettling debut is a heady fusion of horror, Southern gothic, and timely social commentary. […] Hicks, a gifted storyteller, explores the crushing loss of hope and the dark heart of fear. Corporate greed is highlighted, and Henry's hardworking creations are obvious stand-ins for immigrants. Alongside the metaphor is real racial tension: Jane and her family are African-American and are targets of prejudice. Hicks's surreal, often grim vision is not without hope, even if it must come in the bloody wake of tragedy. Fans of the macabre will be enthralled." —Publishers Weekly   "Daring readers with a hunger for the arcane and the New Weird style of writers like China Miéville will enjoy this singularly strange novel." —Booklist "[T]his novel is extraordinary: not just an early candidate for the best horror novel of the year, but one we can present a good case for declaring a transcendent, committed and riveting novel for this historical moment… It is Upton Sinclair's The Jungle, mixed with H.G. Wells's The Island of Doctor Moreau, set in the creepiest screwed-up town since Salem's Lot… Micah Dean Hicks has produced a major achievement."--Adam-Troy Castro, Sci-Fi Magazine "I can't stop thinking about this book. It's a haunting story that burrows under your skin like an insect laying eggs that hatch within you in the middle of the night. Hick's mesmerizing imagery kept me turning the pages and asking myself "How is this book happening? What sort of literary witchcraft am I witnessing?"—Maurice Broaddus, author of Buffalo Soldier and The Usual Suspects   "A tour-de-force of the imagination. Hicks has created a world that is beautifully and brutally surreal and yet, at the same time, BREAK THE BODIES, HAUNT THE BONES stands as a hyper-realistic psychological portrait of the death of the American factory town. My own identity as an American was disturbed and changed by this novel; some dormant understanding was shaken awake. This is a stunning and profound debut." —Julianna Baggott, bestselling author of New York Times Notable Book Pure   "Break the Bodies, Haunt the Bones is a breathless wonder of a debut novel. Amid robots and a city of pigs and residents haunted by their own personal ghosts, Micah Dean Hicks explores economic uncertainty, the violence of bigotry and hate, and the tremendous weight of the past. In Swine Hill, no one escapes the horrors of grief. And yet this is a novel infused with hope, and with the most gorgeous sentences evoking the sublime wonder of this world. Hicks is a magician with words and has written a spellbinding, haunting and necessary book." —Anne Valente, author of Our Hearts Will Burn Us Down   "Hicks' debut novel is a thoughtful tour of the rotted and haunted heart of America. Highly recommended." —Shirley Jackson Award-nominated author Jeremiah Tolbert   "In Break the Bodies Haunt the Bones, Micah Dean Hicks has crafted a haunting story with multi-generational appeal, where the very real horror of poverty meets supernatural horror, and social issues like xenophobia, racism and economic anxiety are addressed organically through allegory and gripping storytelling. I finished this book three nights ago and still feel the chill of Swine Hill in my bones." —Chris L. Terry, author
Harper Voyager, 9780358133636, 304pp.
Publication Date: February 11, 2020
About the Author
MICAH DEAN HICKS is the author of the story collection Electricity and Other Dreams—a book of dark fairy tales and bizarre fables that won the 2012 New American Fiction Prize. He is also the winner of the 2014 Calvino Prize judged by Robert Coover, the 2016 Arts and Letters Prize judged by Kate Christensen, and the 2015 Wabash Prize judged by Kelly Link. His stories and essays have appeared in dozens of magazines ranging from the New York Times to Lightspeed to the Kenyon Review. Hicks teaches creative writing at the University of Central Florida in Orlando.