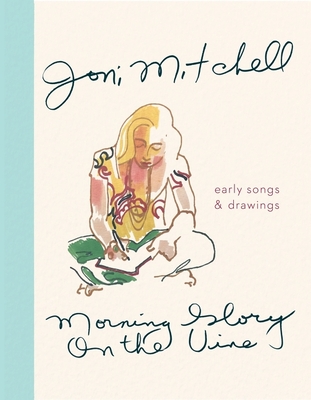 Morning Glory On The Vine
Early Songs and Drawings
Hardcover

* Individual store prices may vary.
Description
A gorgeous compendium of Joni Mitchell's handwritten lyrics and drawings, originally handcrafted as a gift for a select group of friends in 1971 and now available to the public for the first time
 
In 1971, as her album Blue topped charts around the world, Joni Mitchell crafted one hundred copies of Morning Glory on the Vine as a holiday gift for her closest friends. For this stunningly beautiful book, Joni hand-wrote an exquisite selection of her own lyrics and poems and illustrated them with more than thirty of her original pictures. Handcrafted, signed, and numbered in Los Angeles, the existing copies of this labor of love have rarely been seen in the past half-century.
     Now, during Joni's seventy-fifth birthday year, Morning Glory on the Vine: Early Songs and Drawings will be widely available for the first time. In this faithfully reproduced edition, Joni's best-loved lyrics and poems spill across the pages in her own elegant script. The lively, full-color drawings depict a superb array of landscapes, still lifes, portraits of friends, self-portraits, innovative abstractions, and more. All the artwork from the original book is included, along with several additional pictures that Joni drew of her friends from the same period. Finally, the refreshed volume features an original introduction written by Joni. Morning Glory on the Vine is a gorgeous and intimate keepsake and an invitation to explore anew the dazzling, visionary world of Joni Mitchell.
Praise For Morning Glory On The Vine: Early Songs and Drawings…
"These drawings and writings, arranged so artfully and carefully, feel like an anchor in an increasingly unsteady world." — The New Yorker "A revelation for her devoted listeners, Morning Glory is a comforting and intimate look at what caught an artist's eye when she was at the peak of her chaparral mountain." — Los Angeles Times "Nearly 50 years (after putting the drawings in a binder), Mitchell's intimate gift was widely released for the first time . . . Titled Morning Glory on the Vine — a line from Neil Young's "Motion Pictures (For Carrie)" — the collection features more than 30 original watercolor paintings, handwritten lyrics and poems . . . Highlights of the book include the handwritten lyrics to "A Case of You" and "I'm a Radio" (later changed to "You Turn Me On, I'm a Radio" on 1972's For the Roses) and subtle portraits of James Taylor playing the piano and Judy Collins surrounded by flowers." — Rolling Stone    "Joni Mitchell is a major painter . . . This is a book that she created as a Christmas present for her friends in 1971 and is now published for the first time. It is just a gorgeous, gorgeous book." — Bill Goldstein, WNBC-TV "Joni Mitchell figured out the perfect gift for the people who have everything." — Washington Post "The folk legend's astonishing duality is on full display in this exquisite compilation of dreamy watercolors, drawings, and handwritten lyrics." —O, The Oprah Magazine "Joni Mitchell's decision to publish her handmade 1971 art & lyric book Morning Glory On The Vine reframed some of her most well-known work." — Rolling Stone  "This handsomely produced oversized book, which includes lyrics of such classics as River and Woodstock as well as vibrant portraits of Graham Nash, Neil Young and Mitchell herself, is a must for her fans." — Tampa Bay Times "Like most anything Mitchell touches, her book is a stroke of genius... Morning Glory on the Vine bears fruits both retrospective and prospective, celebrating a lifetime of brilliant artistry... Joni Mitchell has been reclaiming, and affirming, her humanity (and ours) for five decades. Her latest masterwork continues, ever so genuinely, in that grounding and illuminating tradition." — PopMatters "There are probably few documents that evoke the halcyon Laurel Canyon of those years than this lovingly compiled book, which will be familiar to anyone who spent more than a few minutes staring at Mitchell's self-designed album covers of the era while "Ladies of the Canyon" or "Court and Spark" spun on the turntable." — Variety —
Dey Street Books, 9780358181729, 136pp.
Publication Date: October 22, 2019
About the Author
JONI MITCHELL is widely regarded as one of the greatest singer-songwriters of her generation. Her album Blue (1971) is often cited as one of the best albums of all time. Mitchell has won nine Grammys in various categories, including traditional pop, pop music and lifetime achievement. Born in Canada, she now lives in her longtime home of Los Angeles.