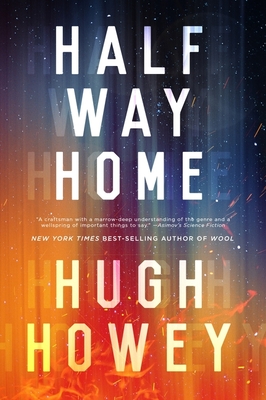 Half Way Home
Hardcover

* Individual store prices may vary.
Other Editions of This Title:
Paperback (10/1/2019)
Description
From the New York Times and USA Today best-selling author of Wool and the Molly Fyde saga comes a story of teenage colonists marooned on a distant planet
WE WOKE IN FIRE
Five hundred colonists have been sent across the stars to settle an alien planet. Vat-grown in a dream-like state, they are educated through simulations by an artificial intelligence and should awaken at thirty years old, fully-trained, and ready to tame the new world.
But fifteen years in, an explosion on their vessel kills most of the homesteaders and destroys the majority of their supplies. Worse yet, the sixty that awaken and escape the flames are only half-taught and possess the skills least useful for survival.
Naked and terrified, the teens stumble from their fiery baptism ill-prepared for the unfamiliar and harsh alien world around them. Though they attempt to work with the colony A.I. to build a home, tension and misery are rampant, escalating into battles for dominance.
Soon they find that their worst enemy isn't the hostile environment, the A.I., or the blast that nearly killed them. Their greatest danger is each other.
Praise For Half Way Home…
"Half Way Home is a tense, imaginative yarn by a rising master of science fiction. Howey dazzles with scope and cuts deep with intimacy. Incisive prose and boundless imagination make this a Howey classic." — Pierce Brown, New York Times best-selling author of the Red Rising series
"A fast-moving story that puts one in mind of Heinlein's classic young adult novels." — Neal Stephenson, New York Times bestselling author of Fall, or Dodge in Hell
"Brilliant pacing. Vivid characters. Realistic science. Hugh Howey's Half Way Home tackles the tribal instincts currently tearing the world apart, giving fresh insights into the psychology of group-think. It's Lord of the Flies among the stars!" — Peter Cawdron, author of Retrograde and Reentry
William Morrow, 9780358213246, 240pp.
Publication Date: October 1, 2019
About the Author
HUGH HOWEY is the New York Times and USA Today best-selling author of Wool, Shift, Dust, Beacon 23, Sand, and Machine Learning. His works have been translated into more than forty languages and have sold more than three million copies worldwide. Wool and Beacon 23 are currently in development for television at AMC, and Sand is in development at Amazon.When Hugh is not aboard the Wayfinder, a fifty-foot catamaran that he is sails around the world, he is based in New York.