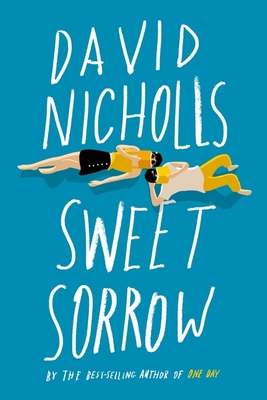 Sweet Sorrow
The long-awaited new novel from the best-selling author of ONE DAY
Paperback

* Individual store prices may vary.
Other Editions of This Title:
Digital Audiobook (7/10/2019)
Digital Audiobook (8/3/2020)
Library Binding, Large Print (12/2/2020)
Hardcover (8/4/2020)
MP3 CD (8/4/2020)
Description
From the best-selling author of One Day comes a bittersweet and brilliantly funny coming-of-age tale about the heart-stopping thrill of first love—and how just one summer can forever change a life.
 
Now: On the verge of marriage and a fresh start, thirty-eight year old Charlie Lewis finds that he can't stop thinking about the past, and the events of one particular summer.
 
Then: Sixteen-year-old Charlie Lewis is the kind of boy you don't remember in the school photograph. He's failing his classes. At home he looks after his depressed father—when surely it should be the other way round—and if he thinks about the future at all, it is with a kind of dread.
 
But when Fran Fisher bursts into his life and despite himself, Charlie begins to hope.
 
In order to spend time with Fran, Charlie must take on a challenge that could lose him the respect of his friends and require him to become a different person. He must join the Company. And if the Company sounds like a cult, the truth is even more appalling: The price of hope, it seems, is Shakespeare, Romeo and Juliet learned and performed in a theater troupe over the course of a summer.
 
Now: Charlie can't go the altar without coming to terms with his relationship with Fran, his friends, and his former self. Poignant, funny, enchanting, devastating, Sweet Sorrow is a tragicomedy about the rocky path to adulthood and the confusion of family life, a celebration of the reviving power of friendship and that brief, searing explosion of first love that can only be looked at directly after it has burned out.
Praise For Sweet Sorrow: The long-awaited new novel from the best-selling author of ONE DAY…
"This eloquent coming-of-age story set in the U.K. dazzles with wit and shrewd self-reflection."—People "A tale of first love that hits all the right notes . . . [it] just might be the sweetest book to brighten your late summer."—The Washington Post  "Delectable . . . Nicholls treats you to a satisfying glimpse into the future, where characters make a curtain call as adults . . . Bombshells abound."—New York Times Book Review   "Few writers can tug at a reader's heartstrings like David Nicholls, and on this occasion he comes close to snapping a couple . . . A charming, evocative and searingly beautiful tale."—The Star Tribune "With fully fleshed-out characters, terrific dialogue, bountiful humor, and genuinely affecting scenes, this is really the full package of a rewarding, romantic read."—Booklist, starred review "With his usual grace, Nicholls (Us; One Day) plumbs human relationships, this time offering a singular reading experience about one young man's fraught coming of age . . . Nicholls masterfully unfolds events. The depth of feeling between friends, family members, and lovers, first time or not—Nicholls captures it all. Highly recommended."—Library Journal, starred review   "Nicholls excels at capturing Charlie's insecurity, the messy exuberance of first love, and the coarseness of teenage male friendships . . . A good deal of fun."—Publishers Weekly "David Nicholls' Sweet Sorrow perfectly captures the intensity of first love, the beauty of a chosen family, and the complexity of transforming from a teenager to an adult. These are characters I'll be thinking about for a long time to come."—Jill Santopolo, New York Times bestselling author of The Light We Lost "A beautiful paean to young love. . . Sweet Sorrow is a book that does what Nicholls does best, sinking the reader deep into a nostalgic memory-scape, pinning the narrative to a love story that manages to be moving without ever tipping over into sentimentality, all of it composed with deftness, intelligence and, most importantly, humour. We may think of Nicholls as a writer of heartbreakers–One Day prompted many poolside tears – but he has always been a comic novelist and Sweet Sorrow is full of passages of laugh-out-loud Inbetweeners-ish humour. . .Here he proves that he can still pull off that most rare and coveted of literary feats: a popular novel of serious merit, a bestseller that will also endure." —Guardian "Nicholls' literary talents are impressive . . . the sense of nostalgia is visceral and intense, almost time-bending."—The Sunday Times "A compassionate, intelligent look at the raw pain and loneliness of a teenage boy, the everyday miracle of first love and the perennial power of Shakespeare's language."—Spectator "Sweet Sorrow [is] . . . an ideal blend of the gently humorous and utterly heartfelt. It made me feel like something had swollen up inside my chest, and readers are liable to find their thoughts drifting over their own misspent school holidays or crushingly ardent first loves. Bag a copy immediately, because this has got "perfect summer read" smeared all over it like so much fac —
Harper Paperbacks, 9780358248361, 416pp.
Publication Date: August 4, 2020
About the Author
David Nicholls is firmly established as one of the world's finest hotel chefs, and has worked in some of London's most celebrated kitchens, including the Ritz. David is Executive Chef of Mandarin Oriental Hyde Park in London. When David's son Daniel was left paralyzed following a swimming accident in Australia, David decided to found The Nicholls Spinal Daniel and others like him.