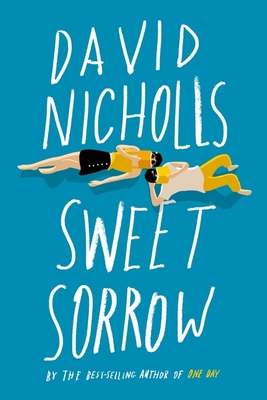 Sweet Sorrow (Paperback)
Mariner Books, 9780358248361, 384pp.
Publication Date: May 5, 2020
* Individual store prices may vary.
Description
From the best-selling author of One Day comes a bittersweet and brilliantly funny coming-of-age tale about the heart-stopping thrill of first love—and how just one summer can forever change a life.
 
Now: On the verge of marriage and a fresh start, thirty-eight-year-old Charlie Lewis finds that he can't stop thinking about his long-ago first love, the girl who changed his life.
 
Then: Sixteen-year-old Charlie Lewis is the kind of boy you don't remember in the school photograph. He's failing his classes. At home he looks after his depressed father—when surely it should be the other way round—and if he thinks about the future at all, it is with a kind of dread.
 
But when Fran Fisher bursts into his life and despite himself, Charlie begins to hope.
 
In order to spend time with Fran, Charlie must take on a challenge that could lose him the respect of his friends and require him to become a different person. He must join the Company. And if the Company sounds like a cult, the truth is even more appalling: The price of hope, it seems, is Shakespeare, Romeo and Juliet learned and performed in a theater troupe over the course of a summer.
 
Now: Charlie can't go the altar without coming to terms with his relationship with Fran, his friends, and his former self. Poignant, funny, enchanting, devastating, Sweet Sorrow is a tragicomedy about the rocky path to adulthood and the confusion of family life, a celebration of the reviving power of friendship and that brief, searing explosion of first love that can only be looked at directly after it has burned out.
 
About the Author
David Nicholls is the bestselling author of Us, One Day, The Understudy and Starter for Ten. His novels have sold over eight million copies worldwide and are published in forty languages. Nicholls trained as an actor before making the switch to writing, and he recently won a BAFTA for Patrick Melrose, his adaptation of the novels by Edward St Aubyn, which also won him an Emmy nomination. He lives in London.
Praise For Sweet Sorrow…
"A beautiful paean to young love. . .
Sweet Sorrow
is a book that does what Nicholls does best, sinking the reader deep into a nostalgic memory-scape, pinning the narrative to a love story that manages to be moving without ever tipping over into sentimentality, all of it composed with deftness, intelligence and, most importantly, humour. We may think of Nicholls as a writer of heartbreakers–
One Day
prompted many poolside tears – but he has always been a comic novelist and
Sweet Sorrow
is full of passages of laugh-out-loud
Inbetweeners
-ish humour. . .Here he proves that he can still pull off that most rare and coveted of literary feats: a popular novel of serious merit, a bestseller that will also endure."
—
Guardian
"Nicholls' literary talents are impressive . . . the sense of nostalgia is visceral and intense, almost time-bending."—
The Sunday Times
"A compassionate, intelligent look at the raw pain and loneliness of a teenage boy, the everyday miracle of first love and the perennial power of Shakespeare's language."
—
Spectator
"
Sweet Sorrow
[is] . . . an ideal blend of the gently humorous and utterly heartfelt. It made me feel like something had swollen up inside my chest, and readers are liable to find their thoughts drifting over their own misspent school holidays or crushingly ardent first loves. Bag a copy immediately, because this has got "perfect summer read" smeared all over it like so much factor 30."
—
Independent
"[Nicholls] remains one of the most acute chroniclers of England as it is now…and few can rival his grasp of the period's minor-key class signifiers…And of course the novel skips along merrily; the repartee frequently sparkles, the jokes are genuinely funny, walk-on characters are brilliantly sketched into life, and his genuine affection for the main players is evident throughout."
—
Financial Times
"Adrian Mole meets
The Swish Of The Curtain
in this lovely coming-of-age romcom about acting and the class divide."—
Daily Mail
"The author of
Us
and of course
One Day
has never written with more tenderness and insight than in this bittersweet story... perfectly captures the dizzying highs and lows of first love." —
Daily Express
"He's such a genius. His novels are relatable and recognizable, but also surprising, breath-taking and life-enhancing."
—Nina Stibbe
"A richly observed, bitterly funny novel about the lingering grip of adolescent love."
—Metro
"Poignant and insightful."
—Belfast Telegraph
"Piercingly observant, gloriously funny and achingly sad, this is David Nicholls' best book yet."
—Daily Mirror
 
"The lines come thick and fast throughout the novel, but they do not compromise the emotional core of social alienation, young love and (minor spoiler) what we think in retrospect. In all, it is a bravura performance from someone with a track record in fashioning books that are both eminently readable and emotionally subtle.
Sweet Sorrow
manages to be interesting, moving, hilarious, and sad at the same time."
—Scotland on Sunday
"Full of the joy and pain of first love, fans who fell for bestseller
One Day
10 years ago, won't be disappointed."
—Sunday Mirror
"If ever there was an author perfect to take with you on holiday (so to speak), it's David Nicholls. Make space in your case."
—Telegraph
"Nicholls avoids sentimentality or mawkishness to capture perfectly the angst, the pain and the awkwardness of falling in love for the first time."
—The Bookseller
"Nineties nostalgia backdrops a story that feels so authentic, it could be a memoir."
—iPaper
"Tellingly captures the giddy confusion of first love mired in family turbulence and the bewilderment of making decisions, and not knowing if things will land the way you want them to. Endearing and nostalgic, it nudges your 16-year-old self into being. A delicious, pensive summer read."
—Press Association