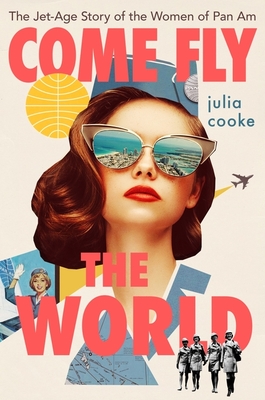 Come Fly The World
The Jet-Age Story of the Women of Pan Am
Hardcover

* Individual store prices may vary.
Other Editions of This Title:
Digital Audiobook (3/1/2021)
Digital Audiobook (4/28/2021)
Paperback (4/26/2022)
Library Binding, Large Print (8/17/2021)
MP3 CD (3/2/2021)
Description
Glamour, danger, liberation: in a Mad Men–era of commercial flight, Pan Am World Airways attracted the kind of young woman who wanted out, and wanted up

Required to have a college education, speak two languages, and possess the political savvy of a Foreign Service officer, a jet-age stewardess serving on iconic Pan Am between 1966 and 1975 also had to be between 5′3" and 5′9", between 105 and 140 pounds, and under 26 years of age at the time of hire.Cooke's intimate storytelling weaves together the real-life stories of a memorable cast of characters, from small-town girl Lynne Totten, a science major who decided life in a lab was not for her, to Hazel Bowie, one of the relatively few Black stewardesses of the era, as they embraced the liberation of their new jet-set life. Cooke brings to light the story of Pan Am stewardesses' role in the Vietnam War, as the airline added runs from Saigon to Hong Kong for planeloads of weary young soldiers straight from the battlefields, who were off for five days of R&R, and then flown back to war. Finally, with Operation Babylift—the dramatic evacuation of 2,000 children during the fall of Saigon—the book's special cast of stewardesses unites to play an extraordinary role on the world stage.
 
Praise For Come Fly The World: The Jet-Age Story of the Women of Pan Am…
"After a year of severe restrictions on travel…[Julia Cooke's] book looking back at the height of the jet age offers more than one delicious flavor of escapism…a front-row view of history."—The Washington Post  "In the 1960s and 70s, Pan Am stewardesses changed a sexualized job requiring weigh-ins and retirement at 26 into a forum for serious work. They became ambassadors, transported traumatized soldiers, rescued Vietnamese children in Operation Babylift. A fascinating history of a bygone era."—People Magazine "This engrossing account, which reads like a novel, offers a combination of riveting personal stories and little-known history, and will draw in readers from the first page. A must-read."—STARRED, Library Journal "An entertaining, insightful look into a gritty and glamorous era in air travel."—STARRED Kirkus Reviews "Thoughtful, well-researched and utterly engaging, Come Fly the World is smart escapist journalism and a tribute to hundreds of women who were much more than just a crew of pretty faces….Journalist Julia Cooke paints a riveting, complex portrait of the adventurous lives of Pan Am stewardesses during aviation's golden age."—​Shelf Awareness  "Female roles were transformed over the Pan Am decades, but stewardesses remained in a strange no-woman's land—smiling, servile symbols of male fantasy but also working women traveling the globe in challenging jobs when most of their peers were at home with families. Come Fly the World opens an intimate porthole into the life they chose aboard Pan American." —Air Mail "Journalist Cooke (The Other Side of Paradise) recounts in this dramatic history the surprising role Pan Am stewardesses played in the Vietnam War….Skillfully intertwining jet-age excitement with the tumultuous politics of the era, this is a unique and compassionate portrait of barrier-breaking women in the 1960s and '70s." —Publishers Weekly "At the dawn of the jet set era of boundless commercial flight, women could travel the world as stewardesses [and] engage in soft diplomacy and foreign affairs against the backdrop of the Vietnam War...For those who miss Mad Men, this is a must read." —​New York Observer  "Come Fly the World tells the story of adventurous women navigating a world on the cusp of change. In confident, clear-eyed, multi-layered prose, Julia Cooke brings to life the true stories of unforgettable Pan-Am stewardesses who defied convention, to seek more from life than they were given. This is a well-researched and fascinating history of air travel, gender equality, and so much more."—Rachel Khong, author of Goodbye, Vitamin   "Before second-wave feminism came along to challenge the admissions policies of law, medical, and business schools, there were stewardesses—women every bit as daring and determined as their later counterparts in the professions, and having more fun. Julia Cooke's Come Fly the World reveals an unexpected chapter in American history as inspiring as it is informative—a rollicking, rambunctious ride down the runway of mid-century modern life that flies straight into the headwinds of Civil Rights politics and the Vietnam War."—Megan Marshall, author of Pulitzer Prize-winning Margaret Fuller: A New American Life and Elizabeth Bishop: A Miracle for Breakfast&nb —
Mariner Books, 9780358251408, 288pp.
Publication Date: March 2, 2021
About the Author
JULIA COOKE is a journalist and travel writer whose features and personal essays have been published in Time, Smithsonian, Condé Nast Traveler, and Saveur. She is the author of The Other Side of Paradise: Life in the New Cuba. The daughter of a former Pan Am executive, Cooke grew up in the Pan Am "family," a still-strong network across the globe. She lives in Vermont. 
1. What were early advertisements for work and travel with Pan Am like? How did they appeal to the public? What did the company claim to offer women who applied for jobs as stewardesses, and why were these jobs attractive to so many women? What drew Lynne Totten to this line of work? What qualifications were necessary for those like Totten who were applying to be flight attendants? Were you surprised by any of the requirements? What particular duality does the author say was expected of the women applying for these jobs?
2. What does the author mean when she writes that "what was revolutionary was the lack of should" for stewardesses (12)? How did a career as a Pan Am stewardess allow the women to eschew and challenge some of the norms and expectations around gender at this time? Alternatively, how did a job as a stewardess perpetuate or reinforce some of these very gender norms and expectations? How did Totten's family, and the family and friends of other women applying for jobs with Pan Am, feel about this type of career? What reservations of her own did Totten have about this line of work?
3. What word appeared over and over in the manuals the stewardesses consulted, and what did this reveal about their role in international affairs? What role did the stewardesses of Pan Am play in the Vietnam War? What does the author say were the two perspectives on the American troops in South Vietnam? What was a "pipeline to paradise" for American soldiers during this time? What bargain did Pan Am offer the U.S. government in the 1960s, and what was expected of the stewardesses in line with this? Why was this role attractive to women like Clare Christiansen? What were the inherent risks and dangers of this kind of wartime airline work? What was Operation Babylift, and what role did the women of Pan Am play in it?
4. At the time Tori Werner was considering a career in the foreign service, what percentage of those working in this field were women? What challenges did women in this particular field face? What typically forced the retirement of women working in the foreign service? Why did Tori abandon her dream of working in the foreign service to become a stewardess instead? Does this seem to have been a better choice?
5. The author explains that Pan Am was not "an organ of the U.S government" but "operated . . . parallel to American power from the start" (65). What does she mean by this? With the Lend-Lease Act, what did Pan Am become the first airline to do? When it came to "flag carriers," what made the United States unique? What "heralded the start of the second jet age" (69)? As the industry was booming during this time in the mid to late 1960s, what does the author say that Pan Am placed its bets on?
6. What connection was drawn between airline travel and patriotism in the late 1960s? When it came to travel during this period, what did President Johnson ask Americans to do, and why did he make this request? How was this a departure from what was asked of U.S. citizens a decade earlier? What problems did this present for Black Americans in particular during this time? What was the general response to Johnson's proposal, and how did the founder of Pan Am respond? How does this compare to ideas around airline travel, and specifically international travel, today?
7. Why do you think the author chose to include a section about the U.S. moon landing? What were the reactions of the stewardesses and the passengers on their flights when they heard that man had made it to the moon? What motifs or major themes of the book does the reference of this historical achievement help to reinforce? What connections might there be between the moon landing and the physical and cultural boundary-breaking being done by the women working for Pan Am?
8. Consider the setting and social backdrop of the book. What does the author say was a "near- absolute norm" for young women in the early 1960s (98)? How were ideas about sexual mores, marriage, and relationships changing by the end of the decade? What effect did this have on the lives and careers of the women working as stewardesses for Pan Am? For women like Tori Werner, what was Pan Am "an instrument" of (98)? What "salient new fact" did the 1967 directory of the Manhattan chapter of Pan Am stewardesses show (43)? How did the women support each other as they challenged and rejected the norms of previous generations and forged their own paths?
9. What obstacles did the women featured in the book face in terms of social mobility, and how did they deal with this? How did misogyny and discrimination affect their career paths and their day-to-day work? What public venue emerged in 1965 to challenge these issues of inequality? When cases went unanswered, what organization did women found? Who was favored in the first round of lawsuits between the women and their employer? Were you surprised by this? Why or why not? Who was Alison Palmer, and what does Cooke say that Palmer took "as a given fact," even after she won her lawsuit in 1972 (173)? Overall, what gains were made via the activism of the women described in Cooke's book?
10. Although Pan Am claimed to value and seek diversity among its staff, what does the book actually reveal about racism in the airline industry and in 1960s America at large? How were

African-American applicants treated differently than their peers and discriminated against? Even after many court cases were won by African-American plaintiffs, why did recruitment efforts to build diversity stall? As women like Hazel Bowie pursued a college education and employment, what obstacles did they face? What was Bowie's experience like in the countries she traveled to with Pan Am? Would you say that much has changed today? Discuss.
11. Karen Walker tells her friends that "it's so much better to adore than to be adored" (122). How do they respond to this? What do you think of Walker's comment about relationships? What mantra does Walker have printed on a poster above her bed? What does the author mean when she says that "popular culture simplified this independence—the kind Karen treasured—and winnowed it down to basic sluttishness" (129)?
12. Who tells Lynne Totten that they are surprised by her reading material, and why do they find it surprising? How does she respond to this? Who does the author say had "defined the wider perception of stewardessing" (151), and how did the stewardesses of Pan Am begin to "reclaim their images" (151)? Instead of talking about the instances of chauvinism they were exposed to, what does the author say that activists discussed instead? How effective was this?
13. How does the author say that feminists of the time perceived Pan Am stewardesses? Why does the author say that the term "feminist" wasn't a good fit for so many of the women? Contrary to this, the flight attendants who self-identified as feminists felt that "all longtime stewardesses were de facto feminists" (153). What do they mean by this? Would you describe the women featured in the book as feminists? Why or why not?
14. Although the women of Pan Am came from many different locations and backgrounds, what qualities and goals did the flight attendants seem to share? How did these women reshape conversations around a woman's value and place at home and in the world? How did Cooke's depiction of the women of Pan Am align with or diverge from popular culture narratives about, and representations of, stewardesses?
15. Did the book challenge or change any of your preconceptions about this line of work and the women who undertook it? What most surprised you about Come Fly the World and the women featured in it? How does Cooke's book ultimately address "the disconnect between the perception of the job as all glamour and access . . . and its actual reality" (215)?
Suggestions for Further Reading

Barry, Kathleen. Femininity in Flight: A History of Flight Attendants

Gandt, Robert. Skygods: The Fall of Pan Am

Grant, Casey. Stars in the Sky: Stories of the First African American Flight Attendants

Landdeck, Katherine Sharp. The Women with Silver Wings: The Inspiring True Story of the

Women Airforce Service Pilots of World War II

Murphy, Ryan Patrick. Deregulating Desire: Flight Attendant Activism, Family Politics, and Workplace Justice

O'Brien, Keith. Fly Girls: How Five Daring Women Defied All Odds and Made Aviation History

Riegel, Betty. Up in the Air: The Real Story of Life Aboard the World's Most Glamorous Airline

Tiemeyer, Phil. Plane Queer: Labor, Sexuality, and AIDS in the History of Male Flight

Attendants

Whitelegg, Drew. Working the Skies: The Fast-Paced, Disorienting World of the Flight Attendant

Yano, Christine R. Airborne Dreams: "Nisei" Stewardesses and Pan American World Airways