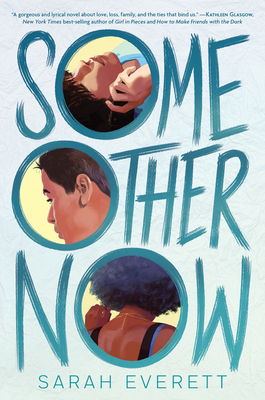 Some Other Now
Hardcover

* Individual store prices may vary.
Other Editions of This Title:
Digital Audiobook (2/22/2021)
Paperback (4/19/2022)
MP3 CD (2/23/2021)
Description
This Is Us for teens, this luminous and heartbreaking contemporary novel follows a girl caught between two brothers as the three of them navigate family, loss, and love over the course of two summers. For fans of Far From the Tree, Emergency Contact, and Nina LaCour.

Before she kissed one of the Cohen boys, seventeen-year-old Jessi Rumfield knew what it was like to have a family—even if, technically, that family didn't belong to her. She'd spent her childhood in the house next door, challenging Rowan Cohen to tennis matches while his older brother, Luke, studied in the background and Mel watched over the three like the mother Jessi always wished she had.

But then everything changed. It's been almost a year since Jessi last visited the Cohen house. Rowan is gone. Mel is in remission and Luke hates Jessi for the role she played in breaking his family apart. Now Jessi spends her days at a dead-end summer job avoiding her real mother, who suddenly wants to play a role in Jessi's life after being absent for so long. But when Luke comes home from college, it's hard to ignore the past. And when he asks Jessi to pretend to be his girlfriend for the final months of Mel's life, Jessi finds herself drawn back into the world of the Cohens. Everything's changed, but Jessi can't help wanting to be a Cohen, even if it means playing pretend for one final summer.
Praise For Some Other Now…
"This is an author to look out for."—The Nerd Daily "Drawing a resonant, impactful journey alternating between 'Then' and 'Now,' Everett skillfully unpacks grief, guilt, and love through the lens of teens learning to navigate life's twists and turns."—Publishers Weekly "From the first page, Everett's assured prose draws the reader into a world of sympathetic characters grappling with first romantic relationships and realistic family struggles."—Booklist "Satisfying"—BCCB "Some Other Now is stunning and romantic— the rare book that will break your heart and put it back together." —Kara Thomas, author of The Cheerleaders "A gorgeous and lyrical novel about love, loss, family, and the ties that bind us. Every moment of Jessi's poignant story stole my heart."  —Kathleen Glasgow, New York Times bestselling author of Girl in Pieces and How to Make Friends With the Dark "Some Other Now is beautifully written, emotional and full of heart!" —Katie McGarry, author of Pushing the Limits series and Echoes Between Us "Achingly emotional and gorgeously written, SOME OTHER NOW is the reminder we need that family can be more than blood. This poignant, beautiful story will resonate with readers. Despite undeniable heartbreak, these pages sparkle with hope." —Laurie Elizabeth Flynn, author of Firsts and All Eyes On Her  "Resonant, complex, and tender. Some Other Now is a heartbreaking and uplifting story about the family you choose and the family that chooses you." —Alexis Bass, author of Happily and Madly "Everett's writing packs a punch that will hit readers right in the feels. Whether you're sixteen or sixty, you'll fall in love with Luke, Ro, and Jessi's story and you'll keep coming back for more." —Ashley Woodfolk, author of When You Were Everything​ "Sarah Everett's SOME OTHER NOW explores intense loss, unimaginable guilt, and love's many forms through characters who are undeniably flawed, yet wonderfully endearing. Tender, melancholic, and romantic, this book wrecked me in the best possible way." —Katy Upperman, author of How the Light Gets In, The Impossibility of Us, and Kissing Max Holden  "Tender, insightful, and beautifully written, Some Other Now is full of lyrical warmth. It's heartbreaking in the best ways." —Carlie Sorosiak, author of I, Cosmo "Beautifully written and heart-rending. A captivating depiction of fractured family, loss, and grief." —Jenn Bennett, author of Alex, Approximately  
Clarion Books, 9780358251866, 368pp.
Publication Date: February 23, 2021
About the Author
Sarah Everett is the author of No One Here is Lonely and Everyone We've Been. She remembers growing up in enchanted forests, on desert islands, and inside a magical wardrobe. She would only ever erase her memory of past karaoke performances and certain fashion choices. She lives in Alberta, Canada.