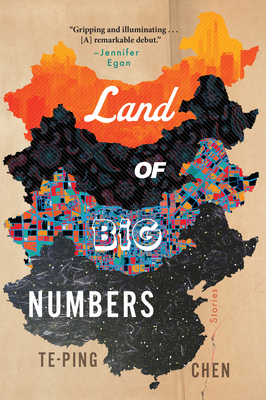 Land of Big Numbers
Stories
Paperback

* Individual store prices may vary.
Other Editions of This Title:
Compact Disc (2/2/2021)
MP3 CD (2/2/2021)
February 2021 Indie Next List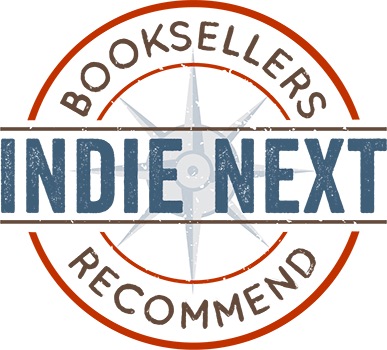 "I loved this stunning debut collection of stories. Chen digs deep and uses her experience as a foreign correspondent to portray the voices and lives of people living in modern China. These stories will stay with you long after you've finished reading the book. Highly recommended."
— Cody Morrison, Square Books, Oxford, MS
View the List
Description
"Chen has one of the year's big debut books." Philadelphia Inquirer

Gripping and illuminating . . . At the heart of Te-Ping Chens remarkable debut lies a question all too relevant in 21st Century America: What is freedom? Jennifer Egan

Immensely rewarding, from the first sentence to the last . . . An exceptional collection. Charles Yu

A stirring and brilliant debut story collection, offering vivid portrayals of the men and women of modern China and its diaspora, both love letter and sharp social criticism, from a phenomenal new literary talent bringing great insight from her years as a reporter with the Wall Street Journal (Elle).

Gripping and compassionate, Land of Big Numbers traces the journeys of the diverse and legion Chinese people, their history, their government, and how all of that has tumbledmessily, violently, but still beautifullyinto the present.

Cutting between clear-eyed realism and tongue-in-cheek magical realism, Chens stories coalesce into a portrait of a people striving for openings where mobility is limited. Twins take radically different paths: one becomes a professional gamer, the other a political activist. A woman moves to the city to work at a government call center and is followed by her violent ex-boyfriend. A man is swept into the high-risk, high-reward temptations of Chinas volatile stock exchange. And a group of people sit, trapped for no reason, on a subway platform for months, waiting for official permission to leave.

With acute social insight, Te-Ping Chen layers years of experience reporting on the ground in China with incantatory prose in this taut, surprising debut, proving herself both a remarkable cultural critic and an astonishingly accomplished new literary voice.
Praise For Land of Big Numbers: Stories…
Named a Most Anticipated Title of 2021 by:
Elle,Esquire,O Magazine, Buzzfeed, Newsweek, Refinery29, Lit Hub, The Millions, Bustle, Redbook,The Rumpus, Electric Literature, Write or Die Tribe, Autostraddle, andThe Buzz Magazines

Named a Best Book of February by Washington Post,O Magazine, Harper's Bazaar,Buzzfeed, and The Millions
An Indie Next Pick
Named a Most Anticipated Title by a Woman of Color for 2021 by R.O. Kwon in Electric Literature
An Afar Media Book Club Selection
The Nervous Breakdown Book Club Selection
A Featured New Release from Lit Hub,The Millions, and Book Riot
A Featured Debut from A Mighty Blaze

"A stirring and brilliant collection of stories probing the contradictions and beauties of modern China, Te-Ping Chen's debut is both love letter and sharp social criticism. Through scenesfirmly planted in reality as well as tales of the bizarre and magical, Chen reveals portraits lovingly rendered with insightfrom her years as a reporter with the Wall Street Journal."
Elle

"Remarkable...Unfolds across the modern Chinese diaspora, pinballing between acutely observed realism and tragicomic magical realism...Each haunting, exquisitely craftedstory poses powerful questions about freedom, disillusion, and cultural thought, firmly establishing Chen as an emerging visionary to watch."
Esquire

"Dazzling...Rich and varied...Chen unleashes a powerful and enticing new voice, at times as strange as the dark fairy tale masterCarmen Maria Machado, at others as inventive as the absurdist kingGeorge Saundersbut always layered with the texture available to a foreign correspondent who has seen it all...Story by story, in China and the U.S., Chen builds a world in which oppression and contentment coexist, not some awful near future but the bizarre here and now...At its most elegant, a Chen story isnt all an artful reimagining of a cool newspaper feature but instead something more imagistic and elemental, a reflection on how we all live, no matter where we live. The logic of her observations can be terrifying. There is virtuoso writing, which serves to sharpen her political allegories...Perhaps the secret ingredient in Chens fusion of reporting chops and creative force is her core insight into human nature: that in the face of loneliness, unfairness, oppression, we rationalize; we cling to small comforts."
Los Angeles Times

"As brilliant an instance of a journalist's keen eye manifesting in luminous fiction as one can find...Chen evinces a capacity to sweep with astonishing ease from individuals to communities, from the settled middle-class to rural poverty, from blazing dissidents to Chinese Communist Party (CCP) loyalists...[An] unlikely page-turner...Pretty much everything about Land of Big Numbers is specific and keen yet somehow generalizable. These stories could appear as news right now, at any moment...The broad strokes of it all, truly, could happen anywheremaybe right where you are. It is a gift to read stories like this...Thank goodness for journalists like Chen, who even with fiction can teach us so much."
NPR

"[A] blazingly talented newcomer...The daughter of Chinese immigrants, Chen is a reporter for The Wall Street Journal who spent several years covering Hong Kong and Beijing for the newspaper. In her debut story collection, Land of Big Numbers, she moves effortlessly between the two countries, illuminating the lives of ordinary, often damaged, people on both sides of the Pacific...Chen has said shes interested in the trade-offs people are willing to make to prosper under repressive regimes, yet she is the least didactic of writers. Her characters are finely etched, often quirky, sometimes wonderful...These stories combine...the unadorned clarity of the very best newspaper writing and the inspired, weird, poetic inventions of fiction. Chen is the real deal."
Associated Press

"This sharp collection of short stories about modern China...is as fine a portrayal of the last decade as any work of nonfiction. The stories range from tragic to satirical, but theyre rooted in a close observation of life in Chinaand in the surreal ups and downs of everyday life, bureaucracy, and oppression."
Foreign Policy

"As a Wall Street Journal correspondent, Chen lived longer in Beijing than anywhere except her U.S. hometown. Her stories in this collection, following various Chinese characters, consider the very big question of what freedom means. The answers may surprise Chens fellow Americans."
Washington Post

"The masterful short fiction in this debut collection from a lauded journalist alchemizes her flair for reportage and a novelists gift of intimate grandiosity, portraying modern China and its denizens as a people in transition."
O, the Oprah Magazine, 20 Best Books of February

Brimming with tales of men and women in modern China desperately seeking a sense of reinvention.
O, the Oprah Magazine, with publication of the story "Hotline Girl"

"[A] vibrant debut...Uses magical realism (think a piece of fruit that reveals repressed memories) to depict the realities of Chinas diverse people."
Harper's Bazaar

"Te-Ping Chen has one of the years big debut books...Chen calls her new collection of short stories set in China a 'love letter to the country as well as cultural criticism,' and you can feel that push and pull throughout Land of Big Numbers...Its pages are populated by everyday folks living and loving, and trying to navigate the rules and cruelties of a government thats always looming just out of frame. Chen, who has traveled widely in China as a Wall Street Journal correspondent...employs magical realism with such a light touch its often difficult to distinguish the real-world absurdities from her inventions...Thats the China you find in Land of Big Numbers, one full of facets and fractions, a place that cannot be contained by one story, a place where, she says, 'over the top' elements are easily 'braided' into the real."
Philadelphia Inquirer

"Exquisitely observed...The stories are tethered to the realities of political repression and class yet are imbued with elements of magical realism. Together, they create a vivid portrait of life in contemporary China that is stifled by state control and yet tinged with humor, irony and tremendous longing."
San Francisco Chronicle

"Sophisticated and startling...In Chen's tour de force, 'Gubeikou Spirit,' a group of passengers is stranded in a subway station, at first for a few hours, then days, and then in a surreal stretch, they are left in the station for months. Officials bring in food and mattresses and a giant TV, while guards prevent them from leaving.The passengers debate what to do: to obey authorities and stay or try to escape and perhaps face punishment. One man insists, 'The nation is watching usWe need to be role models.' The story could be a metaphor for stalled reforms or simply an observation of the human condition. All but one of Chen's stories are set in China, but her depictions of human frailty and hope are universal: How many people in any nation are brave enough or foolish enough to reject security to seek out the unknown?"
Minneapolis Star-Tribune

"These haunting, often dreamy, stories will stick with you for weeks."
Buzzfeed, Most Anticipated February New Releases

"Chens debut short story collection explores the vast and diverse experiences of Chinese people, both in China and its diaspora globally, blending history, sociopolitics, and touches of magical realism in stories about people just trying to survive, and maybe even thrive."
Buzzfeed, Most Anticipated Books of 2021

Gripping and illuminating, Land of Big Numbers offers intimate glimpses of the seductive power of state control:the Faustian bargaining it requires of its citizens, the landscapes and lives it forces them to discard in exchange for material prosperity.At the heart of Te-Ping Chens remarkable debut lies a question all too relevant in 21st Century America: What is freedom?
Jennifer Egan, Pulitzer Prizewinning author of A Visit from the Goon Squad and Manhattan Beach

Immensely rewarding, from the first sentence to the last. Te-Ping Chen's writing is clear-eyed, pitch perfect, skillfully restrained and quietly powerful. I will be returning to these stories again, to enjoy them, be consoled by them, and marvel at them. An exceptional collection.
Charles Yu, National Book Awardwinning author ofInterior Chinatown

Subtle, haunting, beautiful short stories of life in an unfree society.
Steve Inskeep of NPR's Morning Edition, said on Twitter

A razor-sharp collection of stories spotlights the varying experiences of the Chinese diaspora through a multitude of finely wrought characters.
Newsweek

Te-Ping Chen'sLand of Big Numbers is ripe with prose both sharp and beautiful. There is a rare brilliance and a feeling of necessity imbued in every word of these stories. At each story's end you feel wonderfully more awake, more connected and alive. This essential collection reminds us clearly that there is magic and violence all around us. This is a stunning debut.
Nana Kwame Adjei-Brenyah, New York Timesbestselling author of Friday Black

Revelatory . . . Chen explores modern Chinese culture by examining myriad facets and exigencies of life there, reflecting on the past and present, anticipating the future. Chen writes with an almost hallucinatory lucidity about the minutia of a person's everyday experience, whether it's what it's like to work in the stock market or have an endless daily commute, nothing escapes Chen's observations, which are astute and clear-eyed, even as she occasionally throws in elements of the surreal in order to better capture the oddities of daily life.
Refinery29

"Chen takes us to China and introduces us to a lively cast of characters...As a former foreign correspondent, Te-Ping Chen is well acquainted with the geography of the place and the people, and her intimate knowledge is sure to shine through in this debut."
Lit Hub

"First-hand observations of contemporary China converge into this stunning debut collection...Chens fiction is a satisfying literary read as well as precise cultural criticism."
The Millions

"Exciting...Told with tongue-in-cheek twists and moving across genres, Land of Big Numbers is a thrilling trip through modern-day China."
Bustle, Most Anticipated Debuts of 2021

"Readers will find nuanced depictions of life in modern-day China featured in this short-fiction collection from a stunning new voice in American letters."
Bustle,Most Anticipated Titles of 2021

"A collection of 10 new, eye-opening stories that explore the length and breadth of China's past, present, and future."
Bustle, Most Anticipated Titles of February

"Highly recommend...Brimming with tales of men and women in modern China desperately seeking a sense of reinvention."
Redbook

An expansive look at modern China, as it struggles with the influence of the past and envisions a new future. Chen offers both realism and magical realism throughout the collection, which allows her to tackle her vision of Chinese culture with both clear-eyed practicality and dreamlike allegory.
Electric Literature, Most Anticipated

"[Chen] draws on her real-life experience as a journalist who spent years on the ground in Beijing, while also playfully gesturing to the surreal nature of living in the worlds most populous nation. I dove into her book as if reconnecting with a long-lost friend."
Electric Literature, Interview with Author

"Luminous...Chen's writing is captivating...She skillfully blends social commentary, politics and the human condition with a sprinkling of magical realism...While she does not shy away from the oppression or the disillusionment that the characters face, she is able to illuminate the beauty of ordinary life in Chinese society. Chen's love for her subjects and compassionate observation is seen throughout the collection and especially when describing common household scenes...The stories, although distinct, are woven together by threads of wistful longing. Chen's understated and nuanced language and pacing attest to her prowess as a great storyteller."
Shelf Awareness, starred review

"Fine, well-crafted works...The prose is limpid, the observations acute, the situations original, the pacing near perfect. Read them."
Asian Review of Books

"What can a collection of short stories portraying the diversity of Chinas people say to America? Much, if those stories are from the pen of Te-Ping Chen...Chen writes with insight, illustrating the country's social strata with a deft, human touch...Gripping and compelling...In sparse, lingering prose'a great wasteland of sorrow was opening up in him, unfolding dozens of tiny shacks, terrible squatters setting up residence, banging their miniature liquor bottles against his chest, a hundred feet trampling his organs'Te-Ping Chen crafts a masterstroke of contemporary literature, both timely and prescient. The result is a touchstone of Chinese history perfectly positioned in the present."
Watauga Democrat

Puts a spotlight on the diversity of Chinas people, their history, and government. Oscillating between precise realism and playful magical realism, the stories feature a woman stalked by an ex-boyfriend, citizens trapped on a train for months, and more.
Autostraddle

"An intimate portrait of modern China...Political and social tension pulses throughout."
Women's Wear Daily

"Chen's stories are exquisitely crafted and told. Drawing from her years as a reporter, it feels no stone is left unturned in these stories about freedom, Chinese culture, activism, violence and more. She meticulously plots these stories that feel so grounded in realityeven when shes toying with magical realism."
Debutiful

A spectacular work, comic, timely, profound. Te-Ping Chen has a superb eye for detail in a China where transformation occurs simultaneously too fast and too slow for lives in pursuit of meaning in a brave new world. Her characters are achingly alive. Its rare to read a collection so satisfying, where every story adds to a gripping and intricate world.
Madeleine Thien, author of Booker finalist Do Not Say We Have Nothing

This debut story collection is absolute fire. It has the great quixotic feel of being both ancient and modern all at once. I think fans of Megha Majumdar, Kamila Shamsie, and Jhumpa Lahiri would love this one!
Amy Jo Burns, author of Shiner

An intricately constructed, tenderly observed collectionthe sort of stories that skillfully transport you into the daily experience of characters so real, who speak to you with such grace and tangible presence, that you could almost reach out and touch them. Through the lens of these different voices, each vividly alive, Te-Ping Chen shows us how much life, loss, and quiet pleasure exists in the world, just out of view.
Alexandra Kleeman, author of You Too Can Have a Body Like Mine and Intimations

Wall Street Journal correspondent Chen emerges as a fiction powerhouse, each of her 10 stories an immersive literary event...Traversing continents and cultures, moving effortlessly between China and the U.S., Chen deftly presents everyday lives that entertain, educate, and universally resonate.
Booklist, starred review, Review of the Day

"Astonishing collection of stories about life in contemporary China, by a Chinese-American writer...[Chen] has an eye for the wry, poignant detail...She is gentle and understanding with her characters, so that their choices, desires, and regrets open up, petal-like, in story after story...Again and again, Chen reveals herself to be a writer of extraordinary subtlety...She is a tremendous talent. Chens stories are both subtle and rich, moving and wry, and in their poignancy, they seem boundless."
Kirkus, starred review

Haunting . . . [a] strong debut . . . Chens sweeping collection comprises many small moments of beauty.
Publishers Weekly
Mariner Books, 9780358272557, 256pp.
Publication Date: February 2, 2021
About the Author
TE-PING CHEN's fiction has been published in, or is forthcoming from, The New Yorker, Granta, Guernica, Tin House, and The Atlantic. A reporter with the Wall Street Journal, she was previously a correspondent for the paper in Beijing and Hong Kong. Prior to joining the Journalin 2012, she spent a year in China as a Fulbright fellow. She lives in Philadelphia.