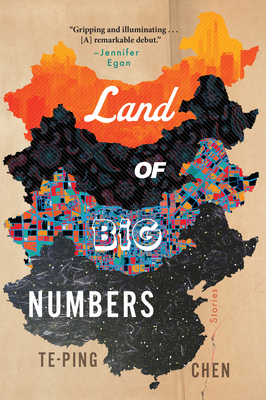 Land of Big Numbers
Stories
Paperback

* Individual store prices may vary.
Other Editions of This Title:
Compact Disc (2/2/2021)
MP3 CD (2/2/2021)
Description
"Gripping and illuminating . . . At the heart of Te-Ping Chen's remarkable debut lies a question all too relevant in 21st Century America: What is freedom?" —Jennifer Egan

"Immensely rewarding, from the first sentence to the last . . . An exceptional collection." —Charles Yu

A "stirring and brilliant" debut story collection, offering vivid portrayals of the men and women of modern China and its diaspora, "both love letter and sharp social criticism," from a phenomenal new literary talent bring great "insight from her years as a reporter with the Wall Street Journal" (Elle).

Gripping and compassionate, Land of Big Numbers traces the journeys of the diverse and legion Chinese people, their history, their government, and how all of that has tumbled—messily, violently, but still beautifully—into the present.
 
Cutting between clear-eyed realism and tongue-in-cheek magical realism, Chen's stories coalesce into a portrait of a people striving for openings where mobility is limited. Twins take radically different paths: one becomes a professional gamer, the other a political activist. A woman moves to the city to work at a government call center and is followed by her violent ex-boyfriend. A man is swept into the high-risk, high-reward temptations of China's volatile stock exchange. And a group of people sit, trapped for no reason, on a subway platform for months, waiting for official permission to leave.
 
With acute social insight, Te-Ping Chen layers years of experience reporting on the ground in China with incantatory prose in this taut, surprising debut, proving herself both a remarkable cultural critic and an astonishingly accomplished new literary voice.
Praise For Land of Big Numbers: Stories…
A Most Anticipated Title of 2021 from Elle,O Magazine, Buzzfeed, Newsweek, Refinery29, Lit Hub, The Millions, Bustle, Redbook, The Rumpus, Electric Literature, Write or Die Tribe, Autostraddle, and The Buzz Magazines
Named a Most Anticipated Title by a Woman of Color for 2021 by R.O. Kwon in Electric Literature

"A stirring and brilliant collection of stories probing the contradictions and beauties of modern China, Te-Ping Chen's debut is both love letter and sharp social criticism. Through scenes firmly planted in reality as well as tales of the bizarre and magical, Chen reveals portraits lovingly rendered with insight from her years as a reporter with the Wall Street Journal."
—Elle

"Brimming with tales of men and women in modern China desperately seeking a sense of reinvention."
—O, the Oprah Magazine

"Chen's debut short story collection explores the vast and diverse experiences of Chinese people, both in China and its diaspora globally, blending history, sociopolitics, and touches of magical realism in stories about people just trying to survive, and maybe even thrive."
—Buzzfeed

"Gripping and illuminating, Land of Big Numbers offers intimate glimpses of the seductive power of state control: the Faustian bargaining it requires of its citizens, the landscapes and lives it forces them to discard in exchange for material prosperity. At the heart of Te-Ping Chen's remarkable debut lies a question all too relevant in 21st Century America: What is freedom?"
—Jennifer Egan, Pulitzer Prize–winning author of A Visit from the Goon Squad and Manhattan Beach

"Immensely rewarding, from the first sentence to the last. Te-Ping Chen's writing is clear-eyed, pitch perfect, skillfully restrained and quietly powerful. I will be returning to these stories again, to enjoy them, be consoled by them, and marvel at them. An exceptional collection."
—Charles Yu, National Book Award–winning author of Interior Chinatown

"Subtle, haunting, beautiful short stories of life in an unfree society."
—Steve Inskeep of NPR's Morning Edition, said on Twitter

"A razor-sharp collection of stories spotlights the varying experiences of the Chinese diaspora through a multitude of finely wrought characters."
—Newsweek

"Te-Ping Chen's Land of Big Numbers is ripe with prose both sharp and beautiful. There is a rare brilliance and a feeling of necessity imbued in every word of these stories. At each story's end you feel wonderfully more awake, more connected and alive. This essential collection reminds us clearly that there is magic and violence all around us. This is a stunning debut."
—Nana Kwame Adjei-Brenyah, New York Times–bestselling author of Friday Black

"Revelatory . . . Chen explores modern Chinese culture by examining myriad facets and exigencies of life there, reflecting on the past and present, anticipating the future. Chen writes with an almost hallucinatory lucidity about the minutia of a person's everyday experience, whether it's what it's like to work in the stock market or have an endless daily commute, nothing escapes Chen's observations, which are astute and clear-eyed, even as she occasionally throws in elements of the surreal in order to better capture the oddities of daily life."
—Refinery29

"Chen takes us to China and introduces us to a lively cast of characters...As a former foreign correspondent, Te-Ping Chen is well acquainted with the geography of the place and the people, and her intimate knowledge is sure to shine through in this debut."
—Lit Hub

"First-hand observations of contemporary China converge into this stunning debut collection...Chen's fiction is a satisfying literary read as well as precise cultural criticism."
—The Millions

"Exciting...Told with tongue-in-cheek twists and moving across genres, Land of Big Numbers is a thrilling trip through modern-day China."
—Bustle, Most Anticipated Debuts of 2021

"Readers will find nuanced depictions of life in modern-day China featured in this short-fiction collection from a stunning new voice in American letters."
—Bustle, Most Anticipated Titles of 2021

"Highly recommend...Brimming with tales of men and women in modern China desperately seeking a sense of reinvention."
—Redbook

"An expansive look at modern China, as it struggles with the influence of the past and envisions a new future. Chen offers both realism and magical realism throughout the collection, which allows her to tackle her vision of Chinese culture with both clear-eyed practicality and dreamlike allegory."
—Electric Literature

"Puts a spotlight on the diversity of China's people, their history, and government. Oscillating between precise realism and playful magical realism, the stories feature a woman stalked by an ex-boyfriend, citizens trapped on a train for months, and more."
—Autostraddle

"A spectacular work, comic, timely, profound. Te-Ping Chen has a superb eye for detail in a China where transformation occurs simultaneously too fast and too slow for lives in pursuit of meaning in a brave new world. Her characters are achingly alive. It's rare to read a collection so satisfying, where every story adds to a gripping and intricate world."
—Madeleine Thien, author of Booker finalist Do Not Say We Have Nothing

"This debut story collection is absolute fire. It has the great quixotic feel of being both ancient and modern all at once. I think fans of Megha Majumdar, Kamila Shamsie, and Jhumpa Lahiri would love this one!"
—Amy Jo Burns, author of Shiner
 
"An intricately constructed, tenderly observed collection—the sort of stories that skillfully transport you into the daily experience of characters so real, who speak to you with such grace and tangible presence, that you could almost reach out and touch them. Through the lens of these different voices, each vividly alive, Te-Ping Chen shows us how much life, loss, and quiet pleasure exists in the world, just out of view."            
—Alexandra Kleeman, author of You Too Can Have a Body Like Mine and Intimations

"Wall Street Journal correspondent Chen emerges as a fiction powerhouse, each of her 10 stories an immersive literary event...Traversing continents and cultures, moving effortlessly between China and the U.S., Chen deftly presents everyday lives that entertain, educate, and universally resonate."   
—Booklist, starred review, Review of the Day

"Haunting . . . [a] strong debut . . . Chen's sweeping collection comprises many small moments of beauty."
—Publishers Weekly
Mariner Books, 9780358272557, 256pp.
Publication Date: February 2, 2021
About the Author
TE-PING CHEN's fiction has been published in, or is forthcoming from, The New Yorker, Granta, Guernica, Tin House, and The Atlantic. A reporter with the Wall Street Journal, she was previously a correspondent for the paper in Beijing and Hong Kong. Prior to joining the Journal in 2012, she spent a year in China as a Fulbright fellow. She lives in Philadelphia.