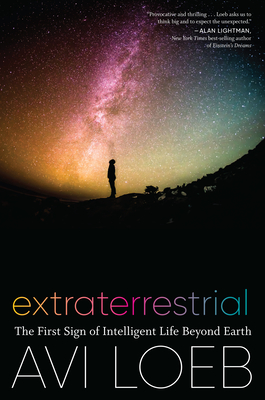 Extraterrestrial
The First Sign of Intelligent Life Beyond Earth
Hardcover

* Individual store prices may vary.
Other Editions of This Title:
Digital Audiobook (1/25/2021)
Paperback (2/22/2022)
Paperback, Spanish (5/4/2021)
Paperback (1/26/2021)
MP3 CD (1/26/2021)
Description
INSTANT NEW YORK TIMES BESTSELLER 

"Provocative and thrilling ... Loeb asks us to think big and to expect the unexpected."
—Alan Lightman, New York Times bestselling author of Einstein's Dreams and Searching for Stars on an Island in Maine

Harvard's top astronomer lays out his controversial theory that our solar system was recently visited by advanced alien technology from a distant star.

In late 2017, scientists at a Hawaiian observatory glimpsed an object soaring through our inner solar system, moving so quickly that it could only have come from another star. Avi Loeb, Harvard's top astronomer, showed it was not an asteroid; it was moving too fast along a strange orbit, and left no trail of gas or debris in its wake. There was only one conceivable explanation: the object was a piece of advanced technology created by a distant alien civilization.
 
In Extraterrestrial, Loeb takes readers inside the thrilling story of the first interstellar visitor to be spotted in our solar system. He outlines his controversial theory and its profound implications: for science, for religion, and for the future of our species and our planet. A mind-bending journey through the furthest reaches of science, space-time, and the human imagination, Extraterrestrial challenges readers to aim for the stars—and to think critically about what's out there, no matter how strange it seems.
Praise For Extraterrestrial: The First Sign of Intelligent Life Beyond Earth…
New York Times Bestseller Wall Street Journal Bestseller Publishers Weekly Bestseller Publishers Marketplace 2020 Buzz Book Amazon Best Book of the Year "In late 2017, scientists at a Hawaiian observatory glimpsed an object soaring through our inner solar system. Part graceful memoir and part plea for keeping an open mind about the possibilities of what is out there in the universe—in particular, life. Loeb is one of the more imaginative and articulate scientists around . . . Half memoir, half soaring monologue." —The New York Times "Well-written and compelling." —Forbes "Loeb makes a persuasive scientific argument about 'Oumuamua's otherworldly origins." —New York Magazine "A tantalizing, probing inquiry into the possibilities of alien life." —Kirkus Reviews "Ingenious . . . Loeb's thought-provoking work of popular science will entertain those who wonder if humans are alone in the universe."  —Publishers Weekly "Part survey of thrilling new discoveries, part memoir of a restless intellect and part polemical airing of grievances, this curious volume from Harvard astrophysicist Avi Loeb challenges readers--and Loeb's contemporaries in the sciences--to take seriously the likelihood that we are not alone in the universe." —Shelf Awareness "It's good to be skeptical of audacious ideas. But it's also important to be open to audacious possibilities, and to think through their ramifications. Avi Loeb's sumptuously written book will provoke you to think about the possibility of intelligent life elsewhere in the universe in new and stimulating ways." —Sean Carroll, New York Times bestselling author of Something Deeply Hidden: Quantum Worlds and the Emergence of Spacetime "'There are more things in heaven and earth than are dreamed of in our philosophy,' Hamlet tells Horatio. In this passionately argued, visionary book, astrophysicist Avi Loeb urges us to abandon the arrogant fantasy that we are the only sentient life form in the universe. He proposes that 'Oumaumua, an anomalous interstellar object first sighted on October 19, 2017, was a piece of extraterrestrial technological equipment. The clues, as Loeb carefully reviews them, are fascinating, and still more are his arguments for what they might reveal to us about our own brilliant, blinkered, and quite possibly doomed civilization." —Stephen Greenblatt, Pulitzer Prize–winning author of The Swerve: How the World Became Modern "In this well written and accessible book, a leading astronomer gives a provocative and thrilling account of the search for extraterrestrial  intelligence, with emphasis on his own imaginative ideas. Above all, Professor Loeb asks us to think big and to expect the unexpected." —Alan Lightman, New York Times bestselling author of Einstein's Dreams and Searching for Stars on an Island in Maine "An exciting and eloquent case that we might have seen a sign of intelligent life near Earth—and that we should search further. As a world-renowned scientist and an innovative thinker, Avi Loeb opens your mind to some of the most important questions facing us as humans, and convinces you that scientific curiosity is key to our future success." —Anne Wojci
Mariner Books, 9780358278146, 240pp.
Publication Date: January 26, 2021
About the Author
ABRAHAM (AVI) LOEB is the Frank B. Baird, Jr., Professor of Science at Harvard University, chair of Harvard's Department of Astronomy, founding director of Harvard's Black Hole Initiative, and director of the Institute for Theory and Computation (ITC) within the Harvard-Smithsonian Center for Astrophysics. He also chairs the Advisory Committee for the Breakthrough Starshot Initiative, and serves as the science theory director for all Initiatives of the Breakthrough Prize Foundation, as well as chair of the Board on Physics and Astronomy of the National Academies. Author of four books and over 700 scientific papers, Loeb is an elected fellow of the American Academy of Arts & Sciences, the American Physical Society, and the International Academy of Astronautics. In 2012, Time selected Loeb as one of the twenty-five most influential people in space.