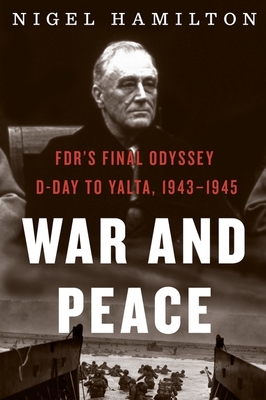 War and Peace
FDR's Final Odyssey: D-Day to Yalta, 1943–1945 (FDR at War #3)
Paperback

* Individual store prices may vary.
Other Editions of This Title:
Digital Audiobook (5/6/2019)
Hardcover (5/7/2019)
Description
The stirring climax to Nigel Hamilton's three-part saga of FDR at war—proof that he was the Second World War's key strategist, even on his deathbed

"A first-class, lens-changing work." —James N. Mattis, former US secretary of defense

Nigel Hamilton's celebrated trilogy culminates with a story of triumph and tragedy. Just as FDR was proven right by the D-day landings he had championed, so was he found to be mortally ill in the spring of 1944. He was the architect of a victorious peace that he would not live to witness.

Using hitherto unpublished documents and interviews, Hamilton rewrites the famous account of World War II strategy given by Winston Churchill in his memoirs. Seventy-five years after the D-day landings we finally get to see, close-up and in dramatic detail, who was responsible for rescuing, and insisting upon, the great American-led invasion of France in June 1944, and why the invasion was led by Eisenhower. As FDR's D-day triumph turns to personal tragedy, we watch with heartbreaking compassion the course of the disease, and how, in the months left him as US commander in chief, the dying president attempted at Hawaii, Quebec, and Yalta to prepare the United Nations for an American-backed postwar world order. Now we know: even on his deathbed, FDR was the war's great visionary.
 
Praise For War and Peace: FDR's Final Odyssey: D-Day to Yalta, 1943–1945 (FDR at War #3)…
"A first-class, lens-changing work."
— James N. Mattis, former US secretary of defense

"If history belongs to the best and latest writer, Nigel Hamilton has won the war for Roosevelt's legacy from Churchill."— Wall Street Journal

"Compelling...as gripping and powerfully argued as the first two." — New York Times Book Review

"Thorough and deliberate . . . Vividly recreates FDR's decline and makes his accomplishments all the more impressive. Like its predecessors in the trilogy, this volume will reward readers of World War II and presidential history."
— Publishers Weekly

"Significant study . . . of considerable interest to students of presidential and American military history."
— Kirkus Reviews

"With deft storytelling and impeccable scholarship, Nigel Hamilton completes his essential trilogy of FDR and World War II with a bang. War and Peace is a masterful reevaluation of D-day, Hitler's demise, and the Yalta Conference. A stunning achievement!"
— Douglas Brinkley, author of Rightful Heritage: Franklin D. Roosevelt and the Land of America
 
"On the occasion of the 75th anniversary of D-day, War and Peace is the dramatic culmination of Nigel Hamilton's magnificent trilogy of FDR's wartime leadership as commander in chief. It is also a vivid example of the critical importance of presidential leadership in times of national crisis. This sweeping narrative of Roosevelt's triumphs and the tragedy of his untimely death in 1945 is history and biography at its very finest."
— Carlo D'Este, author of Patton: A Genius for War and Warlord: A Life of Winston Churchill at War, 1874–1945


PRAISE FOR COMMANDER IN CHIEF

"Ably dramatizes Roosevelt's wranglings with Churchill during World War II . . . Provocative . . . It is stimulating to follow Hamilton as he lays out his argument."
— Thomas E. Ricks, New York Times Book Review

"Superb."
— Fareed Zakaria

"A detailed look at Franklin Roosevelt's role in the Allied strategy midway through World War II, with an emphasis on his relations with Winston Churchill. Hamilton shows Roosevelt's clear vision of how to win the war and how to create a postwar society that would prevent such wars from recurring . . . [Commander in Chief] presents a convincing portrait of its main subject, strengthening readers' confidence in the author's conclusions. The book is strongly pro-Roosevelt, but Hamilton gives a solid inside view of the strategic thinking that went into the campaign against Hitler as America laid the groundwork for the D-day invasion the following year."
— Kirkus Reviews, starred review


PRAISE FOR MANTLE OF COMMAND
"The Mantle of Command is splendid: It's the memoir Roosevelt didn't get to write."
— New York Times Book Review
"Masterly."
— Wall Street Journal
"FDR has frequently been underestimated as a military leader, yielding, in the historical imagination, to George Marshall and Winston Churchill, among others. Nigel Hamilton attacks this view with his characteristic verve, portraying a president with the reins of war fully, if often subtly, in his hands. The conventional wisdom will never be the same."
— H. W. Brands, author of Traitor to His Class: The Privileged Life and Radical Presidency of Franklin Delano Roosevelt

"Nigel Hamilton's Mantle of Command is a stirring and noteworthy book about Roosevelt's crucial role as commander in chief during World War II. Hamilton writes with insight, passion, and a great grasp of history. I believe this book will become the standard by which other books about FDR's role in World War II will be measured."
— Carlo D'Este, author of Patton: A Genius for War and Warlord: A Life of Churchill at War, 1874–1945

"This is not the Roosevelt (or Churchill) you'd expect. From the start, an aggressive, in-charge FDR emerges from a wonderful weaving of established scholarship and the fascinating bits and pieces that make history live. Churchill is an inspirational nag, with a busy, unfocused strategic vision. A key entry into the ongoing debate over who made grand strategy in the early war years—Roosevelt or Churchill?"
— Warren F. Kimball, author of Forged in War: Roosevelt, Churchill, and the Second World War

"Nigel Hamilton in Mantle of Command presents a very different wartime Franklin Delano Roosevelt than the one we are used to seeing. Whether or not one agrees with all his conclusions, Hamilton clearly shows that FDR was an extremely strong and effective commander in chief. This volume should go a long way to dispelling popular myths about Roosevelt as a naïve and weak war leader."
— Mark Stoler, editor of the George C. Marshall Papers and professor emeritus of history, University of Vermont

"Nigel Hamilton has written a spirited and thoughtful 'revisionist' study of Franklin Delano Roosevelt as commander-in-chief during the first phase of U.S. involvement in the Second World War. Hamilton's narrative skill brings alive the human dramas, logistic hurdles, and strategic debates to show how FDR's indispensable drive and forward-looking leadership tamed his own 'team of rivals' and set the United States and its Allies on the road to victory over the Axis. The books enlivens the often murky worlds of bureaucratic struggle and military detail to demonstrate how important it was for the United States to 'get it right' early in the war and how FDR accomplished this."
— Michael Schaller, author of Douglas MacArthur & Regents Professor of history, University of Arizona
Mariner Books, 9780358299226, 608pp.
Publication Date: May 12, 2020
About the Author
NIGEL HAMILTON is a best-selling and award-winning biographer of President John F. Kennedy, General Bernard "Monty" Montgomery, and President Bill Clinton, among other subjects. His most recent book, The Mantle of Command: FDR at War, 1941–1942, was long-listed for the National Book Award. He is a senior fellow at the McCormack Graduate School, University of Massachusetts, Boston, and splits his time between Boston, Massachusetts, and New Orleans, Louisiana.