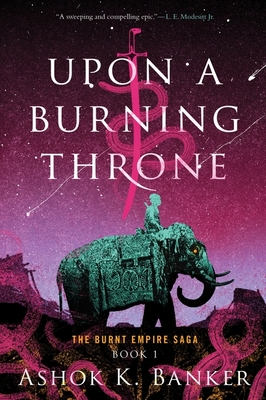 Upon a Burning Throne (The Burnt Empire) (Paperback)
John Joseph Adams/Mariner Books, 9780358299295, 688pp.
Publication Date: March 24, 2020
Other Editions of This Title:
Hardcover (4/16/2019)
* Individual store prices may vary.
Description
From international sensation Ashok K. Banker, pioneer of the fantasy genre in India, comes the first book in a groundbreaking, epic fantasy series inspired by the ancient Indian classic, The Mahabharata

In a world where demigods and demons walk among mortals, the Emperor of the vast Burnt Empire has died, leaving a turbulent realm without an emperor. Two young princes, Adri and Shvate, are in line to rule, but birthright does not guarantee inheritance, for any successor must sit upon the legendary Burning Throne and pass The Test of Fire. Imbued with dark sorceries, the throne is a crucible—one that incinerates the unworthy.
 
Adri and Shvate pass The Test and are declared heirs to the empire . . . but there is another with a claim to power, another who also survives: a girl from an outlying kingdom. When this girl, whose father is the powerful demonlord Jarsun, is denied her claim by the interim leaders, Jarsun declares war, vowing to tear the Burnt Empire apart—leaving the young princes Adri and Shvate to rule a shattered realm embroiled in rebellion and chaos . . .  
 
Welcome to the Burnt Empire Saga
About the Author
ASHOK K. BANKER is the author of more than sixty books, including the internationally acclaimed Ramayana series. His works have all been bestsellers in India and have sold around the world. He lives in Los Angeles.
Praise For Upon a Burning Throne (The Burnt Empire)…
"[A] sweeping and compelling epic, in which gods, demigods, strange powers, seers, and just plain humans all struggle for power and to make sense out their lives and fate in a world where one is never sure anything is either certain or what it appears to be."
—L.E. Modesitt, Jr., best-selling author of The Saga of Recluce and the Imager Portfolio
"[An] epic fantasy world full of constantly warring tribes, matriarchal societies, powerful sages that pop out of lakes, and the gods and goddesses very close to all the action. In this rich environment, various perspectives from the vast cast of characters are used to tell this immersive story from the internationally best-selling Banker" 
—Booklist, starred review 

"Readers will hardly be able to pull themselves away from the layered story lines and well-developed characters . . . set in a vivid world inspired by India and the Middle East, mythology and monarchy, filled with enticing narration and action." 
—Library Journal, starred review 

"Ambitious and highly readable . . . Banker (the Ramayana series) impressively depicts the loyalties and rivalries of a huge cast while moving his enormous story at cinematic pace through scales personal, political, and cosmic . . . Fans of doorstopper epic fantasy will devour this tale of gods and princes."
—Publishers Weekly
 
"Upon A Burning Throne is a tale told with masterful control over the narrative. The pace never slackens and the story is never offered up at the altar of world-building details. Upon A Burning Throne is undoubtedly a compelling read—it is one of those 'on-the-edge-of-your-seat' novels which keeps the reader hooked on right till the end. I would, therefore, recommend it to all lovers of fiction."
—A Hindu's View