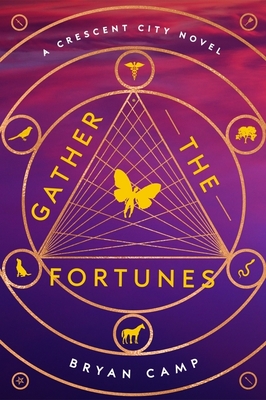 Gather The Fortunes (A Crescent City Novel)
Paperback

* Individual store prices may vary.
Other Editions of This Title:
Digital Audiobook (5/20/2019)
Hardcover (5/21/2019)
Description
Renaissance Raines has found her place among the psychopomps—the guides who lead the souls of the recently departed through the Seven Gates of the Underworld—and done her best to avoid the notice of gods and mortals alike. But when a young boy named Ramses St. Cyr manages to escape his foretold death, Renai finds herself at the center of a deity-thick plot unfolding in New Orleans. Someone helped Ramses slip free of his destined end—someone willing to risk everything to steal a little slice of power for themselves.

Is it one of the storm gods that's descended on the city? The death god who's locked the Gates of the Underworld? Or the manipulative sorcerer who also cheated Death?  When she finds the schemer, there's gonna be all kinds of hell to pay, because there are scarier things than death in the Crescent City. Renaissance Raines is one of them.
Praise For Gather The Fortunes (A Crescent City Novel)…
A Publishers Weekly Book of the Week, May 20 "Honestly, I wasn't sure how author Bryan Camp was going to follow The City of Lost Fortunes – it was one of my favorite books of 2018. But I am glad to report that he manages quite well, thank you very much... Under his care, the swirling milieu of the Crescent City's colors and cultures – both sacred and profane – come to shambling and glorious life...a masterful work by a brilliant new author. As long as the quality of the writing stays this good, I hope there are many more Crescent City novels to come." —Litstack "Camp's prose is suspenseful and rich with feeling, highlighting an incredible heroine. VERDICT: Full of magic and numerous mythologies but still tied to the lush New Orleans setting, this Crescent City is one readers will not want to leave." —Library Journal, STARRED "Savory...Renai's second outing is as raucous as her first, and the magic is just as double-edged and slippery... Renai is a real standout of a heroine, a powerful African-American woman cutting through bad or desperate situations in living and dead realms of increasing chaos, armed with snark, courage, and a storm of magic drawn from deep within her. This will be a feast for all lovers of urban and dark fantasy."—Publishers Weekly, STARRED "The second Crescent City book (after The City of Lost Fortunes, 2018) once again displays Camp's ability to weave different mythological beliefs in fascinating ways. Readers will relate to Renai as she learns her most trusted guides are unreliable in this fast-paced urban fantasy."—Booklist, STARRED  "In this second installment of his Crescent City urban fantasy series, Camp raises the stakes and broadens the scope of his alternate world...the richness and inventiveness of Camp's vision and the vivacity, warmth, and compassion of his leading woman keep you alert to whatever's happening next. As with the real New Orleans, once you leave this creepier but just as colorful variant, you'll be eager to go back."—Kirkus Reviews "What a joy it is to return to Bryan Camp's weird, dark, vivid, gorgeous magical New Orleans. Highly recommended!" —Sam J. Miller, award-winning author of Blackfish City "The magic and mythological heft of Bryan Camp's debut doesn't lose any momentum in Gather the Fortunes. He captures the essence and resilience of a still healing New Orleans by digging into the parts of a city too often ignored by the well-to-do and powerful. If The City of Lost Fortunes was a love letter to New Orleans then its next installment is an Earl King blue's song."—Brent Lambert, editor at FIYAH Magazine —
Harper Voyager, 9780358299318, 384pp.
Publication Date: May 19, 2020
About the Author
BRYAN CAMP is a graduate of the Clarion West Writers' Workshop and the University of New Orleans's MFA program. He started his first novel, The City of Lost Fortunes, in the back seat of his parents' car as they evacuated the Crescent City during Hurricane Katrina.