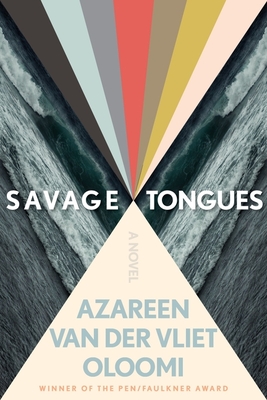 Savage Tongues
A Novel
Hardcover

* Individual store prices may vary.
Description
"A luxuriant fevered quest for reclamation...Political, poetical, and spooky good." —Joy Williams

"A love story of the most fevered, brutal order...Propulsive, erotic, and darkly dreamlike." —Vulture

A new novel by PEN/Faulkner Award winner Azareen Van der Vliet Oloomi, "written with the intensity of early Marguerite Duras and Ferrante's Days of Abandonment," about a young woman caught in an affair with a much older man, a personal and political exploration of desire, power, and human connection (The Millions).
 
It's summer when Arezu, an Iranian American teenager, goes to Spain to meet her estranged father at an apartment he owns there. He never shows up, instead sending her a weekly allowance, care of his step-nephew, Omar, a forty-year-old Lebanese man. As the weeks progress, Arezu is drawn into a mercurial, charged, and ultimately catastrophic affair with Omar, a relationship that shatters her just at the cusp of adulthood.

Two decades later, Arezu inherits the apartment. She returns with her best friend, Ellie, an Israeli-American scholar devoted to the Palestinian cause, to excavate the place and finally put to words a trauma she's long held in silence. Together, she and Ellie catalog the questions of agency, sexuality, displacement, and erasure that surface as Arezu confronts the ghosts of that summer, crafting between them a story that spans continents and centuries.

Equal parts Marguerite Duras and Shirley Jackson, Rachel Cusk and Samanta Schweblin, Savage Tongues is a compulsive, unsettling, and bravely observed exploration of violence and eroticism, haunting and healing, and the profound intimacy born of the deepest pain.
Praise For Savage Tongues: A Novel…
Most Anticipated Book of the Summer from Vulture, Refinery29, Lit Hub, and Hey Alma
Most Anticipated Book of the Year from Harper's Bazaar, Lit Hub, and The Millions 

"A love story of the most fevered, brutal order...The prose is propulsive, erotic, and darkly dreamlike, recalling the early novels of Marguerite Duras...[SAVAGE TONGUES] interrogates the narratives we assign to the past and asks what we are allowed to expect of those who love us."
—Vulture

"Azareen Van der Vliet Oloomi's stunning new novel is a hauntingly beautiful depiction of the way past traumas grip at our insides, threatening to tear us apart years after we've experienced them...Savage Tongues is rigorous in its exploration of the effects that violence and corruption have on our conception of ourselves."
—Refinery29

"This is a pulls-no-punches look at abandonment, ownership, trauma, and the convergence of political and personal pain. It is also a touching ode to friendship, a partial salve for these wounds."
—Lit Hub

"Written with the intensity of early Duras and Ferrante's Days of Abandonment...With the help of a dear friend, Arezu excavates and puts words to her past trauma in this novel about love, friendship, identity, and displacement."
—The Millions

"A luxuriant fevered quest for reclamation, Savage Tongues is political, poetical, and spooky good."
—Joy Williams

"Azareen Van der Vliet Oloomi's Savage Tongues is an international novel careful to record the beauty of the natural world while also chronicling the harm people do to one another in this world. Van der Vliet Oloomi wants to know what we can expect of our families—our fathers, our lovers—when we are the same people who will wage war and destroy our planet in order to do so. This book is relentless in the best way."
—Jericho Brown, Pulitzer Prize-winning author of The Tradition

"Against the gorgeous, punishing landscapes of Andalusia, the narrator of Savage Tongues relentlessly and movingly anatomizes the links between violence—both personal and systemic—and desire. This uncompromising novel lives at the border of memory and dream, restlessly seeking a logic that can transform cruelty into love."
—Garth Greenwell, author of Cleanness and What Belongs to You

"In Savage Tongues the immensely gifted Van der Vliet Oloomi describes a woman walking the razor thin line between memory and madness as she tries to rescue her younger self. Happily Arezu does not walk the line alone. This vivid account of the haunting nature of trauma is also a wonderful testimonial to friendship. A resonant and powerful novel."
—Margot Livesey, New York Times-bestselling author of The Flight of Gemma Hardy and The Boy in the Field

"Savage Tongues touches all the bases—identity, sex, power, youth and age, the present and the past—and knocks it out of the park. Azareen Van der Vliet Oloomi is our woke Marguerite Duras."
—Francine Prose, author of Lovers at the Chameleon Club and Mister Monkey

"Azareen Van Der Vliet Oloomi is no stranger to accolades...And, boy oh boy, does she deserve every one of them. I will be anticipating anything she writes...Savage Tongues has drawn comparisons to Shirley Jackson and Samanta Schweblin for the way it keeps you suspended in a state of discomfort and hauntingly depicts a shattering of the self."
—Lit Hub

"In Savage Tongues, Van der Vliet Oloomi establishes herself as a skilled cartographer of trauma. With a remarkably clear vision and dynamic, colorful prose, she takes us along on her journey into the deepest recesses of an embattled mind. This is a book for those who expect from the novel far more than a story." 
—Amir Ahmadi Arian, author of Then The Fish Swallowed Him

"Savage Tongues breathes fresh life into ancient wounds, erasures, and annihilations. By mining transgressions—historical, sexual, bodily, and territorial—Van der Vliet Oloomi delivers a courageous book, as searing and terrifying as it is healing."
—Neda Maghbouleh, author of The Limits of Whiteness


 
Mariner Books, 9780358315063, 288pp.
Publication Date: August 3, 2021
About the Author
AZAREEN VAN DER VLIET OLOOMI is the author of the novels Savage Tongues, Call Me Zebra, and Fra Keeler and the director of the MFA Program in Creative Writing at the University of Notre Dame. She is a National Book Foundation "5 Under 35" honoree and the winner of a 2019 PEN/Faulkner Award, a John Gardner Award, and a 2015 Whiting Award, as well as the recipient of a Fulbright Fellowship and residency fellowships from MacDowell and Ledig House. Her work has appeared in the New York Times, the Paris Review, Guernica, Granta, Bomb, and elsewhere. She lives in Chicago and is the founder of Literatures of Annihilation, Exile and Resistance, a lecture series on the global Middle East that focuses on literature shaped by colonialism, military domination, and state-sanctioned violence.