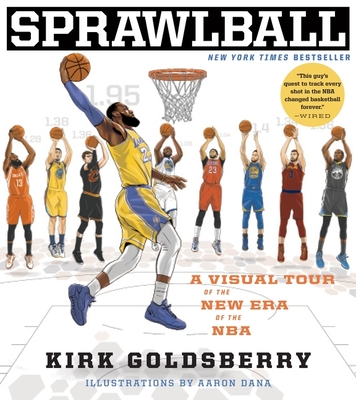 SprawlBall
A Visual Tour of the New Era of the NBA
Paperback

* Individual store prices may vary.
Other Editions of This Title:
Hardcover (4/30/2019)
Description
"Beautifully illustrated and sharply written, SprawlBall is both a celebration and a critique of the three-point shot. If you want to understand how the modern NBA came to be, you'll need to read this book."
—Nate Silver, editor, fivethirtyeight.com

From the leading expert in the exploding field of basketball analytics, a stunning infographic decoding of the modern NBA: who shoots where, how well, and why​

The field of basketball analytics has leaped into overdrive thanks to Kirk Goldsberry, whose spatial and visual analyses of players, teams, and positions have helped us all understand who really is the most valuable player at any position. SprawlBall combines stunning visuals, in-depth analysis, behind-the-scenes stories, and gee-whiz facts to chart a modern revolution. 

Since the introduction of the three-point line, the game has changed drastically, with players like Steph Curry and James Harden leading the charge. In chapters like "The Geography of the NBA," "The Interior Minister (LeBron James)," "The Evolution of Steph Curry," and "The Investor (James Harden)," Goldsberry explains why today's on-court product—with its emphasis on shooting, passing, and spacing—has never been prettier or more democratic. And it's never been more popular. For fans of Bill Simmons and FreeDarko,SprawlBall presents a bold new vision of the game, giving fans an innovative, cutting-edge look at the sport based on the latest research, as well as a visual and infographic feast for fans.
Praise For SprawlBall: A Visual Tour of the New Era of the NBA…
"Beautifully illustrated and sharply written, SprawlBall is both a celebration and a critique of the three-point shot and how teams like the Warriors and Rockets have used it to dominate basketball. Whether you come away appreciating today's NBA even more or longing for the days of the post game and the mid-range shot, if you want to understand how the modern NBA came to be, you'll need to read this book."
— Nate Silver, editor of fivethirtyeight.com

"Lots of books tell you about the NBA. Few books, however, teach you about the NBA, and that's what Goldsberry does here with Sprawlball, a smart and insightful (and sneakily funny) look at the way that the league has been stretched out into a free-for-all of three -point shooting (a three-for-all?) and streamlined offensive attacks. Get this book. Read it. And then pretend like it was you who had these thoughts about the game when you're watching basketball with your friends."
 – Shea Serrano, best-selling author of Basketball (and Other Things) and The Rap Yearbook 
"Basketball has changed so much in the last twenty years. This book does an amazing job of describing where the NBA has been, where it is now, and where it's going." 
— Chris Bosh, two-time NBA championship winner

"You don't have to be a stats geek to enjoy the ESPN writer's new book, which pairs digestible analysis of basketball analytics with instructive data visualizations. The result is a vivid portrait of the NBA's stylistic evolution."
— Sports Illustrated

"This is a fascinating read for today's NBA fans, and the jaunty illustrations by Aaron Dana add both depth and fun."
— Booklist 

"Highly recommended for fans of today's NBA and anyone interested in sports analytics."
— Library Journal

"Goldsberry is the premier student of long-range shooting in the N.B.A, and now . . . its premier chronicler as well."
— New York Times Book Review

"Goldsberry has applied his mapmaking skills to basketball. It is not hyperbole to suggest that he has changed the way the game is played by figuring out from where, how often and how well players shoot on the court — and then visualizing, or rather mapping, the data."
— Washington Post
Mariner Books, 9780358329756, 256pp.
Publication Date: October 13, 2020
About the Author
KIRK GOLDSBERRY is one of the leading experts in basketball analytics, a booming new field that has taken the sport by storm. He has worked as the vice president of strategic research for the San Antonio Spurs and the chief analytics consultant for USA Basketball. As a staff writer at ESPN, he has written hundreds of articles about the NBA.