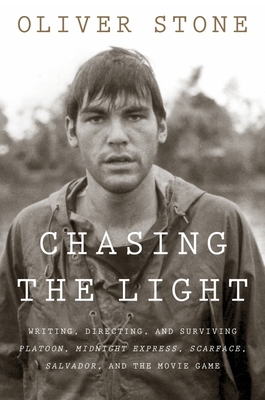 Chasing the Light
Writing, Directing, and Surviving Platoon, Midnight Express, Scarface, Salvador, and the Movie Game
Hardcover

* Individual store prices may vary.
Other Editions of This Title:
Digital Audiobook (7/20/2020)
Paperback (5/4/2021)
MP3 CD (7/21/2020)
CD-Audio (7/21/2020)
Description
An intimate memoir by the controversial and outspoken Oscar-winning director and screenwriter about his complicated New York childhood, volunteering for combat, and his struggles and triumphs making such films as Platoon, Midnight Express, and Scarface.

Before the international success of Platoon in 1986, Oliver Stone had been wounded as an infantryman in Vietnam, and spent years writing unproduced scripts while driving taxis in New York, finally venturing westward to Los Angeles and a new life. Stone, now 73, recounts those formative years with in-the-moment details of the high and low moments: We see meetings with Al Pacino over Stone's scripts for Scarface, Platoon, and Born on the Fourth of July; the harrowing demon of cocaine addiction following the failure of his first feature, The Hand (starring Michael Caine); his risky on-the-ground research of Miami drug cartels for Scarface; his stormy relationship with The Deer Hunter director Michael Cimino; the breathless hustles to finance the acclaimed and divisive Salvador; and tensions behind the scenes of his first Academy Award–winning film, Midnight Express.

Chasing the Light is a true insider's look at Hollywood's years of upheaval in the 1970s and '80s.
Praise For Chasing the Light: Writing, Directing, and Surviving Platoon, Midnight Express, Scarface, Salvador, and the Movie Game…
"…the Oliver Stone depicted in these pages — vulnerable, introspective, stubbornly tenacious and frequently heartbroken — may just be the most sympathetic character he's ever written… neatly sets the stage for the possibility of that rarest of Stone productions: a sequel." —
New York Times Book Review
"Fantastic…the dual theme of chasing and being chased by the light is central to Oliver's life story…there are luminescent passages throughout this book to crack open the reader's consciousness to a second reality…
Chasing the Light
is not a superficial trip down memory lane like so many memoirs by famous people; Stone is a wonderful writer, and as with his films, he takes you deep to places you may wish to avoid but are essential for true sanity. The great thing about this memoir is his passion for truth and life that courses through its pages.  He seizes the reader by the throat and shouts: Consciousness!  Wake up!  Don't let sleep and forgetfulness make you into one of the living-dead!"—
Edward Curtin, Global Research
"
Chasing the Light
is a deep book, illuminated and relentless, prose at its best…What Oliver Stone has written will last, because I have never seen anything like his insights into the way the film industry works.."
—Werner Herzog
"Oliver Stone is a giant provocateur in the Hollywood movie system.  His autobiography is a fascinating exposure of Stone's inner life and his powerful, all devouring energy and genius that drove him to become one of the world's greatest filmmakers. Stone rattles cages. He pricks the bubbles of the namby-pambies. He provokes outrage. He stirs up controversy. He has no respect for safe places. Oliver Stone is larger than life.
Chasing the Light
says it all."   
—Sir Anthony Hopkins
"Oliver Stone's narrative, his life story about the heartbreaks, the near misses, and finally the triumphs is a Hollywood movie in itself. I thank Oliver for writing Chasing the Light, especially for my NYU grad film students—or anybody else with artistic dreams of working in this thing called the movie business. Oliver, in honest and sometimes brutal fashion, lays it out—what it took for him to get to where he hoped to be—a  successful writer/director working in Hollywood; the road it took is hard AF. Bravo.Bravo.Bravo."
—Spike Lee
"…riveting… a gripping read, and it is made all the more compelling by Stone's incredible honesty about himself as a person; about his feelings, including embarrassing feelings that most people would leave to the therapy couch; and about his triumphs and failures. Oliver Stone, first and foremost, is an amazing human being, and to learn about him in his own words, with all his humor and candor, is a delight."—
Dan Kovalik, CounterPunch
"Oliver Stone's story is the story of my generation writ large."
—Paul Schrader, screenwriter of Taxi Driver
"Oliver takes you on a journey of desire, success and failure and ultimately success, deeply personal, with an uncanny self-effacing vulnerability that is not necessarily associated with Oliver; this is a companionable book of profound, usable insights."
—Julian Schnabel  
"In his gripping memoir, Chasing the Light, Oliver Stone continues to blaze with the light he did so often catch. Even though I already knew a bit how it turns out up to now, I found it hard to put the book down, as if he himself, in his struggles and defeats and victories, is the most intense of his own powerful films. It is utterly poignant today to follow his relentless pursuit of personal, artistic, and political freedom in constant confrontation with the still darkly looming forces of ignorance, selfishness, obsessive power, cruelty, and greed, forces that have brought us to today's existential crises. His odyssey was especially thrilling for me, a long hidden witness of the struggle from my "ivory tower" of academia, to feel able to honor his front-line battles, seeing what had gone on behind the courageous exposēs I enjoyed so much at the time, forcing our national consciousness to face the atrocities of Salvador, the Vietnam of Platoon, the treason of JFK, the greed of Wall Street, and so many more great efforts to focus the light of conscience upon our national decadence. The battle for the soul of our ideal nation and the lasting beauty of our world is not won yet, of course, but this honest and passionate  account of one man's determination inspires all of us who will never give up, as Oliver himself so clearly has not! Read it with delight and amazement, and keep after the light!" —Robert Thurman, Jey Tsong Khapa Professor Emeritus of Indo-Tibetan Buddhology, Columbia University
"…very visual and descriptive…Stone might be considered the first veteran content creator of the modern era…well worth the read for anyone interested in the drive it takes to achieve your long-term goals."—
Wes O'Donnell, InMilitary
"Stone knows how to grab a viewing audience—and readers...Stone recounts his life of ups and downs well; besides being an accomplished screenwriter, he's also a fine prose writer. To be continued? In the often tacky world of movie memoirs, Stone's will stand out for its hard-earned insights, integrity, and grace."—
Kirkus Reviews
"Every bit the stylish, unapologetic, and at times self-aggrandizing document one would expect based on his flamboyant films… readers more interested in artists' early struggles than in their glory days will be fascinated."—
Publishers Weekly
"If you were expecting a glitzy, conventional Hollywood memoir from maverick director Oliver Stone, who has written and/or directed some of the most significant pictures of our time, you would be wildly mistaken.  This is a frank, no holds barred, and truly fascinating account of his struggle to make these movies, and a must-read for everyone with strong convictions and something to say who wants to know what it's like to navigate the `system'."
—Peter Biskind, New York Times bestselling author of Easy Riders, Raging Bulls and Down and Dirty Pictures
"A compelling coming of age story by the filmmaker who most courageously exposed the conceits and deceits of the American Empire in decline. Oliver Stone's journey from naive warrior for madness cloaked as civilizing virtue in Vietnam to his Academy Award triumph as the forty year old director of Platoon is the establishing shot to a lifetime of work that brilliantly shattered Hollywood's obsession with American innocence no matter the horrid consequence."
—Robert Scheer, editor-in-chief, Truthdig
"Raw, savagely honest, as dramatic as any of his movies, Oliver Stone's memoir defies all the Hollywood clichés."
—Mail on Sunday
"Chasing the Light
 shows a man who still runs towards the gunfire. This is, you will gather, a tremendous book - readable, funny and harrowing. It's also full of movie-making gossip, scandal and fun. If you want to know what working with a truly difficult actor is like, read his account of handling James Woods on the set of
Salvador
. Nevertheless, Stone sticks with Woods because 'he is a genius'. Also if you want to know what it's like to be so intoxicated at a Golden Globes ceremony that your speech is so bad and almost denies you an Oscar, then you need this book."
—The Sunday Times
Mariner Books, 9780358346234, 352pp.
Publication Date: July 21, 2020
About the Author
OLIVER STONE is the multiple Oscar-winning writer and director of Platoon, JFK, Born on the Fourth of July, Natural Born Killer, Midnight Express, and many other films.