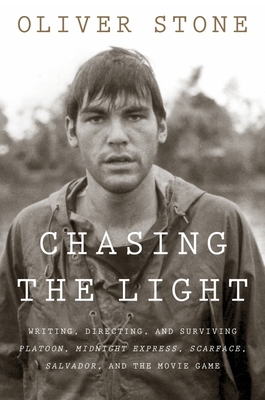 Chasing The Light
Writing, Directing, and Surviving Platoon, Midnight Express, Scarface, Salvador, and the Movie Game
Hardcover

* Individual store prices may vary.
Other Editions of This Title:
Digital Audiobook (7/20/2020)
Paperback (5/4/2021)
Paperback (7/21/2020)
MP3 CD (7/21/2020)
Description
An intimate memoir by the controversial and outspoken Oscar-winning director and screenwriter about his complicated New York childhood, volunteering for combat, and his struggles and triumphs making such films as Platoon, Midnight Express, and Scarface.

Before the international success of Platoon in 1986, Oliver Stone had been wounded as an infantryman in Vietnam, and spent years writing unproduced scripts while driving taxis in New York, finally venturing westward to Los Angeles and a new life. Stone, now 73, recounts those formative years with in-the-moment details of the high and low moments: We see meetings with Al Pacino over Stone's scripts for Scarface, Platoon, and Born on the Fourth of July; the harrowing demon of cocaine addiction following the failure of his first feature, The Hand (starring Michael Caine); his risky on-the-ground research of Miami drug cartels for Scarface; his stormy relationship with The Deer Hunter director Michael Cimino; the breathless hustles to finance the acclaimed and divisive Salvador; and tensions behind the scenes of his first Academy Award–winning film, Midnight Express.

Chasing the Light is a true insider's look at Hollywood's years of upheaval in the 1970s and '80s.
Praise For Chasing The Light: Writing, Directing, and Surviving Platoon, Midnight Express, Scarface, Salvador, and the Movie Game…
"…the Oliver Stone depicted in these pages — vulnerable, introspective, stubbornly tenacious and frequently heartbroken — may just be the most sympathetic character he's ever written… neatly sets the stage for the possibility of that rarest of Stone productions: a sequel." —New York Times Book Review "Fantastic…the dual theme of chasing and being chased by the light is central to Oliver's life story…there are luminescent passages throughout this book to crack open the reader's consciousness to a second reality…Chasing the Light is not a superficial trip down memory lane like so many memoirs by famous people; Stone is a wonderful writer, and as with his films, he takes you deep to places you may wish to avoid but are essential for true sanity. The great thing about this memoir is his passion for truth and life that courses through its pages.  He seizes the reader by the throat and shouts: Consciousness!  Wake up!  Don't let sleep and forgetfulness make you into one of the living-dead!"—Edward Curtin, Global Research   "Chasing the Light is a deep book, illuminated and relentless, prose at its best…What Oliver Stone has written will last, because I have never seen anything like his insights into the way the film industry works.."—Werner Herzog "Oliver Stone is a giant provocateur in the Hollywood movie system.  His autobiography is a fascinating exposure of Stone's inner life and his powerful, all devouring energy and genius that drove him to become one of the world's greatest filmmakers. Stone rattles cages. He pricks the bubbles of the namby-pambies. He provokes outrage. He stirs up controversy. He has no respect for safe places. Oliver Stone is larger than life. Chasing the Light says it all."    —Sir Anthony Hopkins "Oliver Stone's narrative, his life story about the heartbreaks, the near misses, and finally the triumphs is a Hollywood movie in itself. I thank Oliver for writing Chasing the Light, especially for my NYU grad film students—or anybody else with artistic dreams of working in this thing called the movie business. Oliver, in honest and sometimes brutal fashion, lays it out—what it took for him to get to where he hoped to be—a  successful writer/director working in Hollywood; the road it took is hard AF. Bravo.Bravo.Bravo." —Spike Lee "…riveting… a gripping read, and it is made all the more compelling by Stone's incredible honesty about himself as a person; about his feelings, including embarrassing feelings that most people would leave to the therapy couch; and about his triumphs and failures. Oliver Stone, first and foremost, is an amazing human being, and to learn about him in his own words, with all his humor and candor, is a delight."—Dan Kovalik, CounterPunch "Oliver Stone's story is the story of my generation writ large." —Paul Schrader, screenwriter of Taxi Driver "Oliver takes you on a journey of desire, success and failure and ultimately success, deeply personal, with an uncanny self-effacing vulnerability that is not necessarily associated with Oliver; this is a companionable book of profound, usable insights." —Julian Schnabel      "In his gripping memoir, Chasing the Light, Oliver Stone continues to blaze with the light he did so often catch. Even though I already knew a bit how it turns out up to now, I found it hard to put the book down, as if he himself, in his st
Mariner Books, 9780358346234, 352pp.
Publication Date: July 21, 2020
About the Author
OLIVER STONE is the multiple Oscar-winning writer and director of Platoon, JFK, Born on the Fourth of July, Natural Born Killer, Midnight Express, and many other films.