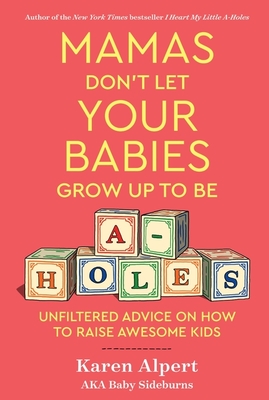 Mamas Don't Let Your Babies Grow Up to Be A-holes
Unfiltered Advice on How to Raise Awesome Kids
Hardcover

* Individual store prices may vary.
Other Editions of This Title:
Digital Audiobook (4/26/2021)
MP3 CD (4/27/2021)
Compact Disc (4/27/2021)
Compact Disc (4/27/2021)
Description
Do you ever feel like you're failing miserably at parenting? Do your kids keep acting like douchenuggets no matter what you do? Then this book is for you.
From the creator of Baby Sideburns and
I Heart My Little A-Holes
(and the creator of two kids who once were little a-holes but are slowly turning into awesome human beings),
Mamas Don't Let Your Babies Grow Up to Be A-Holes
is a hilariously honest parenting guide written by a regular mom who doesn't always know WTF she's doing. Just like you.
Featuring side-splittingly funny pictures, stories, and chapters like:
You Are Not Your Kiddo's Servant​
Picasso's Mom Didn't Tell Him to Draw the Eyes in the Right Place
Sticks and Stones May Break My Bones But Words Will Cost Thousands in Therapy
If They Say "I Hate You," Then You're Probably Doing It Right
Mamas Don't Let Your Babies Grow Up to Be A-Holes
will make you laugh, cry, laugh until you cry, and feel like you're having coffee (and a little sumpin' in it) with a best friend who has some of the answers to THE hardest job on earth: parenting. And maybe, just maybe, it might help you get the a-hole out of your kids*
*not a guarantee  
Praise For Mamas Don't Let Your Babies Grow Up to Be A-holes: Unfiltered Advice on How to Raise Awesome Kids…
"Honest, raw, and hilarious. A must-read for parents who want their kids to grow up to be decent human beings."
-Jill Smokler, New York Times best-selling author of Confessions of a Scary Mommy
 
"If raising a kind, confident, self-aware human is your jam, then you need to read this book. With laugh-out-loud humor, refreshing practicality, and a glorious potty mouth, Alpert once again delivers the essential read for all of us navigating modern motherhood, and leaves me with just one question... can she raise my kids too?"
-Leslie Anne Bruce, New York Times best-selling author of You Are a F*cking Awesome Mom
 
 "Hilarious, honest, and 100% relatable! If you're a mom with a sense of humor, you'll love this book. If you're a prude... you need this book even more. Cheers to all moms trying not to raise a-holes... the world already has plenty."
-Caroline Bryan, Social Media Influencer, and wife of Luke Bryan
 
"This hilarious book will leave you feeling hopeful that all those things you do every day that make you feel like a bad mom might actually make your kids better humans after all." 
-Catherine Belknap and Natalie Telfer, best-selling authors of Cat and Nat's Mom Truths
 
"Once again, Karen Alpert has done it. This book is equal parts hilarious, heart-warming, and helpful! Karen's parenting style and advice are relatable for anyone trying their best not to raise little a-holes into bigger a-holes."
-Jen Mann, New York Times best-selling author of People I Want To Punch in the Throat
 
Mariner Books, 9780358346272, 272pp.
Publication Date: April 27, 2021
About the Author
Karen Alpert started her blog Baby Sideburns as an antidote to the perfect-seeming families she saw on social media. Her writing about the messy, unpredictable side of parenting struck a chord, and her first book, I Heart My Little A-Holes hit the bestseller list. She also wrote I Want My Epidural Back (William Morrow, 2016). She lives in the Chicago area with her husband and two kids.