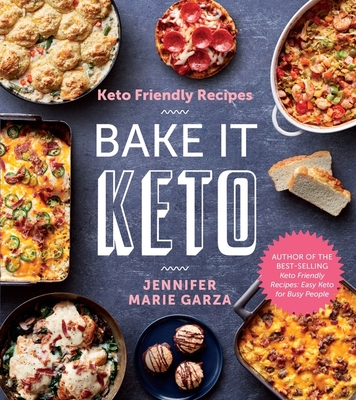 Keto Friendly Recipes (Paperback)
Bake It Keto
Houghton Mifflin Harcourt, 9780358346883, 288pp.
Publication Date: May 5, 2020
* Individual store prices may vary.
Description
The keto diet continues to take the country by storm as people not only experience dramatic weight loss, but keep the weight off too. One of America's leading keto and low-carb experts is Jennifer Marie Garza, the best-selling author of Keto Friendly Recipes: Easy Keto for Busy People, whose popular Facebook page Keto Friendly Recipes has amassed more than 450,000 loyal followers. Jennifer Marie's recipes taste too delicious to be good for you, and fans keep coming back for more, so she knows what people like best--the baked goods, both savory and sweet, such as keto breads, muffins, cookies, casseroles, and more. In her new book, Jennifer Marie brings back fan-favorite recipes plus all new dishes, organized into chapters for breakfast, lunch, dinner, appetizers, and foil-pack meals for people on the go. It doesn't get much easier than these 120 one-dish recipes, like Keto Chicken and Cheese Enchiladas, Baked French Toast, Keto Pot Pie, and Portobella Mushroom Pizza. 
About the Author
Jennifer Marie Garza runs two successful websites, iSaveA2Z.com and LowCarbInspirations.com as well as the incredibly popular Facebook page Keto Friendly Recipes and a Facebook group called Low Carb Inspirations (plus Keto Friendly Recipes). Jennifer Marie lives in Austin, Texas with her husband and two beautiful daughters. She loves to spend her time creating delicious keto friendly meals in her kitchen and provide healthy, tasty foods for her family.