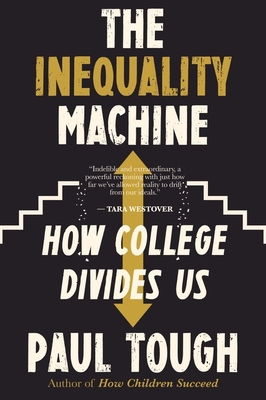 The Inequality Machine
How College Divides Us
Paperback

* Individual store prices may vary.
Other Editions of This Title:
Hardcover (9/10/2019)
MP3 CD (9/10/2019)
Compact Disc (9/10/2019)
CD-Audio (9/10/2019)
Description
First published as The Years That Matter Most

From best-selling author Paul Tough, an indelible and explosive book on the glaring injustices of higher education, including unfair admissions tests, entrenched racial barriers, and crushing student debt. Now updated and expanded for the pandemic era.

When higher education works the way it's supposed to, there is no better tool for social mobility—for lifting young people out of challenging circumstances and into the middle class and beyond. In reality, though, American colleges and universities have become the ultimate tool of social immobility—a system that secures a comfortable future for the children of the wealthy while throwing roadblocks in the way of students from struggling families.
 
Combining vivid and powerful personal stories with deep, authoritative reporting, Paul Tough explains how we got into this mess and explores the innovative reforms that might get us out. Tough examines the systemic racism that pervades American higher education, shows exactly how the SATs give an unfair advantage to wealthy students, and guides readers from Ivy League seminar rooms to the welding shop at a rural community college. At every stop, he introduces us to young Americans yearning for a better life—and praying that a college education might help them get there.
 
With a new preface and afterword by the author exposing how the coronavirus pandemic has shaken the higher education system anew.​
Praise For The Inequality Machine: How College Divides Us…
"Indelible and extraordinary, a powerful reckoning with just how far we've allowed reality to drift from our ideals."
—Tara Westover, author of Educated: A Memoir, New York Times Book Review

"Gorgeously reported. Vividly written. Utterly lucid. Paul Tough jumps skillfully between deeply engaging personal narratives and the bigger truths of higher education. The way he tells the stories of these students, it's impossible not to care about them and get angry on their behalf."
—Ira Glass, host, This American Life

"A stunning piece of work. The Years That Matter Most is ostensibly about higher education, about the college experience—and on that level, it's a completely absorbing narrative with some very surprising, trenchant analysis. But it's also a lot more than that. It's a book about class in America. It's a book about social mobility. And it's a devastating report card on the American dream. It's just a very special book."
—Michael Pollan, author of How to Change Your Mind (at WBUR's CitySpace)

"I've been begging everyone I know to read this book . . . It's an utterly absorbing, utterly enlightening, utterly important book about classism in American higher education and the myth of meritocracy." —Cheryl Strayed, author of Wild, in "By the Book," New York Times Book Review

"[Tough's] urgent account combines cogent data and artful storytelling to show how higher education has veered from its meritocratic ideals to exacerbate society's inequality."
—New York Times Book Review, Editors' Choice

"Can't recommend this book highly enough. Paul Tough lights a fuse that blows up every piety that American higher education—and indeed, the American upper class—tells itself about elite colleges."
—Dana Goldstein, New York Times (via Twitter)

"What's best about the book, a fruit of all the time Tough spent with his subjects, is that it humanizes the process of higher education. He has fascinating stories about efforts to remediate class disparities in higher education, some of which have succeeded and some of which may have made matters worse."
—Louis Menand, The New Yorker

"A complex, essential book that asks an urgent question: Is our current higher education system designed to protect the privileged and leave everyone else behind? A fascinating, troubling read."
—Heidi Stevens, Chicago Tribune

"Paul Tough's important new book on the broken promises of higher education begins with a chapter that he succeeds in making as suspenseful as the prologue of any serial-killer novel and as heart-rending as the climax of an epic romance . . . Among his book's many vital contributions are its portraits of schools and programs that model a better way."
—Frank Bruni, New York Times

"A comprehensive, moving account of the inequalities that block many poor, minority and first-generation students from realizing the benefits of a college education."
—Michael T. Nietzel, Forbes

"Paul Tough's daring The Years That Matter Most forces us to unfold the suffering built into the creases of American higher education. It refuses to let us forget about the bodies and lives of real students. It should be necessary reading for every student, professor, administrator, and trustee in this country interested in what radical revision looks like."
—Kiese Laymon, author of Heavy: An American Memoir

"Paul Tough is a thinker to cherish: formidably clear-eyed, incandescently learned, and unshakably hopeful. Diving deep into the rewards, challenges, and perils of the American university system, The Years That Matter Most reveals the heavy price a society pays when it no longer pulls together to give its young people the education they need. An extraordinary, indispensable book."
—Junot Díaz, Pulitzer Prize–winning author of The Brief Wondrous Life of Oscar Wao

"Paul Tough is a beautiful reporter and writer and a deeply moral guide to understanding the situation of children in our heartless meritocracy. The Years That Matter Most is a great book that should start a necessary conversation about the high cost of the race to the top."
—George Packer, author of The Unwinding: An Inner History of the New America and Our Man: Richard Holbrooke and the End of the American Century

"All of the books by best-selling author Paul Tough have been meaningful . . . [The Years that Matters Most] arrives at the very moment when energized voters are pressing presidential hopefuls on how they would help all young people reach a middle-class life."
—Esther Cepeda, syndicated columnist

"Does for college admissions what Michael Lewis's Moneyball did for sabermetrics . . . The bright, hopeful sections are a source of inspiration and joy."
—Jessica Lahey, Air Mail

"[Tough] writes movingly about students who are trying to navigate the confounding, expensive, and intimidating process of getting into and staying in college."
—Wired

"Paul Tough's new book makes the powerful case that the system just isn't as fair as it should be."
—Katie Couric, Wake-Up Call

"A deeply reported and damning portrait of fraying American social mobility . . . a clear-eyed portrait of what a stacked game it really is."
—Quartz

"Drawing on broad reading and visits to campuses across the country, Tough's work offers an indictment of American society and political structures and persuasively argues that universities must fulfill the American commitment to equality of opportunity."
—Library Journal, starred review

"Tough clearly shows that college placement remains mostly about wealth at the expense of a collective educational environment. A good choice for aspiring college students and their parents."
—Kirkus Reviews 

"In this fascinating study, education journalist Tough (How Children Succeed) argues persuasively that access to an elite college education, which in the U.S. is popularly believed to be a meritocratically distributed social equalizer, is in fact distributed in ways that reinforce existing economic divisions . . . His analyses of data are sound, his portraits of students and teachers sympathetic, his argument neatly structured, and his topic one with wide appeal. This well-written and persuasive book is likely to make a splash."
—Publishers Weekly 

"Tough's book explores the real and terrifying idea that what you do (or don't do) between the ages of 18 and 22—or even 16 and 25—profoundly shapes the course of your life . . . Moving and memorable."
—Hechinger Report

"A timely reassessment of the promise that higher education offers everyone the same opportunity to move up in the world . . . No big players escape Tough's critical eye."
—Rebecca Koenig, EdSurge

"By combining rigorous research with compelling personal narratives, Tough crafts a work that is not only a status report on the changing world of higher education, but also a revelatory look at how social mobility works in America."
—Brendan Dowling, Public Libraries Online
Mariner Books, 9780358362050, 432pp.
Publication Date: March 2, 2021
About the Author
PAUL TOUGH is the author of Helping Children Succeed and How Children Succeed, which spent more than a year on the New York Times hardcover and paperback bestseller lists and was translated into twenty-eight languages. He is also the author of Whatever It Takes: Geoffrey Canada's Quest to Change Harlem and America.He is a contributing writer to the New York Times Magazine and a regular contributor to the public-radio program This American Life. You can learn more about his work at paultough.com and follow him on Twitter @paultough.