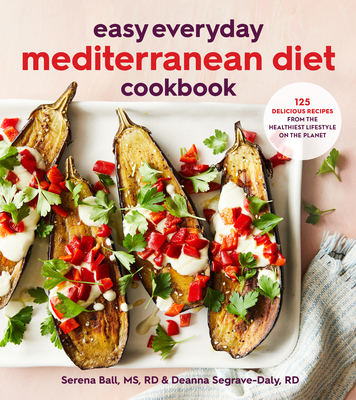 Easy Everyday Mediterranean Diet Cookbook
125 Delicious Recipes from the Healthiest Lifestyle on the Planet
Paperback

* Individual store prices may vary.
Description
125 all-new, easy, affordable, and delicious recipes from the best-selling authors of 30-Minute Mediterranean Diet Cookbook

Fresh off the success of their first cookbook, 30-Minute Mediterranean Diet Cookbook, authors Deanna Segrave-Daly, RD and Serena Ball, MS, RD, present their newest collection of 125 healthful and delicious recipes based on the Mediterranean lifestyle. Forget about fad diets and the latest trends--this book features recipes for pasta, whole grains, roasted vegetables, hearty breads dipped in olive oil, and more, all of which can be made in 30 minutes or less, and some in just 20 minutes. The recipes are budget friendly too, for anyone with a family to feed, and there are healthy kitchen hacks throughout for saving time in the kitchen. Most of the recipes are easily adaptable for gluten-free, dairy-free, egg-free, nut-free, and vegetarian lifestyles, and just like the authors' best-selling first book, the recipes are impeccably tested by a registered dietician, and they taste great too--Greek Zucchini Pita Nachos, Broccoli-Cheese Risotto, Artichoke Cheese Strata, and more.
Praise For Easy Everyday Mediterranean Diet Cookbook: 125 Delicious Recipes from the Healthiest Lifestyle on the Planet…
"Deanna and Serena's recipes are healthful and vibrant, but above all delicious. You will be amazed at how much they pack a flavor punch." 
—Michael Solomonov, Chef and Co-owner of Zahav

"Deanna's and Serena's newest cookbook is bursting with enticing recipes that are quick to fix. As a chef and dietitian, I love the foods featuring a Mediterranean diet lifestyle from a flavor and nutrition standpoint—and these recipes deliciously marry both of those concepts. As a bonus, the book is beautifully photographed. You'll definitely find some new favorite dishes here!"
—Jackie Newgent, RDN, culinary nutritionist, award-winning cookbook writer and author of The Clean & Simple Diabetes Cookbook

"If you are interested in following the Mediterranean diet, this cookbook is where you must start. It breaks down the Mediterranean lifestyle: why you should try it, what to stock your kitchen and pantry with, and then gives you 125 delicious recipes that your entire family will enjoy. Better yet, the recipes are broken out into 13 different chapters so you can home in on what you want immediately. Easy Everyday is the perfect title for this cookbook!"
—Brierley Horton, MS, RDN, writer, editor, former nutrition director at Cooking Light and Eating Well
Houghton Mifflin Harcourt, 9780358375418, 288pp.
Publication Date: October 13, 2020
About the Author
Deanna Segrave-Daly, RD, is a food-loving dietitian who co-owns Teaspoon Communications, a food-focused nutrition communications group that consults with a variety of health and food organizations. Deanna blogs at Teaspoon of Spice, with her business partner, Serena Ball, sharing healthy kitchen hacks, nourishing recipes, how-to cooking videos and even mishaps in the kitchen. She is the co-founder of Blog Brûlée, an exclusive, intimate weekend workshop for registered dietitians and healthy living bloggers to enhance their online presence through interactive and synergetic sessions. She is also the former co-owner of The Recipe ReDux, a healthy food blogger community that inspired monthly recipe challenges and was active for 8 years. Besides her own blog, she's a contributor to many food-related websites where she specializes in encouraging healthy appetites through her love of delicious food and cooking. She is currently an EatRight PA blog coordinator and contributor and is the former Features Editor of Sweet Splurges column at Healthy Aperture. Deanna is based in Philadelphia, where her 12-year old daughter and tricky eater husband keep her inspired to create appealing, good-for-you family cuisine.

Based near St. Louis, Serena Ball, MS, RD is a registered dietitian who loves writing about delicious recipes, good nutrition, and food trends for publications including Food Network's HealthyEats.com, Relish magazine, and CookingLight.com. She co-created and writes the Healthy Kitchen Hacks column for Food & Nutrition Magazine. Serena cooks up healthy recipes for her regular TV appearances on The Morning Show on FOX TV2, St. Louis. She blogs at TeaspoonOfSpice.com about delicious recipes and time-saving Healthy Kitchen Hacks with fellow dietitian Deanna Segrave-Daly. For her blog, Serena also creates hands-and-pans recipe videos. She produces bi-weekly Teaspoon Of Spice Facebook LIVEs to demonstrate simple and fun ways to put Healthy Kitchen Hacks into practice. Serena is co-owner of Teaspoon Communications, a nutrition communication group of culinary-minded registered dietitian nutritionists. She co-created The Recipe ReDux, a health blogger community with a monthly reach of over 5 million page views combined. Serena is happiest in her bright aqua-blue kitchen developing healthy recipes for her five regular kitchen customers: her four children and husband.