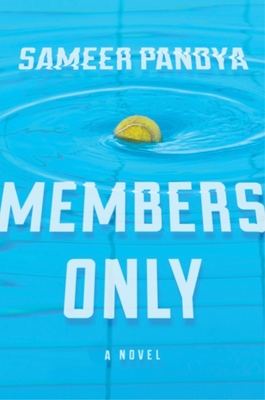 Members Only
Paperback

* Individual store prices may vary.
Other Editions of This Title:
Digital Audiobook (7/6/2020)
Hardcover (7/7/2020)
MP3 CD (7/7/2020)
Description
First the white members of Raj Bhatt's posh tennis club call him racist. Then his life falls apart. Along the way, he wonders: where does he, a brown man, belong in America? This award-winning novel "offers deep insight into the ways the characters are shaped by racism" (Publishers Weekly).
An NPR Best Book · A Millions Most Anticipated Title of 2020 · A Rumpus Best Book for Asian and Pacific Islander American Heritage Month
Raj is often unsure of where he belongs. Having moved to America from Bombay as a child, he knew few Indian kids. Now middle-aged, he lives mostly happily in California, with a job at a university. Still, his white wife seems to fit in better than he does at times, especially at their tennis club, a place he's cautiously come to love. But it's there that, in one week, his life unravels. It begins at a meeting for potential new members: Raj thrills to find an African American couple on the list; he dreams of a more diverse club. But in an effort to connect, he makes a racist joke. The committee turns on him, no matter the years of prejudice he's put up with. And worse still, he soon finds his job is in jeopardy after a group of students report him as a reverse racist, thanks to his alleged "anti-Western bias." Heartfelt, humorous, and hard-hitting, Members Only explores what membership and belonging mean, as Raj navigates the complicated space between black and white America.
Praise For Members Only…
Finalist for the California Book Award * An NPR Best Book of 2020 * A Millions Most Anticipated Title of 2020 * A Rumpus Best Book for Asian and Pacific Islander American Heritage Month —
 "If 'Things Fall Apart' hadn't already been taken, it would be an apt title for Pandya's novel, which is as witty as it is woeful."  — Elisabeth Egan, New York Times Book Review
"In Sameer Pandya's heart-pounding novel, every word Raj Bhatt says, every action he takes, is consequential...This is a nail-biting read because Raj's fate—a comfortable life unraveled by misinterpretations and words taken out of context—is all too familiar in today's world."  — NPR.org
"I binged-read Members Only and it did not disappoint. ... Smart, funny, topical, and it does tennis right."   — Jon Wertheim, Sports Illustrated's Beyond the Baseline
"A grand slam. … Pandya's writing here is smooth, clear, funny, and often subtly beautiful. Members Only is the thoughtful page-turner we need right now."  — Booklist (starred review)
 "An intense, funny, and absolutely necessary novel about our current times. Accomplished storyteller Pandya has given all of us teachers a compulsive read for the days, the weeks, when we feel unmoored and even a slightly bit crazy."  — Weike Wang, author of Chemistry and Joan is Okay
"Is extremely enjoyable anxiety a thing? Because that's how I felt as I sped through Professor Raj Bhatt's very bad week. A vital, tightly-written dive into our current swirl of confusion over privilege and power."  — Jade Chang, author of The Wangs vs. The World
"Members Only perfectly portrays how our careless words and casual comments have unintended ripple effects that couldn't possibly be predicted. This is a riveting story of misunderstanding and misrepresentation."  — Laurie Gelman, author of Class Mom and You've Been Volunteered 
"In Pandya's tense, sly debut novel (after the collection The Blind Writer) a college lecturer faces accusations of racism and anti-American bias in a California suburb over the course of a fateful week. The taut, heartrending narrative offers deep insight into the ways the characters are shaped by racism. Pandya's sympathetic portrait of Raj's quest for acceptance will resonate with readers." — Publishers Weekly
"As provocative as it is comedic. ... Facing social, professional, personal implosion—all in one week—might seem impossibly overdramatic, but Members Only proves remarkably convincing. ... That said, don't expect all doom-and-gloom here: without ever eliding the gravity of serious social issues like racism, privilege and power, Pandya deftly manages to create a tragicomedy of errors driven by surprising wit, irreverent humor and razor-sharp insight." — Shelf Awareness
Mariner Books, 9780358379928, 368pp.
Publication Date: July 7, 2020
About the Author
SAMEER PANDYA is the author of the story collection The Blind Writer, which was longlisted for the PEN/Open Book Award. He is also the recipient of the PEN/Civitella Fellowship. His fiction, commentary, and cultural criticism has appeared in a range of publications, including the Atlantic, Salon, Sports Illustrated, ESPN, and Narrative Magazine. He teaches creative writing and South Asian and Asian American literature at the University of California, Santa Barbara. Members Only is his first novel.