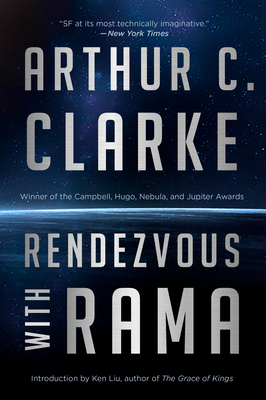 Rendezvous with Rama
Paperback

* Individual store prices may vary.
Other Editions of This Title:
Prebound (11/1/1990)
Compact Disc (9/1/2013)
MP3 CD (12/16/2014)
Mass Market (11/1/1990)
MP3 CD (9/1/2013)
Compact Disc (9/1/2013)
Description
Winner of the Campbell, Hugo, Jupiter, and Nebula awards upon its release in 1973, Rendezvous with Rama is widely regarded as one of the cornerstones of Grand Master Arthur C. Clarke's work.

By the year 2130, the solar system has been colonized, with humans living on planets ranging from Mercury to the moons of Neptune. Despite so much expansion and discovery, there have been no signs of intelligent life besides our own Earth-born. Until Rama.

Weighing more than ten trillion tons, smoothly shaped, and racing towards the sun at astonishing speed, Rama was no natural object, but clearly an interstellar spacecraft. It appeared to be on course to loop around the Sun, but at a dangerously close orbit. After Commander William Tsien Norton makes the tricky landing of his ship Endeavor on the edge of the colossal craft, he discovers an airlock. Awaiting him on the other side of that portal is a historical moment not experienced since Pizzaro met the Incas or Howard Carter peered into the tomb of Tutankhamen—the a long-hoped-for, but also long-feared encounter with a visitor from beyond the stars.
Praise For Rendezvous with Rama…
"It was delightful to be presented with a scene to stagger the imagination and yet have it described so exactly and meticulously as to know you have been there." —Isaac Asimov

"Arthur has done it again—proved that the chief ingredient of superior science fiction is story." —Frank Herbert

"Something for everybody—politics, religion, and all kinds of science wrapped up in a taut mystery-suspense." —Publisher's Weekly

"Mr. Clarke is splendid. . .We experience that chilling touch of the alien, the not-quite knowable, that distinguishes SF at its most technically imaginative." —The New York Times
Mariner Books, 9780358380221, 304pp.
Publication Date: October 13, 2020
About the Author
ARTHUR C. CLARKE, one of the most influential figures in twentieth-century science fiction, has written over fifty novels and cocreated the movie 2001: A Space Odyssey.