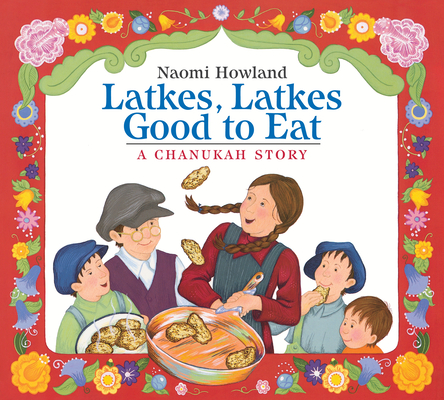 Latkes, Latkes, Good To Eat
A Chanukah Story
Board book

* Individual store prices may vary.
Other Editions of This Title:
Paperback (9/20/2004)
Paperback (10/25/2011)
Library Binding (10/1/1999)
Description
A cheerful and magical folk tale perfect for celebrating the miracle of Chanukah, now gently adapted for the very young board book reader

Latkes, latkes, good to eat.
Cook me up a Chanukah treat!

On the first night of Chanukah Sadie performs a generous act, and in turn receives a magic pan that cooks up sizzling hot, golden latkes on command. When she goes out one afternoon, her mischievous brothers can't resist using the pan. But what happens when the boys can't make the pan stop cooking latkes? Celebrate the miracle of Chanukah with this joyful and humorous tale of generosity and greed, gently abridged for the board book reader.
Praise For Latkes, Latkes, Good To Eat: A Chanukah Story…
"A story that combines elements of familiar folktales and "The Sorcerer's Apprentice." Sadie and her four brothers are not looking forward to Chanukah; they are poor, and there is nothing to eat. Sadie goes out to collect firewood but takes pity on an old woman and gives her the wood. In return, the woman gives Sadie a magic frying pan. It will cook as many potato latkes (pancakes) as the family wants until Sadie utters the magic words that make it stop. The pan works fine while Sophie cooks, but when she leaves, the boys try--with predictable results. Latkes fill the house, then the streets, until Sadie arrives home to say the magic words. By that time, there are more than enough latkes for the whole village to feast. Howland effectively sets her story in a Russian shtetl, using words, intonation, and especially pictures. Working in gouache and colored pencil, she offers a snowy landscape peopled with Jewish villagers who work hard and celebrate harder. Especially nice is the overview of the villagers on the last night of Chanukah, men and women whirling under the stars eating all those latkes." Booklist, ALA
Clarion Books, 9780358395423, 24pp.
Publication Date: September 8, 2020
About the Author
Naomi Howland is the author and illustrator of several books for children, including The Matzah Man: A Passover Story and Latkes, Latkes, Good to Eat: A Chanukah Story. She lives in Claremont, California.