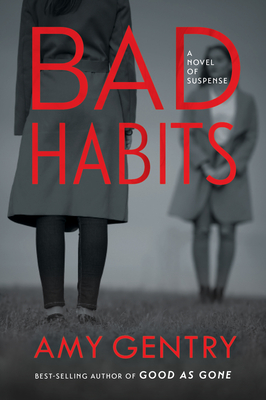 Bad Habits
By the author of the best-selling thriller GOOD AS GONE
Paperback

* Individual store prices may vary.
Other Editions of This Title:
Hardcover (2/2/2021)
Compact Disc (2/2/2021)
MP3 CD (2/2/2021)
Description
A whip-smart psychological thriller from the author of Good as Gone (a New York Times Notable Book), in which a grad student becomes embroiled in a deadly rivalry that changes her into someone unrecognizable to her struggling family, her ambitious academic friends, and even herself

Claire "Mac" Woods--a professor enjoying her newfound hotshot status at an academic conference--finally has the acceptance and admiration she has long craved. But at the conference's hotel bar, Mac is surprised to run into a face from a past she'd rather forget: the moneyed, effortlessly perfect Gwendolyn Whitney, Mac's foil, rival, and former best friend.

When Gwen moved to town in high school, Claire--then known as Mac, a poor kid from a troubled family who had too much on her plate--saw what it meantto have. Money, sophistication, culture, the very blueprints to success. Mac had almost nothing, except the will to change. Change she did, habitually grinding herself to work as hard as straight-A Gwen, even eventually getting admitted into the same elite graduate program as Gwen. But then Mac and Gwen become entangled with the department's power-couple professors and compete head-to-head for a life changing fellowship. The more twisted the track toward success becomes, the more Mac has to contort herself to stay one step ahead—which deception signals the point of no return?

Jack-knifing between Mac's world-expanding graduate days and the crucible of the hotel and its unexpected guests, Bad Habits follows Mac's reckoning between her hardscrabble past and tenuous present. What, exactly, did Mac do to get what she has today? And what will she do to keep it? With taut, powerful prose, Amy Gentry asks how far we'll go to get what we want--and whether we can ever truly leave the past behind.
Praise For Bad Habits: By the author of the best-selling thriller GOOD AS GONE…
"It is almost impossible to find the words for a truly original novel such as Bad Habits, a primal scream of a book that could be written only by this author at this time. Amy Gentry is in utter control of this anaconda of a story as it twists, squeezes and lashes out at the reader. And all the reader can do is stare helplessly back, mesmerized. In case it's not clear, I loved it." 
—Laura Lippman, New York Times bestselling author of The Sunburn and Lady of the Lake
 
"If you've ever wondered how the Talented Mr. Ripley would fare in a Ph.D. program, Bad Habits is the book for you. With deft, crisp prose and unerring wit, Amy Gentry charts a singular young woman's perilous ascent to the academic firmament—and then unravels all the secrets she had to keep to get there. By turns wicked and tender, ghastly and hilarious, Bad Habits is Amy Gentry's best book yet—and the most fun I've had in ages."
­­—Elizabeth Little, Los Angeles Times bestselling author of Dear Daughter and Pretty As A Picture

"With every novel, Gentry's work upends our expectations of identity. Her characters explore alter egos through the guise of performance, aliases, lovers, and—in Bad Habits—even grad programs. Hailing Jamesian roots as it explodes into the world of academia, Bad Habits layers precise detail, dread, and dark desire in an addictive page-turning story. The unforgettable ending made me immediately want to read the entire book again. Do not miss this hypnotic masterpiece."
—Mindy Mejia, author of Everything You Want Me to Be and Strike Me Down 

"In Bad Habits, Amy Gentry deftly explores power struggles and their subtle—and not so subtle—shifts and consequences. As the truth of what happened one night a decade ago claws its way to the surface you'll be switching your allegiances from left to right and back again. Whip-smart, and beautifully written, Bad Habits is one hell of an exploration of what can happen when friendship tangos with an insatiable appetite for success and control. This novel is unexpected, surprising and has a diabolical ending I won't forget any time soon."
—Hannah Mary McKinnon, internationally bestselling author of Sister Dear

"I could not tear myself away from Amy Gentry's Bad Habits, an intoxicatingly propulsive thriller with Russian-doll-like plotting and searing prose set against a backdrop of toxic academia. With Special Topics in Calamity Physics meets Gillian Flynn & Megan Abbot vibes, I was wholly sucked into this seductive psychological suspense and its corkscrew-like twists and turns that held me in their grip until the final, jaw-dropping reveal that left me breathless."
—May Cobb, author of Big Woods and The Hunting Wives

"This rousing exposé of the politics of academia, with its textbook reputation for backbiting, will keep readers turning the pages."
—Publishers Weekly

"A tale of psychological survival and suspense that readers of Gentry's Good as Gone (2016) and other tales of women struggling in a world that wants them to fail will relish."
—Booklist

"A tense psychological thriller with an intriguing setup."
—Kirkus
Mariner Books, 9780358408574, 352pp.
Publication Date: February 2, 2021
About the Author
AMY GENTRY is the author of Good as Gone, a New York Times Notable Book, and Last Woman Standing. She is also a book reviewer and essayist whose work has appeared in numerous outlets, including the Chicago Tribune, Salon, the Paris Review, the Los Angeles Review of Books, and the Austin Chronicle. She holds a PhD in English from the University of Chicago and lives in Austin, Texas.