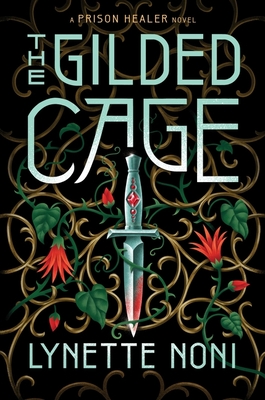 The Gilded Cage (The Prison Healer)
Hardcover

* Individual store prices may vary.
Description
Kiva trades one cage for another when she leaves behind a deadly prison for a deceptive palace in this dark and dangerous sequel to The Prison Healer, which Sarah J. Maas called "a must-read."
Kiva Meridan is a survivor.
She survived not only Zalindov prison, but also the deadly Trial by Ordeal. Now Kiva's purpose goes beyond survival to vengeance. For the past ten years, her only goal was to reunite with her family and destroy the people responsible for ruining their lives. But now that she has escaped Zalindov, her mission has become more complicated than ever.
As Kiva settles into her new life in the capital, she discovers she wasn't the only one who suffered while she was in Zalindov—her siblings and their beliefs have changed too. Soon it's not just her enemies she's keeping secrets from, but her own family as well.
Outside the city walls, tensions are brewing from the rebels, along with whispers of a growing threat from the northern kingdoms. Kiva's allegiances are more important than ever, but she's beginning to question where they truly lie. To survive this time, she'll have to navigate a complicated web of lies before both sides of the battle turn against her and she loses everything.
Praise For The Gilded Cage (The Prison Healer)…
Praise for The Prison Healer:

"Lynette Noni is a masterful storyteller. A must-read for any fantasy lover!" — Sarah J. Maas, #1 New York Times Bestselling Author

"Lynette Noni's talent and heart shine in The Prison Healer" — Terry Brooks, #1 New York Times bestselling author of The Shannara Chronicles

Praise for Lynette Noni:

"Let me say right up front that Lynette Noni is a very talented writer. Her books tell stories that draw you in and refuse to let go. Her characters are memorable and quick to surprise. I cannot wait to see what she will do next." —Terry Brooks, author, The Shannara Chronicles

"Lynette Noni is a masterful storyteller. Her characters steal into your heart and won't let go!" —Maria V. Snyder, author, the Poison Study series

"Lynette Noni's compelling stories keep readers turning pages to the very end.'' —Juliet Marillier, author, the Sevenwaters series
 
"When Lynette Noni opens the door to another world, don't hesitate: jump in and enjoy.'' —Trudi Canavan, author, The Black Magician trilogy
HMH Books for Young Readers, 9780358434597, 416pp.
Publication Date: October 12, 2021
About the Author
Lynette Noni is currently Australia's #1 YA author. After studying journalism, academic writing and human behavior at university, she finally ventured into the world of fiction. She is now a full-time writer and the bestselling author of the six-book young adult fantasy series, The Medoran Chronicles, as well as a second bestselling and award-winning series called Whisper. Lynette won the 2019 ABIA Award for Small Publishers' Children's Book of the Year, along with the 2019 Gold Inky Award (Australia's only teen choice book award). She is currently collaborating on a project with #1 New York Times bestselling author of the Throne of Glass series, Sarah J. Maas.   

lynettenoni.com
Twitter and Instagram: @lynettenoni