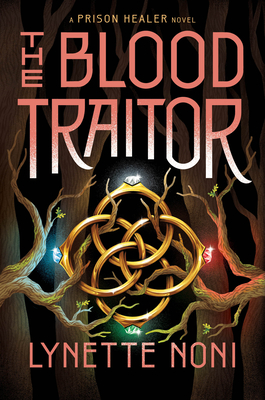 The Blood Traitor (The Prison Healer)
Hardcover

* Individual store prices may vary.
Description
She'd failed them. All of them. And now she was paying the price. Kiva thought she knew what she wanted—revenge. But feelings change, people change . . . everything has changed.
After what happened at the palace, Kiva is desperate to know if her friends and family are safe, and whether those she wronged can ever forgive her. But with the kingdoms closer to the brink of war than they've ever been, and Kiva far away from the conflict, more is at stake than her own broken heart.
A fresh start will mean a perilous quest, forcing mortal enemies and uneasy allies together in a race against the clock to save not just Evalon, but all of Wenderall. With her loyalties now set, Kiva can no longer just survive—she must fight for what she believes in. For who she believes in. But with danger coming from every side, and the lives of everyone she loves at risk, does she have what it takes to stand, or will she fall?
Praise For The Blood Traitor (The Prison Healer)…
Praise for The Prison Healer:

"Lynette Noni is a masterful storyteller. A must-read for any fantasy lover!" — Sarah J. Maas, #1 New York Times Bestselling Author

"Lynette Noni's talent and heart shine in The Prison Healer" — Terry Brooks, #1 New York Times bestselling author of The Shannara Chronicles

Praise for Lynette Noni:

"Let me say right up front that Lynette Noni is a very talented writer. Her books tell stories that draw you in and refuse to let go. Her characters are memorable and quick to surprise. I cannot wait to see what she will do next." —Terry Brooks, author, The Shannara Chronicles

"Lynette Noni is a masterful storyteller. Her characters steal into your heart and won't let go!" —Maria V. Snyder, author, the Poison Study series

"Lynette Noni's compelling stories keep readers turning pages to the very end.'' —Juliet Marillier, author, the Sevenwaters series
 
"When Lynette Noni opens the door to another world, don't hesitate: jump in and enjoy.'' —Trudi Canavan, author, The Black Magician trilogy
Clarion Books, 9780358434603, 416pp.
Publication Date: June 14, 2022
About the Author
Lynette Noni is currently Australia's #1 YA author. After studying journalism, academic writing and human behavior at university, she finally ventured into the world of fiction. She is now a full-time writer and the bestselling author of the six-book young adult fantasy series, The Medoran Chronicles, as well as a second bestselling and award-winning series called Whisper. Lynette won the 2019 ABIA Award for Small Publishers' Children's Book of the Year, along with the 2019 Gold Inky Award (Australia's only teen choice book award). She is currently collaborating on a project with #1 New York Times bestselling author of the Throne of Glass series, Sarah J. Maas.   

lynettenoni.com
Twitter and Instagram: @lynettenoni