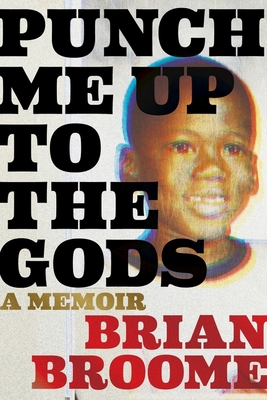 Punch Me Up To The Gods
A Memoir
Hardcover

* Individual store prices may vary.
Other Editions of This Title:
Digital Audiobook (5/17/2021)
Compact Disc (5/18/2021)
Paperback (5/3/2022)
Paperback (5/18/2021)
MP3 CD (5/18/2021)
Description
WINNER OF THE KIRKUS PRIZE • A NEW YORK TIMES NOTABLE BOOK •  A NEW YORK TIMES EDITORS' PICK • NAMED A BEST BOOK OF THE YEAR BY PUBLISHERS WEEKLY, KIRKUS REVIEWS, LIBRARY JOURNAL, AMAZON AND APPLE BOOKS • A TODAY SUMMER READING LIST PICK • AN ENTERTAINMENT WEEKLY BEST DEBUT OF SUMMER PICK • A PEOPLE BEST BOOK OF SUMMER PICK
A raw, poetic, coming-of-age "masterwork" (The New York Times) about Blackness, masculinity and addiction
"Punch Me Up to the Gods obliterates what we thought were the limitations of not just the American memoir, but the possibilities of the American paragraph. I'm not sure a book has ever had me sobbing, punching the air, dying of laughter, and needing to write as much as Brian Broome's staggering debut. This sh*t is special."
—Kiese Laymon, New York Times bestselling author of Heavy
"Punch Me Up to the Gods is some of the finest writing I have ever encountered and one of the most electrifying, powerful, simply spectacular memoirs I—or you—have ever read. And you will read it; you must read it. It contains everything we all crave so deeply: truth, soul, brilliance, grace. It is a masterpiece of a memoir and Brian Broome should win the Pulitzer Prize for writing it. I am in absolute awe and you will be, too."
—Augusten Burroughs, New York Times bestselling author of Running with Scissors
Punch Me Up to the Gods introduces a powerful new talent in Brian Broome, whose early years growing up in Ohio as a dark-skinned Black boy harboring crushes on other boys propel forward this gorgeous, aching, and unforgettable debut. Brian's recounting of his experiences—in all their cringe-worthy, hilarious, and heartbreaking glory—reveal a perpetual outsider awkwardly squirming to find his way in. Indiscriminate sex and escalating drug use help to soothe his hurt, young psyche, usually to uproarious and devastating effect. A no-nonsense mother and broken father play crucial roles in our misfit's origin story. But it is Brian's voice in the retelling that shows the true depth of vulnerability for young Black boys that is often quietly near to bursting at the seams.
Cleverly framed around Gwendolyn Brooks's poem "We Real Cool," the iconic and loving ode to Black boyhood, Punch Me Up to the Gods is at once playful, poignant, and wholly original. Broome's writing brims with swagger and sensitivity, bringing an exquisite and fresh voice to ongoing cultural conversations about Blackness in America.
Praise For Punch Me Up To The Gods: A Memoir…
One of Lithub's Most Anticipated Books of 2021 One of BuzzFeed's 75 Books to Add to Your 2021 TBR List One of The Temper's 12 Recovery Memoirs You Need to Read  One of BookRiot's 6 Stunning LBGTQ+ Books from Debut Authors to Read in 2021  One of Bustle's 51 Best Debuts for Spring One of Beyond the Bookends' 75 Books for Spring  One of Shondaland's 5 Best Books for May One of Chicago Review of Books' 12 Must Read Books for May One of Entertainment Weekly's 20 Best New Books to Read in May One of Saturday Evening Post's 10 Books to Enjoy This Spring  "Punch Me Up to the Gods feels like a gift. There will come a day when some Black child . . . will have read Broome's masterwork and possibly commit to staying alive because of Broome's words. They will tell him that Punch Me Up to the Gods is a testament to the insurgent and ineradicable power of Black queer being. That it reveals that Black queer men are our own best creations." —New York Times Book Review "This devastatingly beautiful memoir about growing up Black and gay in rural Ohio introduces a major literary talent in Broome." —Entertainment Weekly  "This hard-hitting, unflinching memoir recounts the horrors of addiction, racism, and homophobia—and how one man survived them all." —Saturday Evening Post "Broome's debut tells of growing up Black, gay, and poor in a country that values none of those things. Taking his titles from Gwendolyn Brooks's 'We Real Cool,' Broome's writing, even when recalling the roughest experiences, is rich and satisfying, often funny, and always alive." —Boston Globe "Brian Broome has penned a powerful, emotional memoir about his experience growing up as a sensitive, dark-skinned Black boy in rural Ohio . . . this memoir stands in its own unique lane, strong and true" —Shondaland "An electrifying read. Vulnerable and poetic but filled with a ferocious fire, it grabs you from the first page to the last. Perfect for fans of Sarah Broom, Kiese Laymon, and Barry Jenkins's Moonlight." —Chicago Review of Books "Broome's powerful, sharp-edged memoir, often equal parts horrifying and bleakly funny, is made up of essays focusing on key moments in his life." —Columbus Dispatch "Broome debuts with a magnificent and harrowing memoir that digs into the traumas of growing up Black and gay in Ohio in the late 1970s and early '80s . . . There are no easy victims or villains in Broome's painful, urgent telling—his testimony rings out as a searing critique of soul-crushing systems and stereotypes." —Publishers Weekly, Starred Review "An engrossing memoir about growing up Black and gay and finding a place in the world. Structured around Gwendolyn Brooks' poem "We Real Cool," Broome's thought-provoking, emotional journey unfolds through a clever use of parallel stories and juxtaposition . . . Beautifully written, this examination of what it means to be Black and gay in America is a must-read. A stellar debut memoir." —Kirkus Reviews, Starred Review "Bursting at the seams with raw power . . . Broome is
Mariner Books, 9780358439103, 272pp.
Publication Date: May 18, 2021
About the Author
BRIAN BROOME, a poet and screenwriter, is K. Leroy Irvis Fellow and instructor in the writing program at the University of Pittsburgh, where he is pursuing an MFA. He has been a finalist in The Moth storytelling competition and won the grand prize in Carnegie Mellon University's Martin Luther King Jr. Writing Awards. He also won a VANN Award from the Pittsburgh Black Media Federation for journalism in 2019. He lives in Pittsburgh.