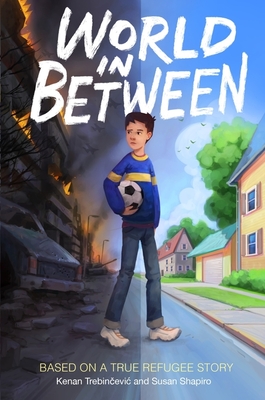 World in Between
Based on a True Refugee Story
Hardcover

* Individual store prices may vary.
Other Editions of This Title:
MP3 CD (7/27/2021)
Description
Co-written by a New York Times best-selling author, this moving story of a Muslim boy's exile from war-torn Bosnia to the United States offers a riveting refugee saga.​

Kenan loves drawing and playing soccer with his friends. He wants to be a famous athlete, hates it when his classmates trash his buck teeth by calling him "Bugs Bunny," and fights with his big brother, who's too busy and cool for him lately. Sometimes his parents drive him crazy, but he feels loved and protected—until the war ruins everything.

Soon, Kenan's family is trapped in their home with little food or water, surrounded by enemies. Ten months later, with help from friends and strangers, they finally make it out of the country alive. But that's only the beginning of their journey.

An action-packed page-turner with heart about a kid doing his best during difficult times, World in Between celebrates the power of community and resilience, hope and kindness.
 
Praise For World in Between: Based on a True Refugee Story…
★ "In this moving autobiographical novel, author Trebinčević recalls his family's harrowing emigration from Yugoslavia's Bosnia province to the United States when he was 11 years old....Trebinčević provides backstory to help readers understand the political forces that tore his home country apart, balancing that information with his own youthful bewilderment and anger, with which readers will readily empathize....The author's note provides fascinating details about the book's evolution and Kenan's collaboration with his coauthor. An essential purchase for all middle grade collections, as well as school curricula on contemporary world history and immigration."—School Library Journal, STARRED review  ★ "Sharing a time and experience that has little exposure for most younger readers, Kenan's emotions and actions bring to life the common threads of growing up and discovering new favorite things....Highly recommended for its emotional and historical perspectives, this is an insightful starting point for understanding one family's refugee experience, as well as the complexities of the Bosnian War."—Booklist, STARRED review  "This title shows how, despite cultural and geographic differences, people everywhere are sometimes drawn to malice but more often to generosity and good. Shows how, for refugees, the struggle for survival doesn't end when you leave home."—Kirkus "The immediacy of Kenan's narration will allow other transplanted children to relate and kids with more fortunate lives to contemplate the thin line between safety and tragedy. An author's note explains a little more about his process and work with his co-author."—The Bulletin of the Center for Children's Books "Scenes come alive through the first-person voice and abundant dialogue....a long, intricately detailed narrative that effectively weaves in enough historical background to make events understandable for young readers." —The Horn Book —
Clarion Books, 9780358439875, 384pp.
Publication Date: July 27, 2021
About the Author
Kenan Trebinčević  is a Bosnian Muslim who survived the ethnic cleansing in the Bosnian War and came to the United States with his family in 1993. He became a proud American citizen in 2001. Since English is his second language, he enlisted his former client and teacher Susan Shapiro to help tell his story. His work has appeared in TheNewYorkTimes, WallStreetJournal, Slate, Salon, Esquire, Newsday, The Best American Travel Writing, on NPR, Al Jazeera, NY1 and the BBC. He lives with his wife in Astoria, Queens. www.kenantrebincevic.com

Susan Shapiro is an award-winning Jewish American journalist and popular writing professor at New York University and The New School as well as the author/coauthor of twelve books including the New York Times bestseller Unhooked.Her work regularly appears in TheNewYorkTimes, NewYorkMagazine, WallStreetJournal, TheWashingtonPost, Salon, TheAtlantic, Oprah.com, Elle, MarieClaire, TheForward and Tablet. She lives with her husband in Manhattan. www.susanshapiro.net, Twitter: @Susanshapironet, Instagram: @profsue123

Susan Shapiro is an award-winning Jewish American journalist and popular writing professor at New York University and The New School as well as the author/coauthor of twelve books including the New York Times bestseller Unhooked.Her work regularly appears in TheNewYorkTimes, NewYorkMagazine, WallStreetJournal, TheWashingtonPost, Salon, TheAtlantic, Oprah.com, Elle, MarieClaire, TheForward and Tablet. She lives with her husband in Manhattan. www.susanshapiro.net, Twitter: @Susanshapironet, Instagram: @profsue123