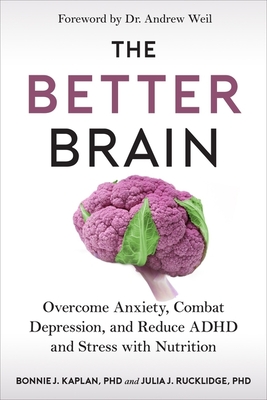 The Better Brain
Overcome Anxiety, Combat Depression, and Reduce ADHD and Stress with Nutrition
Hardcover

* Individual store prices may vary.
Other Editions of This Title:
Digital Audiobook (4/19/2021)
Paperback (4/19/2022)
MP3 CD (4/20/2021)
Description
A paradigm-shifting approach to treating mental disorders like anxiety, depression, and ADHD with food and nutrients, based on the original, groundbreaking research of two leading scientists.
We are in the midst of a mental health crisis. An estimated one in five American adults suffer from some form of mental illness. Despite the billions of dollars spent in pharmaceutical research and the rising popularity of antidepressant drugs, we are more depressed and anxious than ever before.
What if we're looking for solutions in the wrong places? What if instead of treating mental illness with prescriptions and medication, we changed what we eat and how we feed our brains?
Leading scientists Bonnie Kaplan, PhD and Julia Rucklidge, PhD have dedicated their lives to studying the role of nutrition in mental health. Together, they have published over 300 peer-reviewed scientific papers, many of which reveal the healing power of nutrients in the form of vitamins and minerals, and the surprising role they play in brain health.  
In this paradigm-shifting book, Kaplan and Rucklidge share their groundbreaking research, explaining how to feed your brain to stabilize your mood, stave off depression, and make yourself more resilient to daily stress.
The Better Brain
uncovers the hidden causes of the rising rates of depression and anxiety, from the decrease of nutrients in our soil to our over-reliance on processed food, and provides a comprehensive program for better brain health, featuring  
The ideal diet for your brain: a Mediterranean-style diet rich in fresh fruits, vegetables, nuts, and seeds.
More than 30 delicious, mood-boosting recipes.
Crucial advice on when to supplement and how.
The Better Brain
is your complete guide to a happier, healthier brain.  
Praise For The Better Brain: Overcome Anxiety, Combat Depression, and Reduce ADHD and Stress with Nutrition…
"The Better Brain promises safer and more effective ways to prevent and treat mental and emotional disorders and suggests simple, practical steps that all of us can take to optimize brain health."    -from the foreword by Andrew Weil, MD, New York Times bestselling author   "The Better Brain is one of the most important books of the year, with the potential to create a paradigm shift in our well being. Drs. Kaplan and Rucklidge, pioneers in nutrition and mental health, brilliantly lead us to a clear new scientific understanding of how what we eat shapes our brain metabolism and our emotional well being, and for some, how our lives depends on it." -Elissa Epel, PhD, Professor, Vice Chair, Department of Psychiatry & Behavioral Sciences, UCSF, co-author of New York Times bestseller The Telomere Effect   "A model of good science writing, The Better Brain makes a compelling case that nutrition—eating healthy foods and, at times, adding in micronutrient supplements—can chase away many psychiatric ills. This should not be a surprise, and yet, in our drug-centered medical world, it serves as a radical call for societal change. The book offers a prescription for emotional wellness that should be a first-line treatment for us all."  -Robert Whitaker, author of Mad in America and Anatomy of an Epidemic   "Our mental health rests upon the foundation of neuroplasticity and epigenetics. Healthy food and proper nutrition are the most reliable and powerful tools we possess to build that foundation. The Better Brain is a comprehensive road map for healing using these natural methods. Reclaim your mental health, buy this book!  -Scott Shannon, MD, integrative psychiatrist and author of Mental Health for the Whole Child   "The science of nutrition is making rapid advances, particularly in how we understand brain function. Bonnie Kaplan and Julia Rucklidge, two pioneering research scientists, have written this book that will lead you to think differently about your body, your health, and yourself."  -Charles Popper, MD, McLean Hospital and Harvard Medical School "The time has come for a full overhaul of our psychiatric treatments from the ground up. Nutritional psychiatry is a major step in the right direction. Nutritional intervention is an effective tool all practitioners should know about. This book is a great place to start, from two of the foremost researchers in the field." -Will Van Derveer, MD, founder, Integrative Psychiatry Centers and Integrative Psychiatry Institute —
Harvest, 9780358447108, 368pp.
Publication Date: April 20, 2021
About the Author
BONNIE J. KAPLAN, PhD, is a professor emerita in the Cumming School of Medicine at the University of Calgary, in Calgary, Alberta, Canada. She has published widely on the biological basis of developmental disorders and mental health, especially on the contribution of nutrition to brain development and brain function. Kaplan has over 180 peer-reviewed publications and textbook contributions, and many more invited lectures. In 2018, for Canada's 150th birthday, she was named one of the country's top 150 Difference Makers in Mental Health. In 2019, she was awarded the prestigious Dr. Rogers Prize, a national award given every two years in Canada for research or clinical work in complementary, alternative, integrative health. She lives in Calgary, Canada. 
JULIA J. RUCKLIDGE, PhD, is a professor of clinical psychology at the University of Canterbury, Christchurch, New Zealand. Over the last decade, she has been running clinical trials investigating the role of broad-spectrum micronutrients in the treatment of mental illness, specifically ADHD, mood disorders, addictions, anxiety and stress associated with traumatic events. Rucklidge has over 130 peer-reviewed publications and textbook contributions. She is regularly featured in the media across social media, newspaper, radio, and TV and has given over 150 invited talks across the world on her work on nutrition and mental health. She was named one of the top 100 Most Influential Women in New Zealand in 2018. Her 2014 TEDx talk has been viewed over 2.1 million times. She lives in Christchurch, New Zealand. 
or
Not Currently Available for Direct Purchase